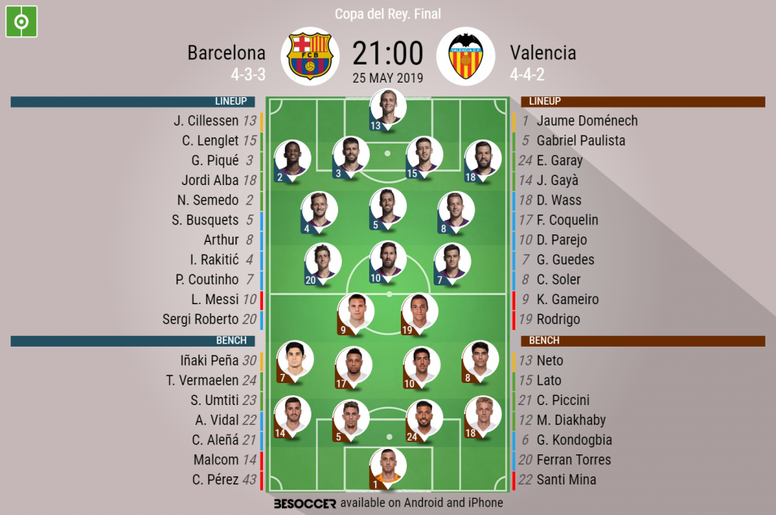 Copa del Rey final - as it happened
Post.
As always, thank you very much for joining our live coverage of tonight's thriller! We hope to see you for the next!
Post.
Dani Parejo reduced to tears in the post match interview as Valencia and their fans rejoice in front of a quite literally defeated Barcelona side.
Post.
Barcelona come away with yet another loss in a big final. What will become of Valverde's future?
95'
FT: Barcelona 1-2 Valencia! After 11 years, Valencia will at last take a trophy home to Mestalla! Well deserved!
95'
AND THAT'S IT!!! Valencia hold on for the victory!!!
95'
ANOTHER CHANCE GUEDES! This time Guedes sees Cillessen off his line and attempts a lob! It's not far away!
95'
These final five minutes have seen more action than the game as a whole! Barcelona running out of time!
94'
CHANCE VALENCIA!!! It's one on one as Guedes approaches Cillessen! HE SHOOTS WIDE!
93'
Malcom lofts a cross in and Domenech punches away to release Valencia on the counter!
92'
Barcelona are digging deep to try and find a last ditch equaliser. Valencia are holding up strong to deny them!
90'
Five minutes of added time! That much?!
90'
Diakhaby gets up to clear Messi's free kick.
89'
Yellow card for Vidal as tensions bubble over.
89'
Valencia fans are in full voice as we approach the end of regulation time. I can't imagine there will be much additional time.
88'
Diakhaby comes on for Rodrigo Moreno.
86'
Barcelona have found some late momentum in this game and Valencia are doing well to hold off relentless crosses into the box.
85'
The ball pings around the area before Messi gets his head on it. He can't generate any power though and it goes wide.
84'
Just over five minutes of regulation time to go! Can Valencia hold onto the lead for the win?
79'
Marcelino asks his players to take a look at the clock and calm down. Not long left to go and they don't have such a comfortable cushion now!
78'
Vidal has a go but is well offside. The shot was shocking anyway.
75'
The second cooling break of the match comes just at the wrong time for Barcelona as they would have wanted to keep the momentum up after the goal!
74'
No celebrations from Messi as he just wants to get back underway as quick as possible.
73'
GOOOOOAAAAAAALL BARCELONA! Lenglet with the original header from the corner. It hits the post and Messi is there, of course, to mop up!
73'
Rakitic, Messi and Coutinho link up nicely before the latter has a shot which flies over the bar. More positive from Barcelona!
72'
First substitution for Valencia. Piccini comes on for Gameiro.
71'
Pique's effort is just wide as Malcom screams for it in the centre!
71'
Barcelona with another free kick but Kondogbia makes up for conceding it by clearing with a header.
70'
Kondogbia goes in on Lenglet and receives a deserved yellow card.
69'
Soler charges down the right wing before producing a cross but Lenglet is there in the box to clear. Valencia on the rise!
67'
Coutinho, who has been quiet all night, has a go but Domenech watches it all the way.
65'
As expected, Parejo goes off and is replaced by Kondogbia.
64'
Parejo looked to be in a bit of pain after the free kick and has gone down. Barcelona are looking for a swift substitution so as not to waste time.
62'
Parejo is behind the free-kick but he slips as he takes it and it sails over the bar.
61'
Busquets receives Barcelona's first yellow card for a challenge on Rodrigo. Free-kick Valencia.
56'
CHANCE BARÇA! Lionel Messi's shot clatters the post while Vidal's follow up effort is skyed. Messi attempted that one with the outside of his boot!
54'
Messi's free kick has no real target and the defence clear. Barcelona back in possession in their own half.
54'
Gaya with a yellow card after his challenge on Malcom. Another free-kick Barça.
51'
Messi's free kick effort takes a deflection and goes behind for a corner but the resulting attempt doesn't threaten Domenech's goal.
50'
Barcelona have a free kick in a dangerous area after the referee awards a questionable foul. Messi to take...
49'
Great start by Valencia as Guedes' shot flashes wide but only just!
48'
Pique feels he should have had a penalty after being held by Garay in the box. Referee not interested.
47'
Free kick Barça! Messi will take it but it's from fairly wide out and it does not challenge the defence.
46'
Valencia this time get the second half action underway! Can Barcelona respond to Valencia's two goal lead?
45'
Barcelona make two changes ahead of the second half. Semedo comes off for Malcom while Vidal replaces Arthur.
45'
This certainly won't be what Ernesto Valverde was expecting from his side as they will go into the remaining 45 minutes chasing a two goal deficit. Valencia will look to continue as they were and really humiliate a deflated Barcelona side.
45'
HT: Barcelona 0-2 Valencia! And that's it for the first half! Despite Barcelona enjoying almost all of the possession, Valencia struck twice to leave Valverde and his men wondering what they're doing wrong! Stay tuned for what is sure to be a thrilling second half!
45'
Rakitic with a follow up shot but Domenech is behind that one too!
45'
CHANCE! Messi with another shot and this time Domenech holds strong with his left hand to palm it wide!
45'
Two minutes of added time!
44'
Barcelona will welcome half-time as an opportunity to regroup and work out what happened! Valencia, on the other hand, will look to continue in the same vein.
44'
Messi has a go but Domenech watches it all the way and it's straight down his throat. Half-time approaching!
40'
Gerard Pique almost scores Valencia's third as he attempts an unorthodox ball back to his keeper. Luckily for him, and Barça, it dribbles wide for a corner.
40'
Despite being 2-0 down, Barcelona are still dominating possession. That just shows, Valencia don't need to be asked twice to make their possession count when they're afforded it.
37'
You have to feel a bit sorry for Jasper Cillessen, who has only just returned to the starting line-up. There wasn't a whole lot he could do to stop the two goals. No wonder he's looking for game time away from Barcelona...
36'
Valverde, his bench, and all the Barcelona fans have a look on their faces that I can only describe as disappointed but not surprised.
33'
Soler raced down the right wing before providing the perfect cross for Rodrigo to power it home with a header! 2-0 Valencia!
33'
GOOOOOOOOAAAAAAAALLLLL VALENCIA!!! Rodrigo this time!!!
31'
Pique offers some strong words of encouragement as play resumes.
30'
Barcelona will welcome a cooling break as they look to regroup!
28'
Jordi Alba attempts to loft a cross in but Domenech intercepts.
22'
Gaya with the assist as Gameiro settled himself before pulling the trigger on a shot that Cillessen couldn't even see let alone stop!
22'
GOOOOOOOAAAAAAAALLL VALENCIA!!! Gameiro opens the scoring for Valencia with an absolute bullet of a strike! GAME ON!
21'
Gameiro and Rodrigo link up well but Barcelona's defence are well organised and get back before Valencia can strike.
18'
CHANCE BARÇA! Messi picks it up outside the box and dribbles past two defenders with his usual ease. The shot is good but takes a deflection for a corner!
17'
Coutinho, Arthur, Messi and Sergi Roberto all take turns playing hot potato as neither can produce a shot to compromise the Valencia defence.
16'
This game is being played out in midfield at the moment with neither able to create something up front.
14'
Coutinho is almost through for Barcelona but Wass is there to watch it over the back line for a Valencia goal kick.
13'
Barcelona are enjoying the majority of possession although Valencia are starting to settle into this game!
10'
Barcelona take a short corner and it ends up all the way back with Semedo. Perhaps better to just stick it in the box?
5'
Lenglet fluffs a clearance allowing Rodrigo to pick it up on the edge of the box. He attempts to go around Cillessen but takes it too wide allowing Pique to clear off the line! CLOSE!
3'
Valencia attempt a break after stealing possession in their own box but Lenglet is wise to it and restores the ball to Barça.
3'
Barcelona just feeling their way around the pitch at the moment, holding onto possession safely.
1'
AND WE'RE OFF! Barcelona get us underway!
Prev.
Captains Parejo and Messi shake hands before we get underway!
Prev.
The managers exchange a hug and a handshake before kick-off ... let the fight commence!
Prev.
The players make their way onto the pitch in front of a huge crowd in Seville! Here we go!!!
Prev.
A packed out Benito Villamarin in full voice ahead of kick-off! Not long now!
Prev.
15 minutes to go until kick-off, any score predictions?
Prev.
Valencia have reached their first final in 11 years, but Marcelino Garcia Toral and his side take confidence into the clash have drawn with Barcelona on both meetings in La Liga this season.
Prev.
Another shock absence from Barça's line-up is Arturo Vidal. The Chilean has played well recently but Valverde has opted for Arthur in his place. A somewhat interesting line-up to say the least...
Prev.
Barcelona will fight for their fifth successive Copa del Rey title without Luis Suarez, who is ruled out after having surgery on his knee. Another absentee is Marc-Andre Ter Stegen who has been sidelined.
Prev.
Barça's hopes of a treble were crushed after their shock Champions League exit at the hands of Liverpool. But Messi is sure that his side can shake off the after-effects: "We have to end the season well, celebrating another title if we can."
Prev.
With his starting status confirmed, Jordi Alba will reach his 300th match for Barcelona. What's more, he does so against the team which launched his career.
Prev.
Interestingly, Sergi Roberto appears on the right wing for Barça, perhaps indicating that Valverde wants more focus in midfield. Valencia, on the other hand, have near enough five men in attack. How will these line-ups translate in action on the pitch?
Prev.
Marcelino has opted for a line-up full of offensive power, in the hope of surprising a Barcelona who may still be carrying the weight of their UCL elimination on their shoulders. Valencia meanwhile are on the rise and hoping to encapsulate their resurgence with a trophy.
Prev.
Valencia starting XI: Jaume; Wass, Garay, Paulista, Gayà; Soler, Parejo, Coquelin, Guedes; Gameiro, Rodrigo.
Prev.
The news from the Barcelona camp is that Semedo, Arthur and Coutinho have all returned to the starting line-up after recovering from respective injuries. A sigh of relief for Valverde!
Prev.
Barcelona starting XI: Cillessen; Semedo, Piqué, Lenglet, Jordi Alba; Busquets, Arthur, Rakitic; Sergi Roberto, Coutinho, Messi.
Prev.
Welcome to our live coverage of the Copa del Rey final! Barcelona and Valencia will battle it out at the Benito Villamarin stadium for the prestigious title! Stay tuned for team news and line-ups!