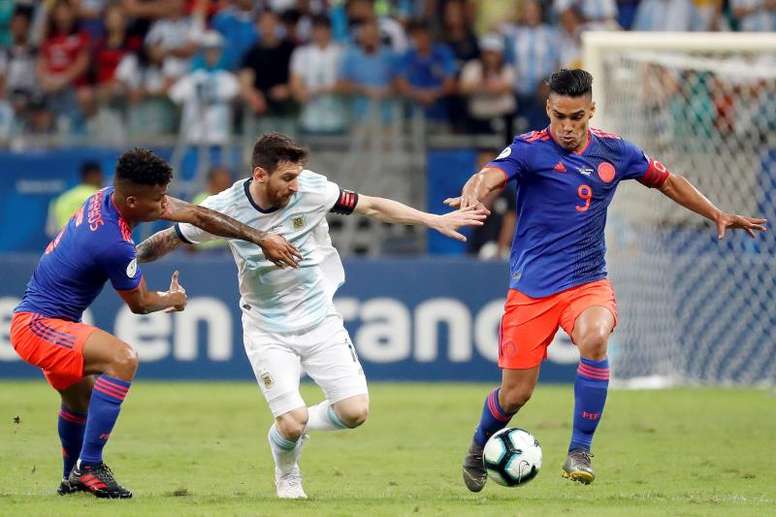 Colombia super subs stun Argentina
The Copa America has now truly began in earnest, with Brazil defeating Bolivia last night in a comfortable 3-0 win, and Venezuala and Peru drawing 0-0 in today's early game, however, the World had yet to see it's best player strike in the competition.
We are of course talking about Lionel Messi, who is still awaiting his first piece of International silverware, after coming so close on numerous occasions, losing a World Cup final as well as two Copa America finals on penalties.
Here is his chance, Neymar is out injured, and although Brazil remain the favourites, Argentina's attack of Messi, Aguero and co is surely one that can bring home a trophy for the Argentine.
The atmosphere for this game was simply incredible from the start, in what was a true celebration of what both Brazil and the two nations can offer.
The game started with a very bruight start, with David Ospina nearly making a horrendous error when he came out of his goal, with Sergio Aguero very nearly profitting and giving Argentina an early lead.
Luis Muriel was then ruled out with an injury, with Martinez coming on to replace the Fiorentina man after just 13 minutes, changing Colombia's attack.
In terms of actual chances, the opening 20 minutes did not offer an awful lot, with both sides being defensively well organised.
On 30 minutes we nearly saw our fist goal when there was a defensive mix up, with James Rodriguez nearly benefitting, but Nicolas Otamendi was able to get back and save Argentina's bacon.
Colombia were the better of the two sides towards the back end of the first half and had a big chanve with Falcao having an attempt blocked, they continued to dominate possession and territory and were pushing and pushing for a goal, but in the end they could not find one, without ever troubling the goalkeeper.
Colombia had 5 chances to Argentina's one in the first half and had more possession too, but in truth this was a far from exciting first half. We are still awaiting our opening first half goal of the competition, and in this match at least, it didn't even look close to happening.
The second half was immediately more interesting, with Leandro Paredes having a good effort drift narrowly wide of the Colombia goal, after having a go from a long way out, the involvement of Messi however was still yet to be seen by this point.
That was until he finally started to show a glimpse of his dazzling best, with a lovely run, nutmegging Davinson Sanchez and in the end Ospina came out and grabbed the ball just in time, but was this to be a warning to Colombia, or just a one of on the night?
Probably the best effort of the game came after 59 minutes, with Pezzalla having a long range shot striaght at Ospina, but fired in with some power.
It threatened to kick off not too much longer after this, with Messi fouled by Cuadrado and both teams immediately rushing in to defend their respective teammates.
The game was beginning to open up by this point, and Messi missed a big chance on 65 minutes with a good headed chance going wide of the right hand up right, but Argentina were starting to make their move.
Colombia had other ideas however, with Muriel's substitute Roger Martinez scoring an absolute beauty to liven the game up, receiving a superb ball, before cutting inside the Argentine defenders and slotting home on the right hand side of the goal.
Argentina simply could not muster up anything of note afterwards, with Giovani Lo Celso with the best effort for Argentina.
Then, once again on the counter attack, Colombia struck, a superb ball in and dribble down the left hand side, which was met with ease by Duvan Zapata who smashed it home to give Colombia a comfortable 2-0 lead, sending a statement of intent to the rest of the competition.
This was enough for Colombia to take the three points, and earn a first win against Argentina since 1999 in the Copa America.