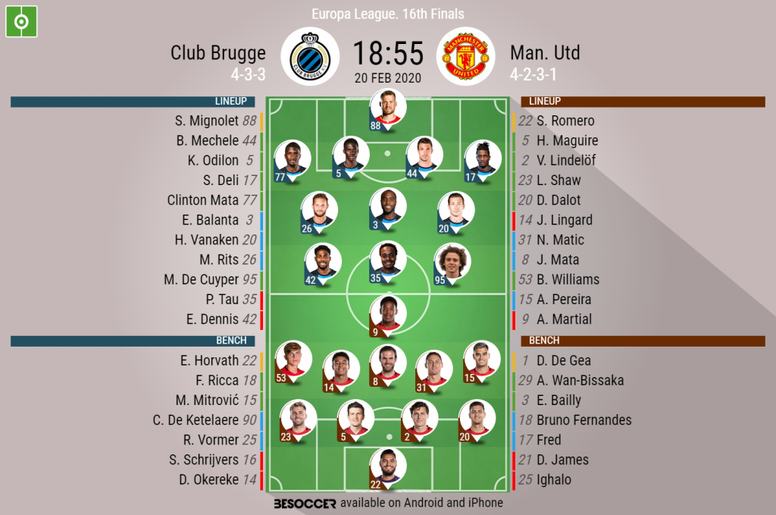 Club Brugge v Man. Utd - as it happened
Club Brugge

Man. Utd

Post.
Thanks for joining me today. See you in a few moments for the Arsenal match.
94'
FT: Club Brugge 1-1 Man United. No score in the 2nd half means that both sides head to Manchester next week with United in the ascendency due to their away goal.
94'
Last chance of the match. The Brugge corner comes in and it's headed wide.
94'
Same outcome, different player. Mata hits the wall.
93'
Mechele is booked for a foul on Fernandes. Another free-kick from a similar position.
91'
Lingard has a shot from the dee straight at Mignolet.
86'
Fernandes steps up and hits the wall.
85'
And Fred has just drawn a foul in a very dangerous position. Good chance for United to get a shot on target. About 25 yards out.
85'
Just over 5 minutes plus injury time left.
83'
Lovely ball played through for Mata, and Mignolet makes a good save. Was far offside though.
81'
United sub: Dalot off for Fernandes.
78'
Sitter from Odilon. Dennis gets down the wing and crosses. All he has to do is slot it in but he puts it wide.
73'
Brugge sub: De Cuyper off for Schrijvers
71'
United sub: Fred on for Pereira.
70'
Vormer has a shot from the edge of the box that goes wide.
67'
United sub: Ighalo on for Martial.
67'
Dennis is playing really well tonight.
63'
A draw is not the worst for Brugge or United. The hosts will have been hoping to make the most of home advantage.
58'
Pereira tries to find the near post but his curling effort goes wide.
57'
Commentators curse after me just saying it was lively...
52'
Vanaken is booked for his protests after the referee gave a foul against Brugge.
51'
Just before that Dennis chance, Martial had a pass deflected that almost caught Mignolet out, but he got he managed to change direction and gather the ball.
50'
Dennis is approaching the goal from a tight angle, he tries to slot it past Romero but he saves.
49'
Great chance for United. Dalot crosses and Lingard has a large part of the goal to aim at, but he puts it wide.
47'
Brugge sub: Vormer on for Balanta.
45'
HT: Club Brugge 1-1 Manchester United. Brugge started the game better but have allowed United back into the match after practically gifting them a goal. All to play for in the 2nd half.
43'
Post!!!! Martial hits a shot from 20 yards out that cracks the post!!!
42'
The ball is crossed in and Williams skews his effort from a good position. He should be getting it on target.
41'
Getafe ate actually beating Ajax. Huge shock if things stay the same, but could have been expected as the Spaniards have neem having a great season.
39'
Balanta is booked for a foul on Mata. He will miss the next match.
39'
It could have been a very different game if Brugge had scored a 2nd.
37'
And it has come out of nowhere. Brugge play a slack throw-in, Martial makes the most of it and intercepts. He runs with the ball and slots it past Mignolet. The Brugge manager will be kicking himself.
36'
MARTIALLLLLLLLLLLLLLLLLLLL
31'
Brugge completely deserve to be in front. They are much the better side. United have created nothing.
28'
Brugge come close again. Dennis plays a one two, and when he gets the ball back he has a shot from a tight angle that Romero saves with his body. They will want a goal when they are on top.
27'
Half chance for United. The corner comes in and Matic heads it well over the bar.
21'
Celtic are up 1-0 against Kobenhavn. Edouard got that one. He's actually been linked with United in the last week.
18'
Brugge want more. Rits is passed the ball in the centre of the box, but his shot is deflected wide for a corner.
16'
What a goal. Mignolet punts the ball long for Dennis, Romero comes rushing out and from 30 yards he chips the keeper. Questions must be asked about the United defence there and how he managed to score that. 1-0 Brugge
15'
GOOOOOOAAAAAL BRUGEEEEEEEEEEEEEEEE
14'
First chance of the match. Pereira hits a fairly weak shot from the edge of the box, but Mignolet gets down and tips it out.
13'
Frankfurt are now beating Salzburg 1-0.
11'
Still not any clear cut chances yet.
8'
And Sporting have scored the first goal of the evening. They are leading 1-0 against Istanbul.
7'
Brugge have started the match quite well so far.
3'
Good chance for Brugge here. A quick throw-in is played to Dennis and advances through on goal. He is at a tight angle and Romero comes rushing out. Looks like he slightly touches Dennis but Dennis had crossed the ball in already and the match continues.
Prev.
The heavens have opened here. It is bucketing down. Wonder if this will affect how both teams play.
Prev.
United won their group with 13 points. The dropped the 5 points drawing away to AZ and losing away to Astana. That means they have only won once away in the competition this season, beating Partizan 1-0.
Prev.
Just a reminder of how both sides got here. The Belgians came 3rd in their Champions League group after picking up 3 points. They famously drew 2-2 at the Bernabéu.
Prev.
Brugge are no mugs. They have won the league 15 times, runners up 23 times, have won a record number of Belgian cups (11), and a record number of Belgian Super cups (15)
Prev.
Great that Europa League and Champions League action have returned.
Prev.
Have a look what Ole has to say.
Prev.
United last lost against a Belgian side in 2000. That's 20 years!!!
Prev.
Last time United played Brugge it was in the 2015/16 Champions League. They won 4-0 that day in Belgium. Rooney got a hattrick and Herrera got the other. 2 players have survived for United: Romero and Mata.
Prev.
United XI: Romero, Dalot, Lindelof, Maguire, Shaw, Williams, Matic, Mata, Pereira, Lingard, Martial
Prev.
Brugge XI: Mignolet, Mata, Kossounou, Mechele, Deli, Rits, Balanta, Vanaken, Bonaventure, Tau, De Cuyper
Prev.
Hello and welcome to the lovely city of Brugge for this Europa League last 32 1st leg match. Team news is on its way.