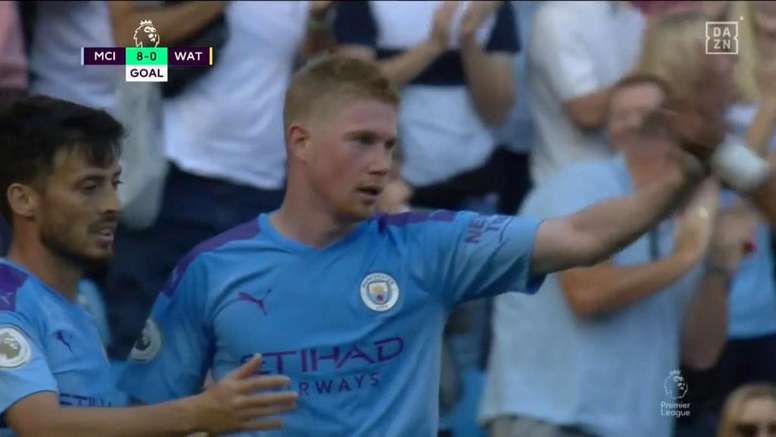 City destroy Watford in rampant 8-0 win
Some fans hadn't even made their way to their seats before David Silva opened the scoring within the 1st minute. This was obviously a sign of things to come as Aguero netted a penalty 6 minutes later to score his 100th Premier League goal at the Etihad after Mahrez was fouled by Foster.
City were definitely hungry for goals after last week's shock defeat away to Norwich. Mahrez then got on the scoresheet after his free-kick was deflected by Tom Cleverley past the helpless Foster in the 12 minute. The Algerian will claim that one but the dubious goals panel may have something to say about it.
21 de septiembre de 2019
3 minutes later, Bernardo headed in from close range after an Otamendi knock-on. Shortly after, Otamendi then tapped in after Aguero's cross. The scoring stopped there, but the wave of Man City attacks did not. By half time, it could have been 10-0 to the hosts.
City were not done there and started how they ended the first half. Bernardo knocked it past Foster to get his 2nd of the afternoon in the 49th minute. The ex-Monaco man then got his hat-trick and City's 7th after he netted from De Bruyne's cross.
De Bruyne then put an end to proceedings after an incredible strike to make it 8-0 City. The home fans will go home happy, but the same can not be said about their Watford counterparts who find their side rock bottom of the league with a solitary 2 points.
That is the first time Watford have conceded 8 goals since 1959, and their heaviest ever defeat in English league football. Nevertheless, it was a fitting way for City to mark their 125th anniversary.
21 September 2019