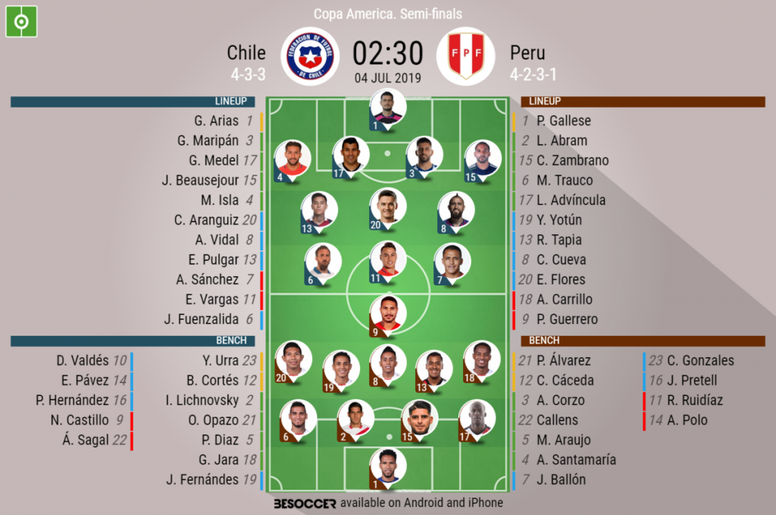 Chile v Peru - as it happened
95'
FT: Chile 0-3 Peru!! It's all over in Porto Alegre!! Goals from Flores, Yotun and Guerrero gave Peru a deserved victory over Chile. Gallese had a blinder in net in the second half and Chile missed a penalty right at the end through Vargas. Peru will face Brazil in the final on Sunday. Thanks for joining us on this amazing night for Peru and see you again soon!
95'
The ref blows for full time!!! What a night for Peru!
95'
Gallese saves Vargas' spot kick! He tried a Panenka kick and Gallese stood his ground to tip it up in the air and catch the ball. That sums up Chile's night.
93'
Big penalty shout for Chile after Abram brings down Aranguiz. The ref doesn't give it, but it's a clear pen. He is asked to view the images by VAR and quickly gives the spot kick.
91'
Guerrero seals it for Peru!!!! He receives a lovely pass inside the box, goes round Arias, keeps his cool and slots it into an empty net. Game, set and match, ladies and gents.
91'
Five minutes of stoppage time.
90'
Peru are minutes away from knocking out the team who have won the last two Copa Americas.
89'
Chile sub: Castillo replaces Maripan.
89'
The 'Oles' have started now among the Peru faithful.
88'
Chile trying, but Peru are keeping Chile at bay. Sanchez sends a long ball forward which Gallese claims easily.
86'
Sogal sees yellow for coming in late on Trauco. Not what Chile need.
85'
Pedro Gallese catches a cross in now and is down now eating up time.
84'
Maripan is fouled in his own half.
82'
Now Gallese denies Sanchez from 25 yards out! It was a thunderous strike, but he dives to his right to prevent the goal! Fabulous save.
81'
Gallese again denies Chile after Vidal heads at him!! 68% possession, but they are unable to breach the defence.
80'
Peru sub: Ballon replaces Cueva.
76'
Isla strikes wide now!! Peru suffering now.
76'
Cueva does pull him back, but as it was only very briefly, I think they let it go. He took a chance though.
75'
What a save by Gallese!!!! Vargas catches Peru on the counter and he is one on one, but Gallese comes out and makes a tremendous save. Chile furiously claimed Vargas was pulled back and that it should have been a red, but the ref and the VAR say no.
74'
Pulgar goes in the book for fouling Advincula.
73'
Chile deserve a goal, but I think it may be too late. If they get one though, we will have a grandstand finish.
72'
Vargas heads wide after the free-kick is half-cleared.
72'
Advincula picks up the first card of the game for a naughty kick on the back of Vargas' leg.
71'
Peru sub: In fact, Carrillo won't continue. Andy Polo comes on for him.
70'
Carrillo is getting treatment as he seems to have picked up a knock to his foot.
70'
Chile are really giving it a goal here, but they are running out of time and Gallese is playing brilliantly in the Peru net.
68'
What a save!!! Beausejour receives a long pass and tries to cross, but it turns into a dangerous shot and Gallese has to tip over with his right arm.
65'
Aranguiz has another go from outside the area and it only just goes wide! He has been Chile's best player by a distance.
63'
Cueva!!!! He makes a run and tries luck from 25 yards, but it goes fractionally over the bar.
60'
What a counterattack by Peru!! Carrillo starts it, he finds Guerrero and then Yotun is played a perfect ball by another teammate, but he blazes over from 10 yards out! They may regret that later Peru.
59'
Aranguiz sees his shot go for a corner now!
58'
Trauco!!!! He makes a vital clearance because Beausejour sent a lovely ball in.
58'
Guerrero and Maripan exchange a few words now! There's a bit of finger pointing, but nothing else.
55'
Medel heads away the free-kick for a corner and takes a whack from his own keeper.
54'
Carrillo is brought down by Beausejour on this near flank. The Chilean thinks he went to ground easily and that causes an argument between the two. No major issue though.
52'
Peru go up the other end and attack, but Chile clear. An offside is called anyway.
51'
Sooooo close!! Vargas gets his head on the free-kick, but it strikes the far post and Peru get away with it.
50'
Trauco gives away a needless free-kick on the far touchline.
49'
Peru sub: Gonzales comes on for Flores.
48'
Flores seems to have pulled something after making a clearance. It could have come after attempting a shot. Looks innocuous. He is going off on a stretcher though. That's a huge blow for Peru.
47'
Sanchez hits a tame effort at the GK after a good cross by Beausejour, but he is penalised for handball.
45'
Chile sub: Fuenzalida goes off and Sagal comes on.
45'
HT: Chile 0-2 Peru!!! Half-time in Porto Alegre in a first half which Peru have completely dominated. Flores gave Peru the lead after 20 minutes after a lovely cross by Cueva and then Yotun doubled their lead after Arias came charging out of his goal for no reason. Chile's best opportunity was a shot by Aranguiz early on, but they have a tall order now. Back in 10!
45'
Guerrero is through, but Maripan dispossesses him before he can bear down on goal.
45'
Chile picking up now and finishing the half strongly. Zambrano has to clear a Vargas cross. Chile are throwing everyone forward now as they feel they have nothing to lose. This has become very open.
44'
What a save!!! The ball is delivered by Aranguiz and Fuenzalida by Gallese who dives fantastically to tip it over for another corner.
43'
Chile win a corner now! It seems like they have finally woken up.
42'
Aranguiz fires wide now for Chile!
41'
This is going to be a really tall order now for Chile. They have been outclassed and the goalkeeper thought he was a left back rather than a keeper.
38'
It's 2-0!!!! What is the keeper doing?? A long punt is sent for Carrillo down the right flank, Arias races out of his goal to get the ball when the Peru man was just in the corner, Carrillo crosses it to Yotun in the D and he chests it before firing into an empty net. That was absolutely crazy and needless by Arias.
37'
Vidal is penalised now for a handball and the Barca man shows some frustration.
35'
Zambrano is down now after Sanchez bumps into him. The Chilean is leaving his mark on the Peruvians although he wasn't so guilty this time.
33'
Tapia gets clattered into by Sanchez as he clears after the Chilean took a heavy touch of the ball.
30'
Sanchez almost scores straight from a corner and Guerrero had to put his foot in at the near post to deflect it for another one!
29'
Isla has to clear after Tapia plays a lovely one-two with a teammate and was about to control on the edge of the area.
28'
Sanchez beats Advincula 40 yards from goal, but his ball to try and find a teammate finds nobody and rolls through to Gallese
26'
Flores again!!! He tries luck from 25 yards with his left foot after Chile lose the ball through a poor pass. Peru definitely deserve to be in front.
24'
Chile almost hit back, but there is no one on the end of Isla's ball across the box.
22'
Vidal has picked up a knock in the goal and he is limping after receiving treatment.
20'
Flores scores for Peru!! Chile want offside! Yotun sends a long ball in, Carrillo can't control, it goes to Cueva, his cross into the box is flicked on by Carrillo and Flores is there at the far post to hit it across the keeper and into the net.
19'
Flores!! Flores is given the ball and makes a run into the box and hits a low shot across the goalie, but the keeper gets fingertips to it to get a corner.
17'
Aranguiz is getting treatment here as is Medel who got stepped on accidentally by Guerrero a few minutes ago.
16'
Peru have a long spell of possession after Carrillo bursts into the Chile half, but Chile manage to prevent the Peruvians from shooting at any time in that move.
13'
Peru want a handball by Maripan in the area, but too close.
11'
Guerrero now!! He receives in the box and calls the Chile defenders into action once again. Maripan and Medel between them prevent him going any further.
10'
The pitch still doesn't look great by the way.
10'
Flores almost dispossesses the Chile man as they decide to play games passing along their own area. Risky.
7'
Aranguiz!!! Aranguiz runs into Peru territory, he then gives the ball to Alexis who waits for Beausejour and finally he passes it back to Aranguiz. Unfortunately for him, he hits just wide of the upright. First real attack from Chile.
5'
It comes to nothing as Vargas heads the ball in for a throw-in.
4'
Peru win a free kick on the far side. This will be put into the box.
3'
Peru have made a good start here early on.
2'
Cuuuueeeva!!!! Guerrero is played a lovely pass from midfield I think by Carrillo, he passes to Cueva on his right, but his shot goes just wide of Arias' left hand post.
1'
Vargas is accidentally caught on the head by Zambrano after he falls to the ground, but the Chile man gets up quickly.
1'
Peru get us underway here from right to left!
Prev.
Wilmar Roldan of Colombia is the referee for this one and Andres Rojas, also from Co,lombia, leads the VAR crew! Let's hope there's less controversy than last night.
Prev.
The players make their way out here in Porto Alegre!!!
Prev.
It's a cold, but dry night in Porto Alegre. Just nine degrees. We are hoping the pitch will be in a better state than it was went Brazil played Paraguay a few days back. Tite, the Brazil manager, slammed the pitch that night.
Prev.
This game has a bit of an edge to it as Chile still remember when Peru drew 1-1 with Colombia back in October 2017 in a World Cup qualifier. It was a result which meant Peru went to the World Cup play-off and it was a result which knocked Chile out of World Cup elimination. Some Chileans think that Peru and Colombia agreed to draw that match in order to knock out Chile. Will they get revenge tonight?
Prev.
Both sides field makes no changes from the starting line-ups they put out in the quarter-finals.
Prev.
Both these teams have reached the semis by winning a penalty shootout after a goalless 90 minutes in the quarter-finals. Chile defeated Colombia while Peru knocked out Uruguay.
Prev.
Peru team: Gallese (GK); Trauco, Abram, Zambrano, Advincula; Flores, Yotun, Cueva, Tapia, Carrillo; Guerrero.
Prev.
The line-ups are in so here we go! Chile XI: Arias (GK); Beausejour, Maripan, Medel, Isla; Vidal, Aranguiz, Pulgar; Fuenzalida, Sanchez and Vargas.
Prev.
Good evening and welcome to live coverage of the Copa America semi-final between Chile and Peru from Porto Alegre! Who will play Brazil in Sunday's final? Stay with us to find out!