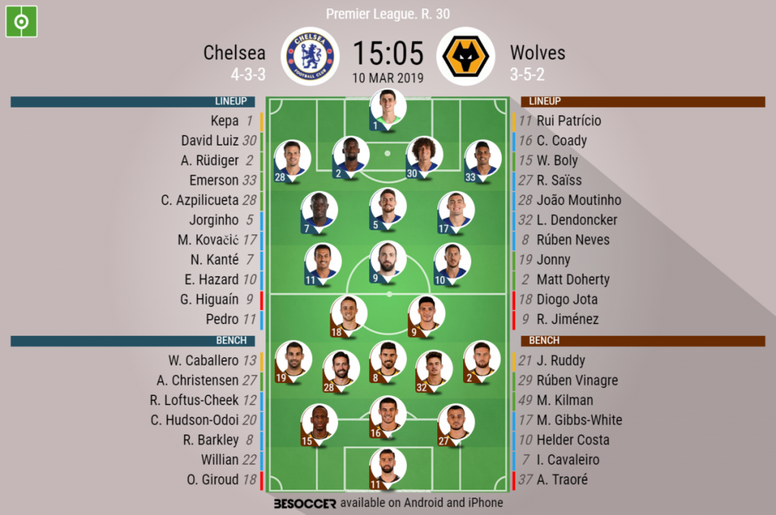 Chelsea v Wolves - As it happened
Chelsea FC

Wolverhampton …

94'
Thank you for choosing our live coverage of Chelsea v Wolves! We hope to see you for the next!
94'
FT: Chelsea 1-1 Wolves. That's it for this afternoon's Premier League action! Chelsea finally managed to claim a goal as reward for their continued efforts while Wolves will be happy that they could contain the former Premier League champions for the majority of the game!
92'
GOOOAAAAALLL CHELSEA!!! The home side are rewarded for their continuous hard work as Eden Hazard is finally allowed into some space and makes Wolves pay for it. He releases an absolute bullet that Rui Patricio is unable to stop!
90'
Four minutes of added time indicated.
90'
Hudson-Odoi produces Chelsea's best cross of the game so far but the other substitute, Ruben Loftus-Cheek can't quite jump high enough to power it towards the target.
89'
Substitution Wolves - Raul Jimenez makes his way from the field to a round of applause from the Wolves fans. He is replaced by Traore.
87'
Eden Hazard has had an unusually quiet game. Wolves' defence can be very proud having immobilised the Belgian all afternoon.
83'
Gibbs-White has an immediate impact after making a lightning quick run into the box. Unfortunately for Wolves, he can't get onto the end of Jimenez's pass inside the box.
83'
Less than 10 minutes of regulation time remain for Chelsea to find an equaliser...
81'
Substitution Wolves - Gibbs-White comes on for Diogo Jota who will claim the assist for Jimenez's goal.
80'
Diogo Jota is booking after elbowing David Luiz in the face while chasing the ball down.
76'
As a result of Boly's foul, Chelsea will have another free-kick. Willian lines up for it but his effort clatters the wall.
75'
Boly is the latest addition to the referee's book after his challenge on Loftus-Cheek in the aftermatch of the free-kick.
75'
Chelsea have a free-kick which is dealt with accordingly by Wolves' defence.
72'
Substitution Chelsea - Willian comes on to replace Jorginho as Sarri makes his final change of the afternoon.
70'
Rui Patricio is called upon for Wolves after Loftus-Cheek makes contact on Rudiger's long distance effort.
68'
Despite taking the lead, Wolves are back to their first-half tactics of sticking tight in defence to deny Chelsea. They're looking a little uncomfortable but their lead prevails so far!
66'
Saiss goes into the book for a foul on the left flank.
66'
The Chelsea substitutes link up to create a chance for the home side which ends up with David Luiz. His subsequent effort is blocked.
63'
Chelsea will hardly be able to hear themselves think as the travelling Wolves fans are in full voice now!
61'
Another Chelsea substitution as Sarri brings on Hudson-Odoi for Pedro. Here come the reinforcements!
58'
Substitution Chelsea - Kovacic makes way for Loftus-Cheek in the aftermath of Wolves' goal as Chelsea look for something different.
57'
Absolutely wild scenes at Stamford Bridge as Wolves take the lead with their first attempt on goal the entire match! Chelsea will be less than impressed...
56'
GOOOAAAALLLL WOLVES!!! The visitors take the lead after a swift counter-attack! Diogo Jota lays it off to Jimenez who does just about enough to send the ball over the line after Azpilicueta slides in for the challenge! Great start to the second half!
50'
Doherty grabs Hazard's arm and brings him to the floor, Michael Oliver gives a free-kick as it happened millimetres outside the box. David Luiz takes it but it deflects off the wall and out of play.
45'
And we're back underway for what we hope will be a more exciting second-half!
45'
HT: Chelsea 0-0 Wolves. Well, thank god for half-time! It's safe to say that that was 45 minutes of football that nobody will remember. Chelsea dominating possession but unable to break through an airtight Wolves defence. Join us in praying for a more exciting second-half!
45'
One added minute at the end of this less-than-memorable first-half.
44'
Given this is a Premier League match between the sides sat in sixth and seventh, it's a rather boring encounter so far... will the second-half offer anything more?
41'
Diogo was almost through for Wolves but for his lack of ball control resulting in a handball and Chelsea reclaimed possession in their own half.
37'
Doherty is the first to go into the referee's book for his challenge on Eden Hazard.
34'
Kovacic attempts to release Hazard but the pass is just too heavy and Wolves can let it go for a goal-kick.
32'
More of the same from Chelsea as they continue to try and pass their way through, or around for that matter, the Wolves defensive line. It's a waiting game at Stamford Bridge...
27'
Chelsea have had a couple of penalty shouts after possible handballs in the box but neither were convincing enough for the referee to intervene.
26'
Higuain's effort ended up wide and the two Wolves defenders look to be alright.
25'
Saiss and Coady collide with each other after both attempting to clear the danger in their box as Higuain approached.
21'
Instead of trying to break through Wolves' defence, Chelsea try to go over the top of it but Matt Doherty is there with a clearing header.
17'
Despite their relentless attempts, Chelsea cannot find their way through Wolves' compact defence. There is no space for Hazard to break into space and do what he does best.
15'
Still Chelsea with all the possession as Pedro attempts an ambitious volley.
12'
Higuain posts Chelsea's first real sight of goal after Pedro's pass but his shot is deflected behind after Saiss' block.
10'
Finally Wolves manage to advance out of their own half! Nothing comes of it but it's a positive move!
9'
It looks like Wolves' tactic is to smother Chelsea in attack. It's working so far to be fair.
7'
Chelsea starting to build pressure as the ball has hardly left Wolves' half in the last few minutes. The visitors are doing well so far to keep Chelsea at bay and the home side will have to be patient and keep testing Wolves' defence.
4'
Possession being shared fairly equally at the start of this afternoon's encounter from a sunny Stamford Bridge.
3'
Kovacic has an early attempt on goal but Neves charges it down well.
1'
Michael Oliver blows his whistle as action gets underway at Stamford Bridge!
Prev.
Five minutes to go until kick-off! Can Wolves upset a resurgent Chelsea at home? Stay tuned to find out!
Prev.
Wolves will have some confidence going into this clash, having beat Chelsea in December and posting impressive performances against top sides this season.
Prev.
Wolves XI: Rui Patricio, Saiss, Coady, Boly, Doherty, Dendoncker, Neves, Joao Moutinho, Jonny, Jimenez, Jota
Prev.
Victory for the Blues would see them go ahead of Manchester United and Arsenal in the table, who play each other later today.
Prev.
Maurizio Sarri's men will be aware that a win against Wolves this afternoon will stand them in good stead ahead of the remainder of this season and could well be a turning point.
Prev.
Chelsea XI: Arrizabalaga, Azpilicueta, Rudiger, Luiz, Emerson Palmieri, Kante, Jorginho, Kovacic, Pedro, Higuain, Hazard
Prev.
Welcome to our live, minute-by-minute coverage of this afternoon's Premier League clash between Chelsea and Wolves from Stamford Bridge. Stay tuned for team news and line-ups!