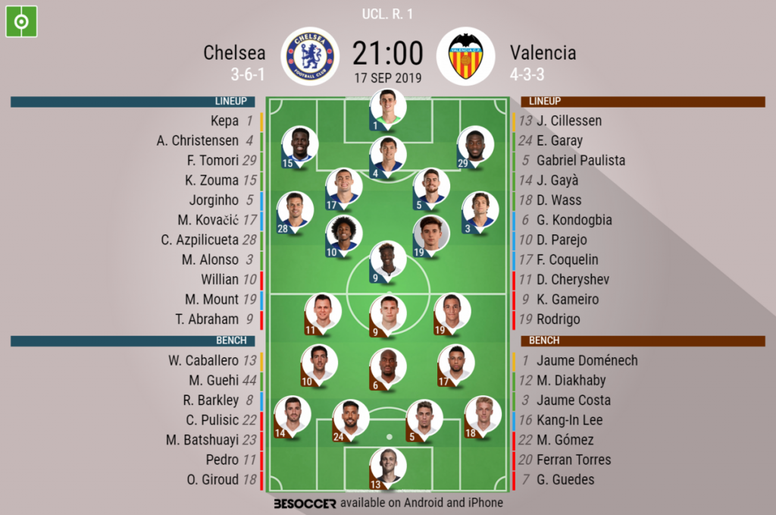 Chelsea V Valencia - As it happened.
90'
Full time sees Chelsea's first home defeat in Europe for over three years!! Valencia will go away with a bit more confidence in their team and manager and their supporters will now have something to smile about after all the turmoil off the pitch.
90'
Perhaps the last chance for Chelsea, after a ball in from Barkley sees Christiensen head the ball, expected to hit the target, but he doesn't and the ball goes wide. Agonising for Chelsea fans.
90'
Free kick fo Chelsea just outside the box, a good position to try and make something of this! Alonso goes for the top corner on the near post, however the keeper gets to it
90'
Valencia make their final change: Cheryshev off and Diakhaby on
89'
Valencia change: Rodrigo off, Kangin on
89'
Giroud gets a yellow card after calshing with Gabriel and hitting him in the face by accident as they both went in for the ball.
86'
Barkley's team mates were not sure that he should be taking the penalty, but he was confident. He misses, as his shot hits the barand flies over.
84'
The penalty has been given after a long VAR check, in which the referee decided it was a penalty!! Barkley to take
83'
Tomori wins the head from the corner and it hits Wass' hand. Calls for a penalty, VAR to check this as the ref did not initially give it
82'
Corner for Chelsea as they try to look for an equaliser! The corner goes to another corner as Pedro's shot is cleared
79'
Chelsea make their second sub as Kovacic is replaced by Ross Barkley, a like-for-like switch here
78'
Giroud has a shot, but he hits it straight at Cillessen
76'
Parejo down injured after an iterception from Abraham
73'
Gaya plays the ball into a good area and Rodrigo sneakily slots it into the back of the net, past the keeper, who cannot do much about it. Valencia have the lead!
73'
Kovacic catches Gaya and they get a free kick 30 yards out
72'
Chelsea make a change: Zouma comes off and Giroud comes ob, as Lampard looks to change shape a bit now
70'
Substitution for Valencia: Gameiro comes off for summer signing Maxi Gomez!
69'
Pedro has a shot after some good work from Chelsea, but it goes wide from the top corner
65'
Wass has a shot from outside the box, but it goes well wide
61'
Alonso took the free kick, the keeper got a hand on it to knock it to safety for a corner, which came to nothing
60'
Gaya fouls Willian outside the box, free kick for Chelsea. Lucky not to get booked there
55'
Corner for Valencia as the free kick was cleared. Gameiro has a shot from distance, but it goes over the bar!! By far the best opportunity Valencia have had
54'
Pedro gives away a free kick after a foul on Wass
50'
Ajaz are 2-0 up`in the other game of this group
49'
Cheryshev has a shot from distance, but there was no conviction in it and it goes wide
46'
Corner for Chelsea. Abraham heads the ball, but it is sent away again by Valencia
45'
What a way to finish the half with Willian's chance! Goalless at half time, as the game remains 0-0
45'
Willian has what is probably the last touch of the first half, after he has a clear, on-target shot, but the keeper makes an outstanding save to deny him.
43'
Corner for Chelsea, came to nothing after Valencia clear
40'
Kovacic makes a wonderful pass to Willian, who brings the ball down on his chest, but can't find his balance and the ball goes over the bar. Would have been a wonderful goal for Chelsea.
37'
Tomori passes to Azpilicuta near the goal and Azpilicueta, who is at the other side, has a shot, but it goes high above the goal
34'
Willian's shot goes just wide as he tries from outside the box, good footwork in the build-up to the shot.
32'
Jorginho receives a yellow card for a late tackle on Kondogbia
29'
Valencia looking a little more threatening now, Rodrigo has a shot from the edge of the box, but it hits his own player, Wass goes for the rebound, but it goes wide
27'
Gameiro was on side, made a great run as he was passed the ball, but his first touch let him down in the box and Tomori easily dealt with the ball.
26'
Azpilicueta holds his line and stays on side at the right, passes the ball to Abraham, who can't quite get his head on the ball
25'
Signs of something from Valencia after Rodrigo makes a great run up the left side of the pitch, passes to Parejo who cannot make anything of it
23'
Chelsea are struggling at the moment to find any clear cut chances
22'
Another corner for Chelsea saw it cleared again.
19'
Chelse find themselves in a little bit of danger as Valencia press and have a shot, but is easily saved by the keeper. This is the first sign of Valencia growing into the game
16'
Mason Mount comes off, very frustrated and Pedro Rodriguez is his replacement, who has been out for a month with injury. Mount's Champions League debut lasted only quarter of an hour.
14'
Mason Mount is really struggling now, as he has just stopped and gone down, the tackle has really affected him. He is shaking his head, knowing he cannot carry on. Coquelin is lucky not to get a red for that tackle
10'
Mason Mount is back up and is seeing if he can run it off, he may have to come off later. Willian took the free kick but there was not enough power on it and it went straight to the keeper.
8'
Mount is down and receiving treatment after the challenge.
8'
Coquelin gets a yellow card for a bad foul on Mason Mount, as he goes in too late. Free kick
7'
Another corner for Chelsea, but after a scuffle in the box, Valencia manage to kick away
5'
Corner for Chelsea. After Azpilicueta passes to Abraham, but he can't get anything on it at the near post and goes out for a corner. Alonso headed the corner but it wasn't a problem for the Valencia keeper, who easily gets to it.
3'
Jorginho crosses the ball in from range to Abraham, but there is too much on it and Tammy can't get to it before the keeper does.
Prev.
Chelsea get us underway for tonight's game!
Prev.
4 Chelsea are making their Champions League debuts here, including Kepa, Mount and Abraham
Prev.
Frank Lampard says they have atough group and that all the teams in it (Ajaz and Lille too) are strong and competitive. He chose Tammy Abraham to lead the line, trusting the young talent. He also changed his team to have a back 3, as he wanted them to be adaptable game by game. He says this competition is the best and it is a "magical" moment.
Prev.
Frank Lampard is continuing to trust in his in-form youngsters, who will be hoping to get a result tonight and start the Champions League off well
Prev.
This is a very tough job for new manager Celades, nobody really wants him at Valencia, especially the players and there has been a lot of controversy surrounding his appointment. He needs a result tonight after theit heavy 5-2 defeat against Barcelona at the weekend
Prev.
Valencia: Cillessen (GK); Garay, Gabriel Paulista, Gaya, Wass; Kondogbia, Parejo, Coquelin; Cheryshev, Gameiro, Rodrigo
Prev.
Chelsea: Kepa (GK); Christensen, Tomori, Zouma; Jorginho, Kovacic; Azpilicueta, Alonso, Willian, Mount, Abraham
Prev.
Join us for live commentary of the Champions League game between Chelsea and Valencia at Stamford Bridge. Chelsea will be going into the first Champions League game strong, after their 5-2 win against Wolves on Saturday. Valencia, however, will be wanting some much needed confidence after their 5-2 defeat against Barcelona under new manager Celades.