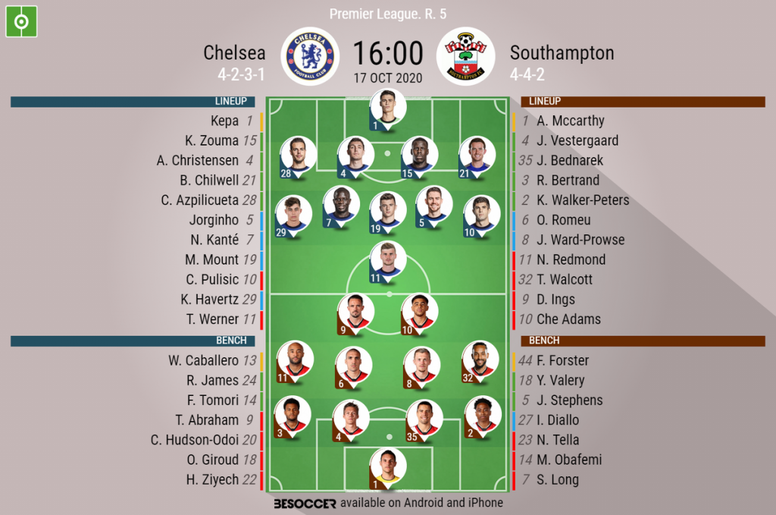 Chelsea v Southampton - as it happened
Chelsea

Southampton

Post.
Thanks for joining us for this one and see you again soon!
95'
FT: Chelsea 3-3 Southampton!!! All over at the Bridge and that was a cracker!! Chelsea will be gutted. Werner scored twice, but Ings pulled one back for the Saints just before HT. Kepa and Zouma made calamitous errors which saw Adams level, but Havertz looked to have won it for the Blues. However, Saints had other ideas and Walcott's shot from just outside the box was turned in by Vestergaard in stoppage time to give the Saints a point! Chelsea have lots of work to do at the back before Tuesday.
95'
Walcott almost makes it 3-4!!! A long possession by the Saints ends with Walcott firing wide from just outside the box!!
94'
Saints with the possession here in Chelsea's half.
94'
JWP's inswinging corner is knocked away by Kepa.
93'
And the Saints want more!!! Another move, this time by Tella sees Zouma have to concede a corner.
92'
It's 3-3!!!! Can you believe it??? Bertrand's free-kick is only half cleared by Zouma and Walcott's shot into the ground is flicked in by Vestergaard into Kepa's bottom right hand corner!! Extraordinary! But maybe we shouldn't be surprised.
90'
Chelsea sub: Werner is replaced by Abraham.
89'
Chilwell's cross is sent into the box and dealt with by the Saints.
87'
Chelsea sub: James on for Pulisic.
86'
Southampton double sub: Romeu is replaced by Diallo and Long is on for Adams.
84'
Yellow card for a bad foul by Romeu.
83'
Shots: 11-10, on target: 5-5.
82'
Shout for handball by the visitors outside the area! Nothing given.
81'
Ings is denied by Kepa!!!! Good play by the Saints sees the ball passed to Ings in the box and the Spaniard makes a fine stop.
80'
Romeu is penalised for a foul at midfield.
78'
Lots of positives for Chelsea going forward, but there's a lot to work on at the back. The second goal was a comedy of errors.
78'
And nearly 3-3!!!! Walcott runs down the middle, he passes to Adams on his right and the shot goes across Kepa and wide of the goal!
77'
Saints have put up a really good fight here, but I think they'll come up just short.
77'
Southampton sub: Redmond is replaced by Tella.
77'
The delivery is sent in and Havertz heads over the goal.
75'
Chelsea win a corner here. The set piece is headed away by Walker-Peters.
72'
Chelsea sub: Mount is replaced by Ziyech.
69'
Chance for Romeu after the ball is only half cleared and he volleys over the goal.
68'
JWP sends a ball into the area and Chilwell heads back to his goalie who can't keep it in play.
67'
Chelsea still in front here and things seemed to have calmed down after a frantic few minutes.
64'
Havertz passes the ball into the box, but it's not controlled by a teammate and it's a goal kick.
62'
Southampton continuing to attack and are not out of this!
60'
That was a mad few minutes!! Adams made it 2-2, but parity only lasted two minutes.
58'
Havertz makes it 3-2!!! The ball is passed to Werner after good Pulisic play and he squares for Havertz to tap in and restore Chelsea's lead!
56'
Adams makes it 2-2 after a howler by Zouma and Kepa!!!! A long ball is sent forward, Zouma hits a woefully underhit back pass, Kepa comes out but misses the ball, Adams gets there and after his initial shot is blocked by a defender and the post, Adams gets up to turn it over the line.
54'
Ings!!!! Good shot by the former Burnley man after Pulisic only half clears the ball it goes narrowly wide of the post.
53'
Redmond is blocked up by Azpi and it's a free-kick 45 yards from goal.
51'
Chilwell runs towards the goal and JWP gets there to cover and clear.
49'
The free-kick is headed on by a Saints man, but it's easy for Kepa.
48'
Chilwell picks up the first card of the match for a silly shirt pull on JWP. This could be dangerous.
48'
A ball is passed forward for Danny Ings, but the former Burnley man miscontrols the ball.
46'
Havertz shows his strength after getting up after being knocked down by a defender nearly the Southampton box, but nothing comes of it.
45'
Chelsea and the ref are waiting for the Saints here.
45'
HT: Chelsea 2-1 Southampton!! Half-time at the Bridge! After an open start, Chelsea took charge with two goals from Timo Werner, the second of which was a brilliant individual effort after a Jorginho long pass upfield, but Havertz's mistake saw Ings pull one back for Hassenhuttl's men. Since that goal, the Saints have picked up and it's all to play for in the second half!
45'
Werner runs, it's blocked by Vestergaard and it's a corner.
45'
Two extra minutes and that goal has lifted Southampton.
44'
Havertz was really silly there. He was just outside his box and was running sideways. Absolutely no need.
43'
Ings pulls one back for the Saints!!! Havertz loses the ball about 25 yards from his own goal, the ball is then passed by Adams to Ings who goes round the keeper and scores. VAR says no foul on the German and the Saints are back in it! Havertz was too casual there.
39'
Opportunity for Werner! Havertz gets a little touch on a pass from the far touchline and Werner hits wide from a tight angle.
38'
Chelsea look to find Werner again, but the Saints defence get back.
35'
Relieving free-kick for the away side after Redmond is fouled.
34'
The Saints go down Chelsea's left and Ings is flagged offside.
32'
Lampard's men are showing their quality here so far. A fully deserved advantage.
31'
Zouma with a free header!! Poor marking by the Saints and McCarthy makes a quality stop.
31'
Chelsea are looking for more and they win a corner now.
29'
Werner makes it two to the Blues!!! Jorginho sends in a lovely pass forward from his own half, the ball bounces, Werner controls with his chest, then scoops the ball over the goalie before heading into an empty net. Superb.
26'
Opportunity for Chelsea involving Pulisic and Mount and the visitors just about survive!! Mount starts the move, Pulisic then picks up the ball and looks to cross for Havertz, but it's cleared.
25'
Azpi fouls JWP in his own box.
24'
The Saints have had some possession in the last few minutes, but Chelsea have held firm.
21'
Chilwell is penalised for a foul on Walker-Peters on this near side just to the side of the box. It's given by the linesman.
19'
Mount and Pulisic combine in the box and it's a corner for the hosts.
16'
Chelsea have been the better team and it was coming.
15'
Timo Werner scores for Chelsea!!! He gets the ball after the fake does for Bednarek, he dribbles into the box, then cuts inside before firing into the corner. Good goal.
14'
Timo Werner heads in Chilwell's cross, but the flag is up!. Just off and a good call by the lino.
13'
Bertrand sends a ball into the area, Christensen miscues the clearance and a teammate has to bail him out.
12'
Good spell of possession for the visitors now.
9'
Kante is penalised for a foul here.
8'
Save by Kepa!!! The Blues are caught out by the back, Walcott gives the ball to Adams and the Spaniard is forced into an important stop.
7'
Mount combines with Werner on this near side and his pass across the face of goal can't find a teammate.
6'
Chilwell sends another ball in and Pulisic heads over the goal.
5'
Good move by the Saints, but Ings can't control.
4'
Walcott is fouled in midfield.
3'
Double chance for Chelsea!!! Lovely play by Pulisic in the build up sees Chilwell's shot saved by McCarthy and then Havertz is also denied on the rebound by the keeper!
1'
Southampton get us going at the Bridge from left to right!
Prev.
The players are out here in West London!
Prev.
Southampton beat West Brom 2-0 in their last fixture and they make two alterations from that game. Walcott and Redmond are in for Djenepo and Armstrong.
Prev.
It's 12 degrees and cloudy in West London this afternoon.
Prev.
The big news for Chelsea is that Kepa is back in goal after Mendy was ruled out with a thigh injury. Christensen replaces T Silva while Mount and Pulisic are the other changes from the 4-0 victory over Palace. Hudson-Odoi and Abraham are the men to miss out.
Prev.
7th v 11th. 7pts v 6pts after four games each. Chelsea host Sevilla on Tuesday in the Champions League.
Prev.
Peter Bankes is the referee for this one while Mike Dean is the VAR.
Prev.
Southampton XI: McCarthy (GK); Bertrand, Vestergaard, Bednarek, Walker-Peters; Redmond, Romeu, JWP, Walcott; Ings and Adams.
Prev.
Chelsea XI: Kepa (GK); Chilwell, Zouma, Christensen, Azpilucueta; Pulisic, Jorginho, Mount, Kante, Havertz; Werner.
Prev.
Hello and welcome to live coverage of the Premier League match between Chelsea and Southampton from Stamford Bridge.