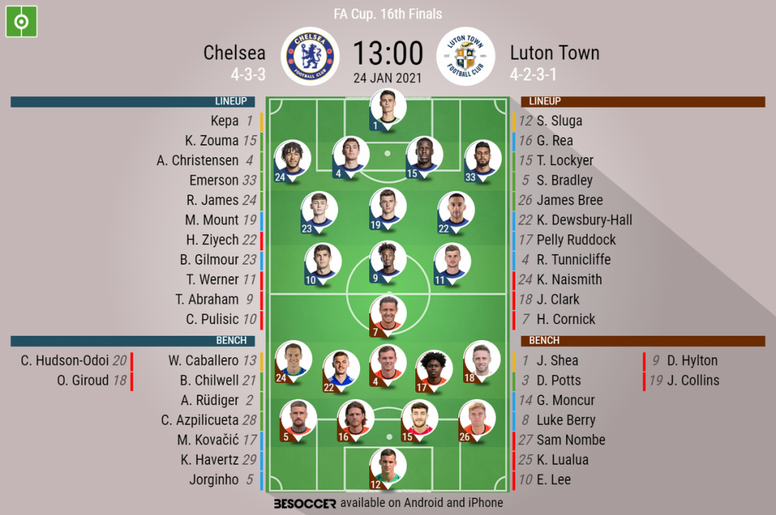 Chelsea v Luton Town - as it happened
Post.
That's all from us. Thanks for your company and see you again soon!
93'
FT: Chelsea 3-1 Luton!! All over at a snowy Stamford Bridge and it was easy for the Blues. Tammy Abraham scored two early goals, but Jordan Clark pulled one back for the Hatters. The visitors looked for a leveller, but Abraham's third goal killed off the contest. Timo Werner had a chance to score in the closing stages, but his spot kick was saved by Sluga. It was fairly straightforward for the Blues and they go to Barnsley in the last 16.
93'
Giroud has his first shot blocked and then is denied by Sluga with his second effort.
88'
It wasn't the best penalty, but it was a fine stop all the same. Sluga looked to be slightly off his line, but the VAR let it slide.
86'
Werner takes the spot kick and it's saved!!! Sluga dives to his left and stops it! Good stop.
85'
Clark is also booked for the foul.
84'
Penalty to Chelsea after Kovacic plays in Werner and Clark trips him. Clear pen.
84'
Chelsea sub: Mount goes off and Kovacic comes on.
83'
Luton go forward, but Chelsea clear and then counter. The move ends with the ball in the hands of Sluga.
82'
Lualua wins a corner off the Chelsea defender.
78'
Chelsea have definitely been better than their opponents and they deserve to go through.
77'
Chelsea double sub: Giroud comes on for Abraham and Havertz takes the place of Ziyech,
76'
Moncur has a pop and it goes wide of Kepa's right hand post.
75'
Luton sub: Moncur on for Smith.
74'
Abraham gets his hat-trick!! Gilmour starts the move, Hudson-Odoi then plays a one-two with him before squaring for Abraham to tap in from inside six yards. That should be the game now.
73'
Shots: 15-7, on target: 4-3.
73'
Abraham!!! Hudson-Odoi does really well on the far side and Abraham's header goes wide of the post.
71'
James again down this near flank, he puts a cross for Hudson-Oodi at the back stick and the shot is blocked.
71'
Chelsea sub: Pulisic is replaced by Hudson-Odoi.
70'
Werner goes down wanting a penalty, but David Coote says no. James' ball into the box finds Werner and despite Mpanzu looking like he was trying to grab his shirt and Werner goes down easily. It wasn't a pen, but that was needless by the defender.
68'
Still 2-1 and Chelsea need to be careful this game doesn't slip away from them.
66'
Chelsea go forward through Abraham and his effort goes wide of the goal.
63'
Luton again!! A corner by Dewsbury-Hall is headed on by Naismith and then Lockyer is offside from the second half. Luton are getting closer.
61'
Luton triple sub: Lualua on for Ree, Collins on for Cornick and Berry on for Tunnicliffe.
60'
Cornick!!! What an opportunity!! James makes a terrible error on this near side, Potts starts the move, he passes for Mpanzu (Pelly Ruddock) and then Cornick sees the shot saved by Kepa.
58'
Chelsea threaten again and Luton manage to block the efforts. Last ditch defending!
57'
Pulisic!! The American tries again and the ball hits Potts in the head before going for a corner.
57'
Luton have done little going forward in the second period. They might be waiting until the final 15 minutes to throw everyone forward.
56'
Mount!!! Ziyech gets the ball on Luton's left, he passes back for Mount on the edge of the area and he hits over the goal.
53'
Abraham! The corner is taken short and Abraham just can't quite get on the end of it at the back post.
52'
Emerson's cross is deflected behind for a corner.
51'
Mount goes forward, but the move comes to nothing.
49'
What an opportunity for Pulisic!! Luton lose the ball in their own half, Ziyech backheels for James, the ball in finds Pulisic who's denied by a superb Sluga save.
48'
Ziyech is fouled in his own half.
47'
Much less snow on the pitch now and little has happened so far in the second period. The snow is still falling.
46'
Luto HT sub: Potts on for Rea.
46'
Luton get us going after a 21 minute half-time!
45'
HT: Chelsea 2-1 Luton!! Chelsea have been the much better team and struck twice early on through Abraham. The first of them was controversial as there were two balls on the pitch. However, Luton got back into the game through Clark after his shot was fumbled in by Kepa. Chelsea are still looking likely to get a third, but Luton aren't out of this at 2-1. Stick around for the second half!
45'
Cornick heads the free-kick towards goal and Kepa holds onto this one. Half-time at the Bridge.
45'
45+2: Free-kick to the Hatters in a dangerous area just before HT! Mount brings down Dewsbury-Hall.
45'
45+1: Emerson crosses into the area and Werner knocks the ball wide of the goal as the snow starts to get heavier again.
45'
Shouts for a penalty for handball by the Chelsea players after Werner scoops the ball onto Naismith's arm, but the ref says no. Looked chest to me.
43'
Corner for the home side and Mount's ball in is unable to find a blue shirt.
41'
Pinball in the Luton box after Abraham and Mount have chances and the visitors finally get it away.
39'
Corner to Chelsea after Bradley gives away the corner.
36'
Chelsea go forward again and Abraham is unable to turn James' ball into the net. Getting closer to a third the Blues.
34'
Pulisic!! Werner plays the ball to Pulisic who curls it wide from just outside the box.
32'
Chelsea win a corner, they play the ball to a player outside the box and the ref bumps into him! Luton had an extra defender there!
30'
Luton pull one back after an error by Kepa!!! Clark scores! Mpanzu sends the ball to his near side for Bree the cross in finds Clark and the shot goes into the back of the net. Kepa put his right foot there and it just hit it before going in. Another error by the Spaniard.
28'
Pulisic!!! So nearly 3-0 as the ball is played to the American, but he shoots straight at the goalie.
27'
Back playing again and it's been very easy for the Blues.
25'
Zouma has picked up a leg injury here while Abraham is still holding his shoulder.
24'
Abraham passes to Pulisic and his cross is knocked out by Lockyer.
21'
Abraham has picked up a knock to his left shoulder while challenging for the ball.
19'
Bree slides in to play the ball off Emerson to win the corner.
18'
It's been very easy so far. No issues with that goal.
17'
Abraham scores once again! It's a walk in the park for the Blues! Too easy for Lampard's men. Ziyech has the ball in the box, he cuts it back for James who plays a chipped pass for Abraham who heads in. Sluga comes out and then retreats and that leaves him with no chance.
16'
82% possession for the hosts.
15'
That goal has setlled any early Chelsea nerves, but Luton were not happy with the goal.
13'
The VAR can't intervene on that issue (it's not reviewable), but that's really poor by referee David Coote. He should have seen that and stopped play. It shouldn't have counted.
12'
There's an element of controversy over the goal as the old ball had come back onto the pitch after hitting the hoardings. Even though a Chelsea player kicked the old ball away, the Luton players were clearly distracted by it.
11'
Abraham scores for Chelsea!!! Chelsea take a quick throw-in after Sluga's goal kick goes straight out of play, Ziyech throws for Werner who cuts back for Abraham to hit home!
10'
Mount sees his effort deflect off Bradley for a corner.
9'
Abraham!! A pass forward is sent by Chelsea for Abraham, he gets there first before Sluga and the ball hits the keeper who was sliding in.
8'
Luton go forward now and Naismith's ball in is caught by Kepa. No real chances so far.
6'
Emerson's ball into the box is straight forward for Sluga.
5'
Good play by Chelsea sees Werner get down this near side and his cross is cleared by Naismith.
4'
Chelsea are trying to play out from the back despite there being snow on the pitch and Emerson has to concede a throw-in. Not a clever strategy.
1'
A long ball forward looks for Abraham and Sluga charges out of his goal to clear.
1'
Chelsea get us going from right to left five minutes later than scheduled! Luton in white with orange shorts.
Prev.
Plenty of snow on the pitch despite the groundstaff's efforts. They've had to mark out the lines. Only light snow now so the could should be played without issues.
Prev.
The players are coming out here now!
Prev.
Luton are just emerging from their makeshift dressing room.
Prev.
The groundstaff are clearing the pitch here as there's plenty of snow on the pitch. It's 12pm and the players are still in the tunnel. Looks we'll be starting a little late.
Prev.
1 degree and snowing heavily in West London this lunchtime.
Prev.
Luton lost 1-0 at Brentford last Wednesday and they make five changes from that game. Potts, Moncur, Pelly Ruddock, Berry and Collins drop out. Tunnicliffe, Rea, Mpanzu, Clark and Naismith come in.
Prev.
Mendy, Chilwell, T Silva, Rudiger, Kovacic, Havertz and Hudson-Odoi are the men to drop out of the XI.
Prev.
Mason Mount is the Chelsea captain and they make seven changes from the 2-0 loss to Leicester in the Premier League last Tuesday. James, Mount, Pulisic and Abraham are the only ones which keep their places.
Prev.
We'll have extra time and penalties if needed this evening.
Prev.
Luton are mid-table in the Championship (13th).
Prev.
David Coote is the referee for this one while Peter Bankes is the VAR.
Prev.
Luton XI: Sluga (GK); Tunnicliffe, Bradley, Cornick, Lockyer; Rea, Mpanzu, Clark, Dewsbury-Hall; Naismith, Bree.
Prev.
Chelsea XI: Kepa (GK); James, Zouma, Christensen, Emersen; Mount, Gilmour, Ziyech; Werner, Pulisic and Abraham.
Prev.
Hello and welcome to live coverage of the FA Cup tie between Chelsea and championship side Luton!