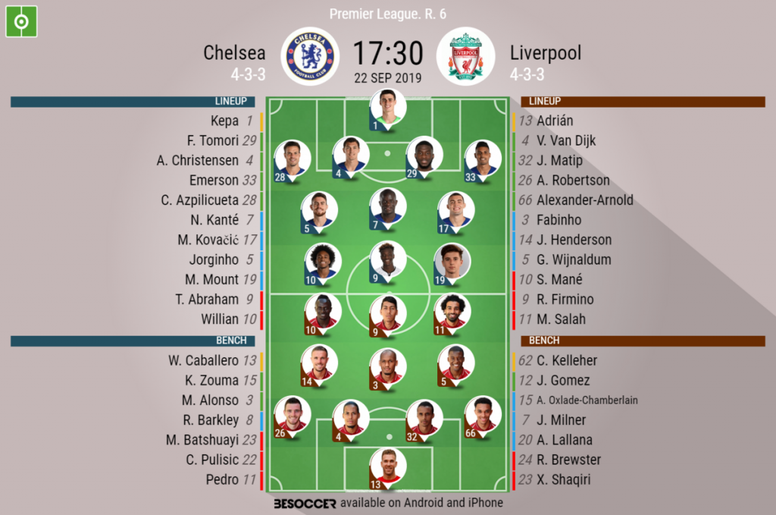 Chelsea v Liverpool - as it happened
Chelsea FC

Liverpool

Post.
Thank you for joining us for the live commentary!
93'
Full time sees Liverpool make it 15 Premier League wins in a row. Chelsea still without a home win and their 2nd loss in 5 days at Stamford Bridge. There will be a lot of frustration from Frank Lampard. That wasn't Liverpool's greatest performance but they held on and got the result that they wanted.
93'
Alonso receives a yellow card after Robertson counters and goes on a run down the pitch and Alonso, desperately trying to get possession back, downs him.
93'
Joel Matip is man of the match in tonight's game
90'
Liverpool make a final change as Mo Salah comes off and Joe Gomez comes on
89'
Mason Mount misses a very important chance after Alsonso crosses the ball in for him, he is onside and just over kicks the ball well into the crowd. A big miss there
88'
Corner for Chelsea, but Liverpool manage to get it out
87'
Batshuayi 's header goes just wide of the far post after an Alonso cross in, big chance there for Chelsea
85'
James Milner is booked for diving in on a Chelsea player
83'
Kovacic gets a yellow card after shouting a lot at the referee
82'
Liverpool make a change as captain Jordon Henderson comes off, giving Milner the armband and Adam Lallana comes on in his place
79'
Matip downs Willian as he's on the run with the ball and Chelsea have a free kick. It is a long ball that lands to Alonso on the left side of the goal, tries to sneakily head it into the net, but Adrian denies him
77'
Fabinho goes into the book for pulling Batshuayi down as he was on the ball
75'
Chelsea make their final change as they look to get something out of this game. Tammy Abraham comes off and is replaced by Batshuayi
72'
Substitution for Liverpool, as James Milner comes on and Mane comes off
70'
Kante gets a goal for Chelsea, after he runs through the Liverpool defence and slots the ball coolly in the top corner from the edge of the box. That goal will have put Chelsea back into the game now
68'
Henderson fouls Kante and a free kick is given
61'
Jurgen Klopp is going ballistic on the touch line as Chelsea have looked more threatening and his team look a bit sloppy. He knows that one Chelsea goal could change the whole game
58'
Azpilicueta crosses the ball into the box and Abraham tries to get to it, but goes down in the box and appeals for a penalty after he doesn't get to the ball. Corner given instead and Kante has a shot from the corner pass in, but it goes just wide
56'
Trent Alexander-Arnold goes into the book for taking to long to take a throw-in
55'
The referee called over Jordan Henderson to tell him to warn his team about time wasting, after the goalkeeper takes a while to take a goal kick. Lampard not happy as he believes he should have been booked
50'
Kepa manages to save the ball from going in the back of the net after Azpilicueta thinks they're clearing it, but actually it heads towards goal. Would have been an own goal
48'
Brilliant save by Kepa as Firmino's strike was on target and heading into the back of the net
48'
Corner for Liverpool as Salah's run down the wing is blocked by Tomori and out for a corner
48'
Second half is under way! No changes have been made by either side
48'
Half time at Stamford Bridge sees Chelsea fall behind by 2 goals. Chelsea finished off this half strongly, but will need to get the next goal if they want to stay in this game against the league leaders. It is all still to play for
46'
Alsonso crosses the ball into the box after he receives a ball over the top from far down the pitch, Adrian comes out to deal with it, but doesn't catch it and Willian goes in for the shot, but Adrian gets to it properly this time
44'
Azpilicueta's ball into the box sees Abraham get his head on it, but he can't direct where he wants it to go and it goes wide
41'
Chelsea have to make their second substitution of the game already, as Kurt Zouma comes on to replace the injured Christensen
40'
Christensen has gone off to carry on receiving treatment and play is resumed
38'
Christensen is down after he cleared Mane's shot in the box, he is receiving treatment now
36'
Abraham is back up and running now
35'
Jorginho passes the ball into the box from far away and Adrian comes out to try and get a goal, he jumps into Tammy Abraham, who was also there, and he is now down and receiving treatment
29'
Horrible few minutes for Chelsea after they thought they'd equalised and now Liverpool double their lead. Firmino's head in from the free kick sees Liverpool score, their second goal from a set piece in tonight's game.
28'
Liverpool free kick on the edge of the box after Azpilicueta fouls Wijnaldum
27'
The goal has been disallowed by VAR after Mason Mount, who originally passed to Willian, was offside. Still 0-1
26'
Chelsea equalise with an Azpilicueta goal. Willian has a shot, then it looked like an own goal and then Azpilicueta slotted it coolly in the back of the net
23'
Abraham was one-on-one with the keeper after a nice ball from Christensen, but Adrian manages to challenge him and deal with it.
19'
Tomori goes into the book after a two footed challenge on Jordan Henderson. Free kick Liverpool
17'
Another corner for Chelsea as they are starting to press a bit now
16'
Chelsea corner as Van Dijk clears Kovacic's mid-air kick clears the corner for a throw-in
14'
Emerson has come off and Alonso is his replacement for Chelsea
12'
A Trent Alexander-Arnold goal, after he strikes the free kick and bends it round Jorginho right into the top corner of the net. 0-1
12'
LIVERPOOL GET THE SCORING UNDERWAY!!!!
12'
Liverpool have a free kick right on the edge of the box as Fabinho passes to Mane, but Christensen is too rash and downs him in the penalty arc
12'
Free kick to Chelsea as Abraham is fouled
10'
Brilliant, fast break from Chelsea, as a great pass from Kovacic to Mount, who then runs down the left side of the pitch and crosses the ball into the box, Willian is there, but Liverpool manage to deal with it.
7'
Kante passes the ball into the box from the left hand side and Willian receives it, but he can't quite get to it in time and goes down.
4'
A great ball in from Henderson right up at the other end of the pitch, but Azpilicueta made a crucial touch to kick it away and stop Liverpool going one on one with the keeper
2'
Willian is down after a clash with Van Dijk, he looks to have a bit of pain in his leg, but is back up now
Prev.
Liverpool get things underway!!
Prev.
Frank Lampard is still yet to win a home game at Stamford Bridge, but he's not lost at home yet either
Prev.
Do Chelsea have what it takes to stop Liverpool in their tracks? Liverpool have won their last 14 games in the Premier League and although both teams lost in the Champions League last Tuesday, they will both be coming out fighting tonight. With Liverpool's unstoppable strike trio out in full force.
Prev.
Liverpool make one change as Firmino comes back into the starting XI, when he was rested in the last game. Wijnaldum also plays in place of James Milner
Prev.
Chelse make 2 changes, as Emerson comes back and Kante comes back from injury after suffering an ankle injury. Mason Mount is fit enough to play and is in the starting XI
Prev.
Today's game will be Fabinho's 50th appearance for the Reds in all competitions
Prev.
Adrian (GK); Van Dijk, Matip, Robertson, Alexander-Arnold; Fabinho, Henderson, Wijnaldum; Mane, Firmino Salah
Prev.
Chelsea: Kepa (GK); Tomori, Christensen, Emerson, Azpilicueta; Kante, Kovacic, Jorginho; Mount, Abraham, Willian
Prev.
Join us for live coverage of the Premier League game between Chelsea and Liverpool at Stamford Bridge. Can Liverpool carry on their 14 game unbeaten run in the Premier League?