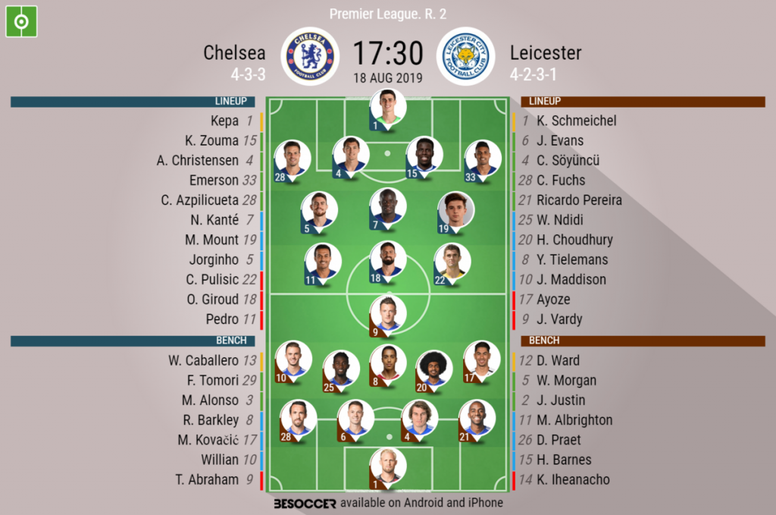 Chelsea v Leicester - as it happened
Chelsea FC

Leicester City FC

90'
Full time 1-1! Frank Lampard will be disappointed not to get three points after their first-hañf performance, still the firstpoint of his reign. Leiecester will be disappointed not to get more after giving it their all in the finish.
90'
Vardy is on a run to the net and throws himself into Cristiansen, bringing him down
90'
Chelsea clinging on at the moment as Leicester look a real threat
90'
Abraham gets himself in a good position to run at the back four, but can't quite produce the finish
90'
4 minutes of stoppage time
88'
Tielemans has a powerful shot but it is directly at the Chelsea goalkeeper, who manages to stop it.
84'
Chelsea looking strong again now, with a few shots and pressing a lot, putting the Leicester defence under a bit of pressure. Mason Mount just misses a shot too, as it is deflected.
79'
Ayoze Perez comes off for Leicester, to be replaced by Marc Albrighton
76'
Jamie Vardy is at an angle on the right hand side and has a shot, but it goes just wide of the bottom post.
73'
Shot at the other end after Pedro crosses to Abraham who just can't quite get his head on it.
72'
Crucial chance for Leicester as Maddison gets through the defence and instead of passing to Vardy, who is free, he takes it himself and lashes it over the bar. A lack of compsure here let him down
71'
Leicester bring Choudhury off, seeing Pruet make his debut for the club.
69'
Double substitution for Chelsea! Jorginho off, to be replaced by Kovacic! Willian comes on for Pulisic
66'
Goal for Leicester, Ndidi redeems himself as he slots the ball in the back of the net after a Maddison corner! 1-1
63'
Leicester shot after a diagnal run, Perez slots it into the box for Vardy, but he just can't get there on time.
60'
Tammy Abraham comes on, with Frank Lampard still exerting confidence in him after his penalty miss. Giroud comes off for him.
57'
Leicester coming to now, as they press more, Maddison kicks a ball into the box, but nobody is there to put it in the back of the net.
56'
Leicester corner! it looks like Perez just clipped Pedro's ankle whilst trying to go for the ball. Choudhry has a shot but the keeper saves. Pedro is now back on the field.
54'
Pedro down with an injury after he grimaces and goes down, although we cannot see why. He is certainly in discomfort
52'
A cross-in sees Giroud have a shot with his head, but the keeper is straight on it
50'
Leicester have come out fighting in the second half and are showing Frank Lampard and Chelsea that this game is far from over
49'
Maddison plays the balll into the box, keeper comes out and tries to stop him, Fuchs with the last effort over the bar
48'
Reports of a lighting failing in the Chelsea dressing room at half-time as there was a black-out. Doesn't seem to have affected them too much
47'
Leicester have a chance as they run up the pitch, Maddison passes the ball through to Vardy who is ruled offside
46'
Giroud is offside as he tries his luck at goal
45'
We have kicked off the second half!
45'
Second half about to start
45'
Frank Lampard will be very impressed with his side after that first half, Chelsea created a lot of chances and out Leicester under pressure. No real chances for Leicester means that Brendan Rogers will be unhappy with that first half performance
45'
Jorginho volleys the corner at the net and it flies over. That's the last kick of this half as the ref blows the whistle.
45'
Corner for Chelsea with a minute to go until half time
43'
Corner as Cristiensen clears Vardy's efforts
41'
Some signs of a Leicester recovery as they have a little more possession in the last ten minutes
39'
Leicester keep trying to press just before half time to equalise, however nothing has come of it yet
36'
The referee played on after Jorginho fouled Tielemans, but VAR looked at it and the referee booked him for foul play.
33'
Ayoze fouls Pulisic, referee originally plays on, but then brings the play back for a free kick
30'
Both Chelsea defenders left the ball for their keeper and Vardy was there to pressure them, kante got to it in the end and cleared
25'
Giroud flicks the ball round the corner of the box into the middle, but Kante fires it and it goes wide.
22'
Corner for Leicester as Giroud clears a shot, however it comes to nothing
20'
Azpilicueta kicks the ball into the box and Mount tries his luck for a second, however he heads it straight into Schmiechel's hands
19'
Ricardo kicks the ball into the box, but there are no attacking options there and the keeper easily gets to it
16'
Ricardo bustles his way through the Chelsea defense, however he plays the ball too quickly to Vardy, who cannot get to it in time
16'
Brendan Rogers has had no wins in 12 managerial matches against Chelsea
14'
Intense start from Chelsea, dominating in all ways in the first 15 minutes
12'
Tielmans made a late tackle on Emerson and ended up worse off. He is up and running again now
6'
Mount scores his first goal for the club after an error from Ndidi, who unsuspects the shot, after Evans passes the ball to him
1'
Schmeichel busy already as he saves Giroud's shot, which then deflects to Mounts feet, who has another shot, goes out for a corner
1'
Pedro ruffles the side netting!
Prev.
"Welcome home super Frank" and "Frank Lampard is a legend" are a few of the signs being displayed by the Chelsea fans
Prev.
We will kick off very shortly!
Prev.
It is sunny for today's game at Stamford Bridge. Frank Lampard is expecting a great atmosphere as he returns to the home stadium for the first time since playing for the Blues.
Prev.
Ben Chilwell is struggling with a hip injury and so will not appear in todays game, Fuchs is his replacement
Prev.
Lampard opted for Giroud over Tammy Abraham this week after Abraham missed a penalty at the UEFA Super Cup
Prev.
Leicester: Schmeichel (GK); Evans, Soyuncu, Fuchs, Pereira; Ndidi, Choudhury, Tielemans, Maddison, Ayoze; Vardy
Prev.
Chelsea: Aprizalbaga (GK); Zouma, Christiensen, Emerson, Azpilicueta; Kante, Mount, Jorginho; Pulisic, Giroud, Pedro
Prev.
The line-ups have been revealed so here they are:
Prev.
Welcome to the live coverage of the Premier League game between Chelsea and Leicester at Stamford Bridge. After a rocky start, can Frank Lampard's Chelsea go away with three points?