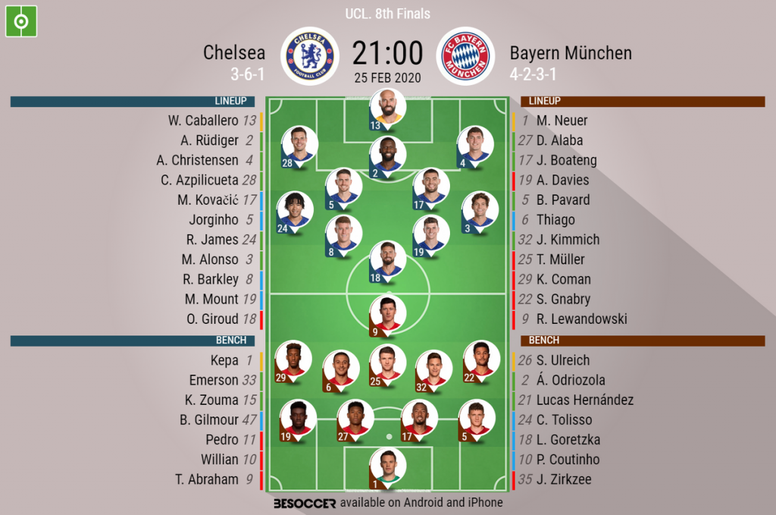 Chelsea v Bayern München - as it happened
Chelsea

Bayern München

94'
FT: Chelsea (10) 0-3 Bayern M! All over at the Bridge! It was the Gnabry and Lewandowski show. Gnabry scored the first two while Lewandowski got two assists and then the third goal. Marcos Alonso got sent off late on for violent conduct and Jorginho will also be suspended for the second leg. Bayern dominated the second leg, fully deserved to win and are all but in the quarters. Thanks for joining us and see you again soon!
93'
Bayern are continuing to dominate in added time. There looks no chance of Chelsea turning this around in the second leg.
91'
Off the line! Goretzka's header is actually stopped by Lewandowski!
90'
Bayern sub: Goretzka on for Thiago.
89'
Mount has an effort from close range which is easily stopped by Neuer.
88'
Chelsea haven't had a shot on target in the second period.
87'
Davies runs down this near side and passes to Lewandowski is touch is por and Chelsea clear.
84'
Bayern have a free-kick and hit it wide.
83'
Alonso is tossed out of the game!!! Red card! He just slaps Lewandowski on the face off the ball. Absolutely stupid and a fully justified red.
83'
The ref goes to the monitor!
82'
Marcos Alonso is booked now. Lewandowski is caught in the face by Alonso.
81'
Abraham runs into the box, but is then dispossessed.
81'
It's been a great last 16 for the German sides. Dortmund beat PSG and Leipzig defeated Spurs last week and now this. It's three losses from three for the English clubs after Liverpool lost to Atletico. Can City prevent it being four losses from four tomorrow at RM?
79'
Chelsea trying to pull one back, but a cross goes across the face of goal. They just have no answer.
77'
Since the first Bayern goal, this has been complete one way traffic.
76'
Lewandowski makes it 0-3!!! Chelsea are all but out! What a goal!!! Davies sprints down the far side, he leaves Christensen and others for dead before putting it on a plate for Lewandowski in the middle to fire home.
74'
Willian sends a cross into the box and no teammate can get on the end of it.
73'
Chelsea sub: Azpilicueta is replaced by Pedro.
71'
Willian wins a corner off Bayern.
69'
Mount!!! Bayern lose the ball after a stupid lateral pass, the ex-Derby man rushes and he hits over.
68'
Almost 0-3!!! Muller attacks down the far side, he crosses for Coutinho on the far side who can't time his volley.
66'
Bayern sub: Coutinho on for Coman.
65'
Coman is down injured here and is getting treatment. I have to say that given the UEFA interpretation of handball, I'm very surprised that hasn't been given.
63'
Huge shout for a penalty as Thiago's shot strikes an arm. It hits Christensen on the arm which is raised and away from his body. It could have easily been given.
63'
Gnabry sees his effort deflected over for a corner.
61'
Chelsea double sub: Giroud and Barkley off, Abraham and Willian on.
59'
Gnabry nearly gets the hat-trick!! A pass back from the byline by Muller is volleyed over by Gnabry.
58'
Bayern are in complete control here now.
54'
And again!!! Gnabry and Lewandowski combine and the former nets again! A long punt by Neuer is headed by Lewandowski to Gnabry, he gives it back to Pole and then runs to receive the return pass and slot it into the far corner. Chelsea in major bother now.
53'
Coman sees yellow for something. We aren't sure why.
52'
What a two minutes for the Blues... They've conceded an away goal and lost Jorginho for the second leg.
51'
Bayern take the lead!!! Gnabry passes the ball to Lewandowski who squares for Gnabry to fire home!!! Azpilicueta's slip allowed Gnabry to control and pass to Lewandowski initially.
49'
Jorginho is booked for protesting quite evidently a foul on Kovacic which wasn't given. And he misses the second leg! No need for him to get involved.
48'
Double save by Neuer!!!! A long ball forward goes to Mount and sees his shot saved and then Barkley on the rebound see's his powerful hit stopped! The flag was up though so it was all void.
46'
Welcome back everyone! Chelsea get us going again! No changes.
45'
HT: Chelsea 0-0 Bayern M!! Half-time at the Bridge! Bayern M have been the better side and could have scored through Coman and then Muller with his header which hit the bar. Chelsea though have also looked dangerous and Alonso has come the closest for the Blues. Bayern on top, but Chelsea also threatening. Back for more in a bit!
45'
Thiago picks up the first card of the match for bringing down Barkley to prevent the counter.
45'
Gnabry gets a corner for the Germans. One added minute.
45'
Bayern are the better side and had more possession and territory, but Chelsea have also had their chances. Anything could happen here.
44'
Chelsea win a corner and Alonso heads wide.
43'
Alonso!!!! The Spaniard cuts inside to beat Pavard and then his shot along the ground is knocked away by Neuer! Chelsea's best opportunity up to now.
43'
Kimmich's delivery is headed up in the air and then caught by the goalie.
42'
Free-kick on the near side for the away side.
40'
Lewandowski claims a corner, but ref Turpin isn't interested.
39'
James' free-kick beats everybody and it goes out for a goal kick.
38'
Free-kick on the near side after Mount is brought down by Pavard.
35'
Off the bar!!! A cross into the box from the far side is headed by Muller onto the crossbar from just outside the six yard box! That's the closest we've come to a goal.
34'
Nearly 1-0 Chelsea!!! Bayern lose the ball in their own half after a GK error and the move ends with a cross which Barkely and Giroud are very close to getting on thre end off.
31'
Kimmich is penalised for a handball.
30'
That wasn't far away!!! Muller gets the ball and his curling shot goes narrowly wide of Caballero's left hand post!
29'
Bayern are looking very threatening now. Chelsea in trouble.
28'
Caballero's getting treatment here and Kepa could come on. Caballero seems ok though.
28'
What a save by Caballero!!!! A through ball is played for Lewandowski by Muller and Caballero comes out and slides to make a crucial save with his leg.
27'
67% possession for the visitors.
26'
An attempted pass by Davies for Lewandowski sees Caballero come out to claim.
24'
Barkley!!! Barkley receives a pass from Giroud, but Barkley's cross is poor.
23'
The game seems to have calmed down in the last few minutes. Bayern are definitely on top, but it's still goalless.
20'
Giroud!! His tame header into the ground from the set piece is easily held onto by Neuer.
19'
Corner for the home side after a pass from James on the far side is knocked behind by Davies.
18'
Chelsea attack on the far side through Mount, but Davies then gets ahead of Mount to shield the ball out for a goal kick.
16'
The corner is flicked on at the near post before going wide of the far stick.
15'
Lewandowski!!! The Pole is played in after a long pass by Thiago and his goalbound shot strikes Caballero in the chin before going for a corner.
12'
Muller hits wide after Chelsea lose the ball in their own half.
11'
What a chance!!! Bayern win the ball off Chelsea, Coman plays a one-two with Muller before firing wide of the near post from just outside the area!
10'
Giroud catches Boateng with a stray arm after jumping for the ball.
9'
A long punt by the goalkeeper is flicked on by Giroud to Mount and he turns inside before firing wide.
7'
A long throw into the box is only half cleared to Mount in the D, he chests it down and then fires over.
6'
Barkley sees a cross into the box blocked and it's a throw-in for the home side.
5'
Boateng pushes Giroud and is penalised.
4'
Bayern having the better of the opening exchanges.
3'
Davies caught on the foot by Mount. That was nasty. Lucky to get booked perhaps.
1'
Chance for Muller!!!! Kovacic had the first run of the game and then at the ohter end, Muller is passed the ball just outside the box and Caballero comfortably saves the shot.
1'
Bayern get us going from left to right! Both teams in their usual kits.
Prev.
Azpilicueta and Neuer shake hands with the ref!
Prev.
The players are out here at Stamford Bridge!
Prev.
Since then, they have met just once. That was in the 2017 International Champions Cup pre-season tournament in Singapore. Bayern won 3-2 thanks to goals from Rafinha and a brace by Muller. Alonso and Batshuayi scored for the Blues.
Prev.
The two teams last faced each other in this competition in the 2012 final. Bayern, on their own patch, were stunned on penalties by Roberto Di Matteo's Chelsea after it finished 1-1 after 120 minutes. Muller and Drogba scored the goals and then the Ivorian netted the decisive spot kick in the shootout. Bayern got some kind of revenge in August 2013 when they met in Prague in the UEFA Super Cup and the Germans won on spot kicks.
Prev.
It's a chilly night in the English capital. Just four degrees the temperature.
Prev.
Just a reminder here that the away goals rule applies and that this is the first leg.
Prev.
Bayern Munich were pegged back twice at home to basement boys Paderborn on Friday night, but ended up winning 3-2. Pavard, Boateng, Coman and Muller come in, Lucas Hernandez, Tolisso, Odriozola and Coutinho drop to the bench.
Prev.
Chelsea name an unchanged side from the team which beat Tottenham 2-1 at the weekend.
Prev.
We have French officials this evening in West London. Clement Turpin is the referee while Francois Letexier is in the VAR van just outside the ground.
Prev.
Bayern XI: Neuer (GK); Davies, Alaba, Boateng, Pavard; Coman, Thiago, Muller, Kimmich, Gnabry; Lewandowski.
Prev.
Chelsea XI: Caballero (GK); Christensen, Rudiger, Azpilicueta; Kovacic, Jorginho; Alonso, Mount, Barkley, James; Giroud.
Prev.
Hello and welcome to live coverage of the Champions League last 16 encounter between Chelsea and Bayern Munich from Stamford Bridge.