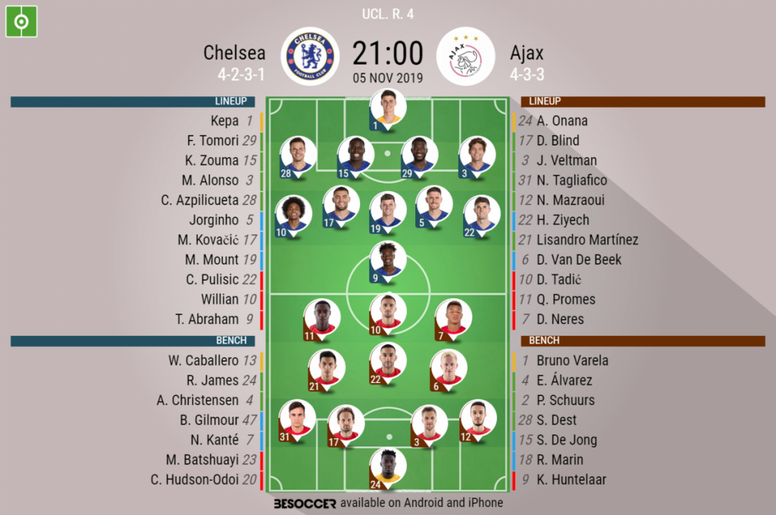 Chelsea v Ajax - as it happened
95'
FT: Chelsea 4-4 (9) Ajax!!! Full-time at the Bridge! I don't know what to say. That was amazing. Ajax were still attacking with 9! Van de Beek made it 1-4 when Chelsea were on top before Azpilicueta puilled one back. Jorginho scored another pen which saw 2 Ajax players sent off and James levelled before Azpilcueta thought he had won it, but Abraham handled in the build up and VAR spotted it. Thanks for joining us and see you again soon!
95'
It's all over!!!!!!!! What a game!!! I think that's probably fair. What a spectacle that was. Well done to all of you who didn't switch over at 1-4!
94'
Batshuayi fires wide of the goal from Willian's pass. The shot across the goalie goes wide.
93'
James sends another ball in and Onana easily catches.
93'
Chelsea go again and the touch is too strong! It's a goal kick. Onana not in a hurry. 90 seconds remaining.
92'
Abraham heads James' cross wide of the goal.
91'
Free-kick to Chelsea in their own half.
91'
Just four added minutes! Lampard can't believe it. Should have been at least two more.
90'
Batshuayi!!!!! He turns inside and Onana has to save down low to his left! Ajax going gung-ho with 9! This can't end well for them...
89'
Hudson-Odoi!!!! Almost 5-4!!! His strike from 25 yards curls narrowly wide of Onana's left hand post.
88'
Ajax nearly make it 4-5 again after Promes plays in Mazraoui and then Chelsea almost 5-4 at the other end through Abraham's header!! This is like basketball!!!
87'
Chelsea sub: Batshuayi on for Kovacic.
87'
Chelsea manage to clear the corner.
86'
Almost 4-5!!!! Ajax go down Chelsea's left through Tadic, the ball is cut back into the box and Alvarez turns before forcing Kepa to make a great save! Ridiculous.
84'
Ajax have an attack now and the hosts have to clear for a throw in!! Ajax would be delighted with a draw.
82'
Chelsea dominating here and Willian volleys towards Onana.
80'
It's still 4-4!!! Ajax with 9.
79'
Rocchi goes to the monitor!!! And it's no goal!!! After Onana's save, the ball touches Abraham on the arm before Azpilicueta fires home!!!
78'
It's 5-4!!!! After a goalmouth scramble. Ajax protesting!!! Azpilicueta's first cross is cut out, Jorginho then hits it towards goal, Onana saves and Azpilicueta fires home!!!
76'
Promes' free-kick has to be tipped over by Kepa!!! Almost 4-5!
75'
In the 3-4 goal, Chelsea attacked, Blind fouled Abraham in the build up, Rocchi played advantage and Veltman stopped Hudson-Odoi's shot with his arm inside the box so penalty for Chelsea and both Blind and Veltman were booked. Blind and Veltman had already been cautioned so Chelsea got a penalty and Ajax 2 reds.
75'
And now Onana has to save again from Willian!!!
73'
And now 4-4!!!! Chelsea win a corner, Willian's corner is headed by Zouma, it hits the bar and then James fires home the rebound!!
72'
Ajax sub: Neres and Ziyech off, Alvarez and Schurrs on.
72'
So it's 3-4 and Ajax down to 9.
71'
And Jorginho scores the pen!! The ball goes to Onana's right this time! Onana guessed wrongly.
70'
Penalty to Chelsea and 2 reds for Ajax in the same move!
69'
Veltman handballs Hudson-Odoi's shot and he gets a yellow card! And that's his second so he's off! His left arm was out and it's a pen.
69'
And Blind gets a second yellow for a foul on Abraham in the build up!
68'
Penalty to Chelsea for handball! Ajax can't believe it!
65'
Jorginho shoots towards goal and Abraham tries to flick it towards goal, but it goes wide. The Chelsea man said Veltman touched it. Rocchi thought otherwise.
63'
Azpilicueta makes it 2-4!!! Willian gets the ball, he passes to Pulisic inside the box and then Abraham hits it towards goal. and Azpilicueta flicks it home as it's going into the goal. Azpilicueta looks just off. But the VAR says the Spaniard is onside so the goal counts!
62'
Promes is carded for bringing down Willian after losing the ball.
61'
Still no sign of Batshuayi.
60'
Chelsea sub: Mount can't carry on and Hudson-Odoi is on.
59'
Mount is down injured after his foot clashes with Van de Beek's.
58'
Veltman loses the ball in his own half, but Willian's cross is poor.
55'
And Ajax score again!!! Unbelievable! Neres goes down the far flank (Chelsea's left), the ball breaks to Ziyech and he passes to Van de Beek who takes a touch before firing home.
54'
This is a different Chelsea side.
53'
Abraham is through on goal after a pass by Kovacic and he scuffs his shot at Onana and the Ajax shot stopper tips it wide. From the set piece, Ajax have to head clear.
52'
Abraham heads at the GK after a nice cross by Azpilicueta.
50'
Chelsea win a corner after James' shot is blocked by Tagliafico and then Blind turns the sub's cross around the post.
48'
Willian has an argument with an Ajax player and the ref comes in to defuse the situation.
46'
Great chance for Zouma in the opening seconds as he smacks over after a 50 yard run!
46'
HT Chelsea sub: James came on for Alonso at HT.
45'
HT: Chelsea 1-3 Ajax!! Half-time at the Bridge and it's Ajax who will be heading off the happier. Abraham turned the ball into his own net inside two minutes before Jorginho levelled from the spot seconds later. Promes then made it 1-2 after 20 minutes before Kepa turned Ziyech's stunning free-kick into his own net 10 minutes before the break, Ajax better so far, join us for more in 10 minutes!
45'
They didn't get time to take the corner! Not sure about that...
45'
The free-kick is headed over the bar by Abraham for a corner.
45'
Azpilicueta has his name taken after a foul on the far side.
44'
Alonso fires a low strike at Onana!
43'
Tomori cautioned for fouling Neres in the build up.
42'
What an opportunity for Ajax! Chelsea are being carved open in defence. Neres beats Tomori, the ref plays advantage and Tadic, Promes and Martinez combine before Martinez smashes over.
40'
Pulisic tries to find Mount in the box, but his cross is blocked.
38'
What a save by Onana!! Chelsea attack and Willian's pass for a teammate to tap in is kicked away by the goalie.
35'
It's gone in straight from the free-kick!!! It's 1-3! Ziyech takes it from near the corner flag, it's swung into the box, the ball hits the far post and then Kepa in the face before going in! Ziyech deserves it, but it will be a Kepa OG.
33'
Blind is cautioned for a cynical foul on Kovacic.
32'
The set piece into the box is claimed by Onana.
31'
Veltman is cautioned for bringing down Willian right next to this near touchline.
29'
58% possession for the away side and they seem more likely to score the next goal.
27'
Almost 1-3!!! Abraham almost heads into his own net from Ziyech's ball in! It just goes wide though and it's a corner.
25'
Marcos Alonso brings down Neves in a dangerous area.
23'
Remember if there are no more goals, Ajax will have a better H2H record over Chelsea on away goals (it was 0-1 in Holland). That is the first tiebreaker if the teams are level on points.
22'
I told you there were more goals in this!
20'
Ajax go back in front!!! Ziyech sends a pass from this near flank straight to Promes who heads home at the far post! VAR checks for a possible offside, but it looks just on. The VAR gives it the all clear.
18'
I would say Chelsea are slightly better now, but both teams are attacking.
17'
Ziyech hits wide of the target now!
16'
Jorginho brings down Tagliafico more or less where the foul for the Ajax goal was produced. This time Chelsea clear though.
14'
Tadic chance!! The Ajax man fires over the crossbar after a controlling a long pass from the Ajax backline.
14'
Tammy Abraham scores after being one on one thanks to a lovely pass by Kovacic, but the flag's up. He's miles off.
13'
Free-kick to Chelsea 30 yards out. It's taken short though.
11'
Kovacic runs towards the box before he is halted by good defending.
11'
The penalty was a penalty. Veltman caught Pulisic's back leg and that stopped his progression.
9'
Neres gets the ball inside the box, but he's crowded out by Chelsea defenders.
7'
This game is crazily open. Expect more goals here.
5'
Ajax attack once again and Marcos Alonso sends it out for a corner!! Anyone betting on this ending 5-5?
4'
Jorginho sends Onana the wrong way!!! The ball goes to the GK's left.
3'
Penalty to Chelsea!!! Pulisic is caught by Veltman inside the box after Mount starts the move!
2'
And it's gone in!!! Ajax lead! Quincy Promes' free-kick is turned into the Chelsea goal by Abraham!
2'
Free-kick to Ajax on the far side after a foul. Azpilicueta fouls Tagliafico.
1'
Ajax get us going from left to right!! Both sides in their usual kits.
Prev.
The players make their way out here at Stamford Bridge!
Prev.
It's 11 degrees at Stamford Bridge this evening.
Prev.
The winner of this match will top Group H this evening as the two sides are both on six points from three games. Valencia (4pts) host Lille (1pt) in the group's other encounter.
Prev.
Ajax are unchanged from their 2-4 victory at Zwolle on Friday night. Ajax have yet to lose in the Eredvisie this season (10W and 2D) and have a six point lead at the top.
Prev.
Chelsea make one change from the match at the weekend which saw Lampard's men win 1-2 at Watford. Alonso replaces Emerson in defence.
Prev.
Ajax fans are banned tonight by UEFA after crowd trouble at previous games so only home supporters will be allowed to watch the match. Dutch fans had planned to go to Leyton Orient's match against Brighton U21s, but that was postponed 24 hours so the Ajax fans won't be able to watch any match live.
Prev.
When the two teams met back on matchday 3, Chelsea won 0-1 thanks to a late goal by substitute Michy Batshuayi.
Prev.
Gianluca Rocchi of Italy is the referee and Paolo Valeri is the VAR.
Prev.
Ajax team: Onana (GK); Tagliafico, Blind, Veltman, Mazraoui; Martinez, Ziyech, Van de Beek; Promes, Tadic and Neres.
Prev.
Chelsea team: Kepa (GK); Alonso, Tomori, Zouma, Azpilicueta; Pulisic, Jorginho, Mount, Kovacic, Willian; Abraham.
Prev.
Good evening and welcome to live coverage of the Champions League match between Chelsea and Ajax from Stamford Bridge. The winner of this one will go top of Group H so it will be worth watching!