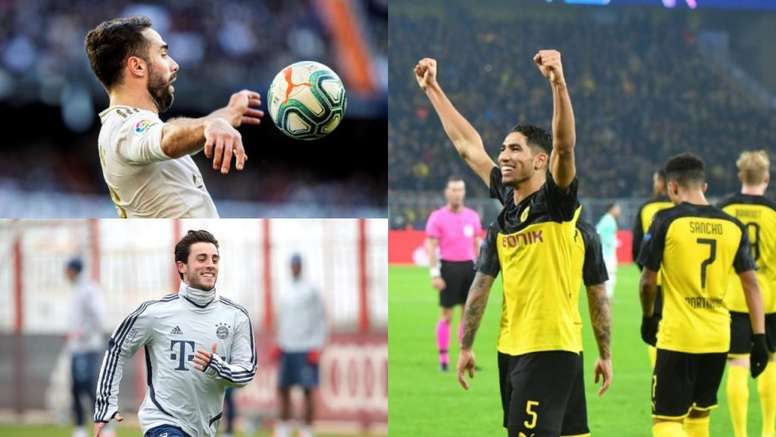 Carvajal, Odriozola or Achraf? The figures speak for themselves
Our ProFootballDB colleagues are working on a report on full-backs, and have focused in particular on the three who could be in contention for a starting place at Real Madrid next year: Dani Carvajal, Alvaro Odriozola and Achraf Hakimi.
Reviewing their statistics and taking averages every 90 minutes of play (not every game, but ultimately serving to get an idea even if they don't play the same amount), one can clearly see the strengths and weaknesses of each.
There is one that stands out from the rest, Achraf. The Moroccan is the best when it comes to goals, assists, dribbling and duels, surpassing his competitors in most of these aspects.
The difference in offensive matters is total. Achraf averages 0.23 goals for every 90 minutes of play, while Carvajal averages only 0.03. Odriozola has not even scored this season.
The same is true for assists, although in this case the differences are not so palpable. From 0.29 for Achraf we go to 0.22 for Carvajal, and we end up at 0.18 for Odriozola.
Carvajal surpasses Borussia's side in interceptions (1.18 against 0.96) and in key passes (1.67 against 1.34), as well as in centres, but in this statistic the equality is almost total (3.71 of Carvajal, 3.24 of Achraf and 3.35 of Odriozola, the only statistic in which the Basque surpasses the Moroccan).
May 25, 2020
Therefore, looking at these performance statistics, several conclusions can be drawn from them. Achraf has performed better than his rivals this season, regardless of whether he played more minutes or less than them. On average, his numbers are better.
But Acharf shines especially when it comes to offensive contribution, except for key passes, and just barely. Defensively, Carvajal performs somewhat better, but only in terms of interceptions.
The big loser in this battle is undoubtedly Alvaro Odriozola. Behind his team-mates in all the statistics, only in one of them his numbers are not the lowest. He is the one who will start with the biggest disadvantage in the competition for the starting lineup in the right hand side of Real Madrid for next season.