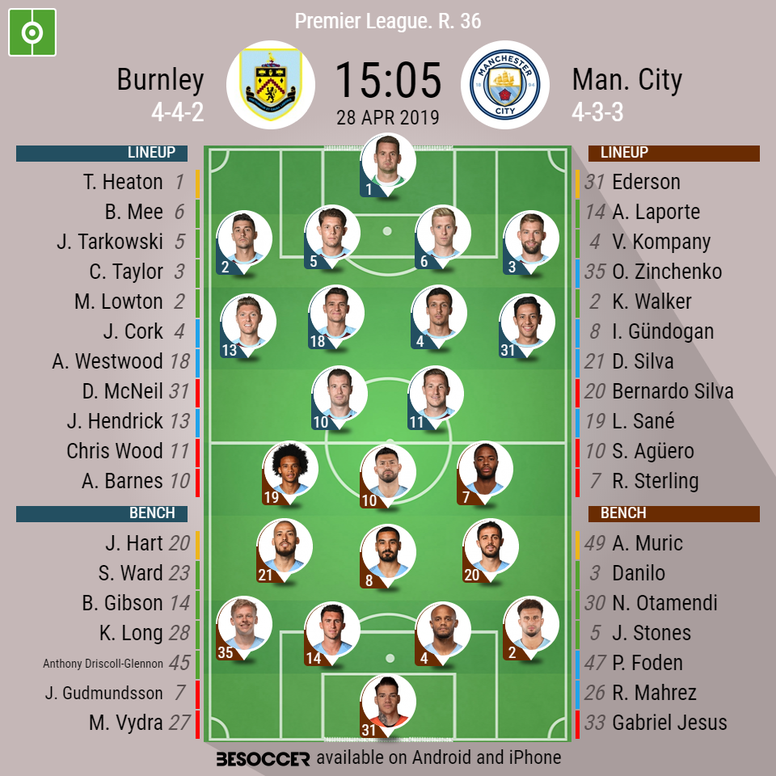 Burnley v Man. City - as it happened
Burnley FC

Manchester City FC

Post.
Not Aguero's prettiest goal, but without a doubt one of his most important. That's all from Turf Moor as the Argentinian secured a huge win for City. Thanks for joining us, and keep your eyes peeled for a match report later today.
90'
And that's that! City move back on top of the Premier League table by 1 point and nearly 3 centimetres.
90'
Gundogan booked for time wasting...
90'
Burnley's free-kick comes to nothing, and that could be their last chance as City win a free-kick in Burnley's half. Silva collapses to the floor and looks to be staying there for the near future...
90'
A real substitution now as Otamendi enters for Sterling.
90'
Burnley might just bring on Jurgen Klopp to head this one home...
90'
Free-kick for Burnley in CIty's half after a Kompany foul...
89'
Burnley finally push forward, but their brief spell of pressure ends with Ederson catching an overhit Taylor cross. Four minutes of added time here...
87'
Lowton receives a yellow as he takes out his frustrations. City in no rush to take this free kick.
86'
City have the ball in Burnley's corner, running down the clock.
83'
Stones looks to have slid into the CIty midfield, just in front of the back four.
82'
Second change for City as they look to see out this game - striker Aguero makes way for, well, not striker John Stones.
79'
Good work from Taylor down the left sees him put a tempting ball into the box, but it's cleared away by Kompany. Into the last 10 minutes here, can the hosts respond?
76'
Hendrick makes way for Gudmundsson.
75'
More goal-line drama!! This time however, Mee does brilliantly to keep Jesus' effort off the line after he rounds Tom Heaton.
75'
Guardiola's side, in typical Pep fashion, are knocking the ball around for fun now.
72'
Change for Burnley up front as Matej Vydra replaces Chris Wood - I'm sure Laporte won't be sad to see the back of him.
70'
Word coming out that Aguero's strike crossed the line by a whopping 29.59 millimetres...talk about fine margins.
68'
Burnley try to respond through Barnes, who slices his shot high and wide. Aguero's 20th league goal of the season that, by the way.
66'
Inches. A matter of inches. That could be all that separates City and Liverpool this season - especially when you think back to how close Sadio Mane's effort was to crossing the line at the Etihad earlier this season...
65'
Sane makes way for Jesus in the midst of the drama.
64'
Lowton thought he'd done enough to stop it, but goal-line technology suggests otherwise and the goal is given,
63'
Bernardo Silva's cross from the right falls to Aguero, whose shot just crept over the line despite Lowton's best attempts to stop it.
63'
GOAL!! Aguero puts City ahead
61'
Lowton will carry on as Pep prepares Gabriel Jesus on the sideline...
60'
And Lowton has stayed down following that challenge
59'
A big tackle from Lowton halts Sterling as he bursts into the box - the Burnley full-back had to get that one right,
57'
Backs to the wall defending sees Burnley players throw their bodies on the line to deny a combination of Aguero and Sterling and give City yet another corner.
54'
Aguero drags one wide after finding space on the edge of the box. The game feels very different now to the first half...
53'
City have really upped the ante here and look a lot more like themselves.
51'
Big save from Heaton!! The ball falls to Bernardo Silva on the edge of the six-yard box, but Heaton reacts quickly to stop his shot from going in.
48'
Have to say, that looks a clear handball. The ball was smacked goalwards in the aftermath of a corner and Ashley Barnes seemed to stick his arm out to cushion it, but Paul Tierney waves play on - much to the dismay of SIlva and Co.
48'
HUGE penalty shout for a Burnley handball here...will need to see that one again
47'
Aguero forces a save from Heaton at the near post after a smooth City move.
45'
Back underway at Turf Moor where City will need a much-improved display in the second half.
45'
Pep makes his way out for the second half. Does he ever take that grey sweater off?
45'
Referee Paul Tierney blows for half-time at Turf Moor with the deadlock still in tact. Both teams have come close - City through Aguero and SIlva and Burnley through Wood - but a big second half is needed from Pep's side if they want to keep the league title in their hands...
45'
Into 2 minutes of added time here as Pep continues furiously gesticulating away on the bench.
44'
Sane tries his luck with his weaker right-foot from outside the area but it rolls into Heaton's hands, provoking a furious reaction from Pep on the touchline. Just not happening for his side so far...
40'
Ooo that was close!! Aguero finds himself with space on the edge of the area and tries to curl his effort into the top right corner, but it flies just wide.
39'
Aerial crosses, meanwhile, are proving to be rather fruitless for City - that's Burnley's defence's bread and butter.
38'
Sean Dyche will be happy with what he's seen from his side so far - they look solid behind the ball and CIty are having to try to force through inch-perfect passes to break them down.
35'
CIty pinging the ball around with more purpose and pace now - ZInchenko's cross from the left evades everyone, before Sterling somehow escapes a yellow for cynically bringing down Barnes as Burnley looked to counter.
34'
Quite the battle shaping up between CIty's centre-halves and Burnley's battering ram strikers - Chris Wood pushes Laporte out of play in the latest incident.
32'
Sterling's cutback from the right finds David Silva in space in front of the penalty spot, but he can't sort his feet out quickly enough and Tarkowski recovers to block his shot.
27'
First chance for CIty!! They find space cutting in from the left and Sterling slides in Bernardo SIlva. The Portuguese international tries to replicate his near-post effort that caught out De Gea at Old Trafford, but Heaton is wise to it and holds on.
25'
Pep's side have not quite clicked yet - ZInchenko's miscontrol out of play under no pressure is pretty fitting of their performance so far...
24'
Walker re-enters the field and it seems he will be ok to play on.
23'
Walker down injured here - he slipped as he gave away possession and McNeil's knee made contact with his bleach blonde head.
22'
Chance for Burnley!! Chris Wood is slid in behind by Hendrick after City lose possession in their own half, but his first touch is heavy and Ederson comes out bravely to deny him.
21'
Should have done better there - Ben Mee peels away to the back post from the free-kick but his volley/cross flies miles over the bar.
20'
Free-kick for Burnley in City's half as Kompany mistakes Chris Wood for a climbing frame and sends him crashing to the floor after an aerial battle.
18'
First bit of defending for CIty to do. Cork tries to flick the ball over Kompany, but it hits the City captain square in the face - better check the ball is ok after that one.
16'
Dwight McNeil gets himself in a twist at the back post and gives away a corner, but Ilkay Gundogan takes pity on the youngster and delivers a terrible corner that is cleared at the front post.
12'
The visitors are, unsurprisingly, dominating possession now. Kyle Walker, whose freshly dyed blonde hair has made him somewhat difficult to recognise so far, looks for Sterling down the right but overcooks the pass and it goes behind.
9'
City choose to take the corner short and recycle possession, but David Silva's cross from the right sails harmlessly behind for a a goal-kick.
8'
Another low cross, this time from Aguero and from the left, is turned behind by Tarkowski for the first corner of the game.
6'
City pushing on now - a dangerous low cross from Kyle Walker is crucially cut out by Ben Mee.
4'
City make their first venture forward, but Sterling's ball down the right wing rolls out of play for a goal kick - a decision the winger is not best pleased with.
2'
Burnley look up for it - a crunching tackle from Matt Lowton has the visitors penned it early on. CIty yet to leave their half...
1'
We're underway in a huge Premier League clash.
Prev.
The teams are making their way out on to the pitch on a bright afternoon at Turf Moor...
Prev.
It is worth noting that City do line up with a rather attacking looking midfield. Fernandinho has not recovered from his Old Trafford kneee injury, meaning Bernardo Silva and David Silva will operate in front of Ilkay Gundogan - a midfielder who himself is not famed for his defensive capabilities.
Prev.
10 minutes until kick-off...how are the nerves, City fans?
Prev.
City themselves possess a forward who may know where the goal is from time to time...Argentinian Sergio Aguero has scored 8 goals in his last 7 games against Burnley, and is also just one goal short of a milestone - he is a single strike away from becoming the second player to score at least 20 Premier League goals in six different seasons.
Prev.
Both teams will look to the men leading their respective forward lines today to make the difference. Burnley's Ashley Barnes is their top goalscorer and sits just one goal short of a club Premier League record having scored 11 goals this season.
Prev.
So, will we see another giant killing today? Or will the reigning champions move into touching distance of retaining their crown? Head over to our Facebook page to send in your predictions.
Prev.
If this wasn't enough to inspire hope into all Burnley (and Liverpool) fans, the following stat will: Burnley have beaten the reigning champions in each of their previous four Premier League seasons, and have won 44% of their games against the title holders (W4, D1, L4).
Prev.
However, with the added pressure of this enthralling title race, a City win today is by no means a foregone conclusion. Furthermore, Burnley are a team that themselves are in good form after winning their last two home games.
Prev.
City come into the game on red-hot form and are clear favourites for today's clash. Pep Guardiola's side have won 11 straight league games coming into this game - the longest streak in the Premier League this season.
Prev.
Burnley, meanwhile, were guaranteed of their Premier League safety after Fulham's win against Cardiff on Saturday. This means 'The Clarets' have little to play for, but the opportunity to land a major blow in the title race and earn a big Jurgen Klopp hug is surely enough to motivate them today.
Prev.
So, with all the ramifications that this game carries, it won't be just the city of Manchester that will be watching events at Turf Moor unfold closely today. City will leapfrog leaders Liverpool with a win today and take another step closer to defending their Premier League title.
Prev.
Manchester City: Ederson, Walker, Kompany, Laporte, Zinchenko, Bernardo Silva, Gundogan, Silva, Sterling, Aguero, Sane.
Prev.
Burnley: Heaton, Lowton, Tarkowski, Mee, Taylor, Hendrick, Westwood, Cork, McNeil, Barnes, Wood. Subs: Gudmundsson, Gibson, Hart, Ward, Vydra, Long, Driscoll-Glennon.
Prev.
Firstly, let's take a look at how the two sides lineup at Turf Moor this afternoon.
Prev.
Good afternoon and welcome to our live coverage of today's crucial Premier League clash between Burnley and Manchester City. Stay tuned for lineups and much more.