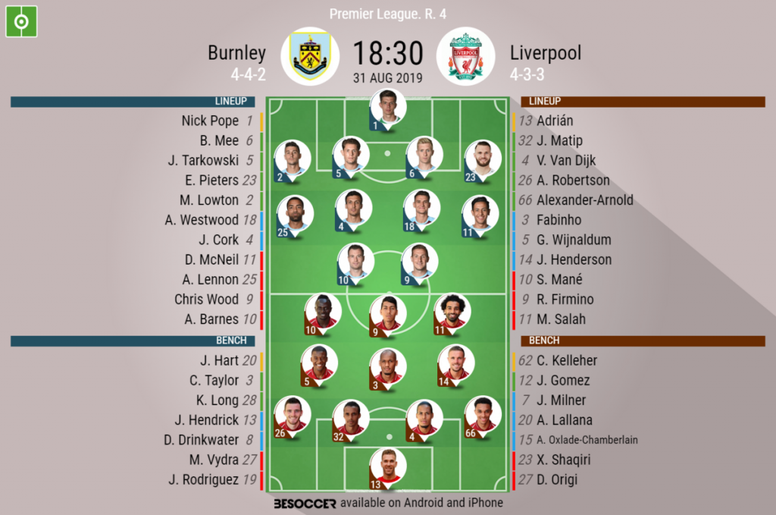 Burnley v Liverpool - as it happened
Burnley FC

Liverpool

93'
FT: Burnley 0-3 Liverpool! All over at Turf Moor! Liverpool cruise to victory thanks to an own goal by Wood and goals from Mane and Firmino. Burnley competed for most of the first half, but Liverpool were comfortable in the second. Liverpool go top going into the international break. That's all from us, thanks for joining our coverage and see you again soon!
93'
Liverpool see a shot blocked as the game ends here in Burnley!
92'
Mane could have bee upset at Salah shooting instead of passing to him a few minutes before he was subbed off.
90'
Three added minutes just as Salah plays in Wijnaldum!! Pope gets down to take the ball off the Dutchman though.
89'
What a save by Adrian to deny Rodrgiuez!! He beats Van Dijk to the ball, he's one on one with the GK, Adrian goes to the floor, Rodriguez goes round him and the GK knocks the shot away with his hand while he's on the floor!
88'
This game has been over for a long time to be honest.
85'
Liverpool double sub: Mane and Firmino off for Origi and Shaqiri. Mane is furious on the bench at something else. Milner and Firmino have to calm him down.
84'
Pieters looks to have injured himself in making that challenge.
83'
Salah is played in by Firmino inside the area, he takes too long to pull the trigger and Pieters slides in to dispossess him.
80'
Firmino settles this one on the counter!!!! Salah started it after being played in by the Brazilian on the counter. He goes past Pieters and Mee before giving it back to Firmino to make it 0-3.
79'
The Ox hits at Pope on the counter and then McNeil fires well wide at the other end,.
78'
Burnley have picked up since Rodriguez came on. It's more open now.
76'
Great save by Adrian to deny Rodriguez after Wood plays him in!!! Was miles off though.
74'
Burnley sub: Barnes goes off and Rodriguez is on.
73'
Matip's leg is grabbed by a Burnley player while both are on the ground! Comical.
72'
Van Dijk goes for a very ambitious effort from 40 yards out which goes well over.
71'
Liverpool sub: The Ox replaces Henderson.
70'
Burnely attack now and Van Dijk clears Lowton's cross.
69'
Burnley have not had a shot on target since the 2nd minute.
66'
Henderson is getting treatment here after clashing with Lennon. I think their knees may have crashed into each other.
64'
Firmino goes for an overhead kick inside the box to try and score in spectacular fashion!!! He hardly connects with it though.
63'
Another corner for Liverpool. Burnley can hardly get out of their own half.
61'
Salah makes a superb individual run and instead ogf passing to Firmino, he goes for goal and it is scuffed at the keeper.
59'
Tarkowski trips Fabinho just outside the box. This is a good position for the away side.
58'
Salah hits the side netting for Liverpool! It was a lovely pass by Alexander-Arnold.
55'
Burnley win a free-kick on the far side near the corner flag.
54'
Matip is down after being kneed in the back by Barnes.
49'
Alexander-Arnold can't reach Fabinho's pass. All Liverpool now.
47'
Liverpool get a corner, but nothing comes of it.
46'
Welcome back! We are back underway here!
45'
HT: Burnley 0-2 Liverpool!!! Half-time here at Turf Moor! Liverpool were the better team, but Burnley were fairly good in defence, but Alexander Arnold's cross was turned in by Wood and then Mane doubled Liverpool's lead. Klopp's men have been in control since then despite some late Burnley pressure. Join us for more in a bit.
45'
McNeil causes trouble once again down this near side! His pass can't find a teammate though.
45'
Ashley Barnes has another pop after good play from Cork, but it passes well wide of Adrian's post.
45'
Liverpool are cruising here now.
43'
First bit of Burnley attacking for a while! Wood passes to Barnes and it goes well over the crossbar.
42'
Goal kick after McNeil tries to win a corner off the defender, The ball rebounded back off him.
40'
That fluky first goal has given Liverpool the opening they needed. Burnley were looking ok till that point, but it's a tough ask for them now.
39'
Pope catches another Liverpool cross now.
37'
And that's two!!! Sadio Mane nets after Mee makes a bad mistake at midfield, Firmino runs before passing to Mane on his left and he makes no mistake.
33'
Alexander-Arnold scores in fortuitous fashion!!! Alexander-Arnold plays a one-two with Henderson before his cross takes a nick off Wood and goes in the top corner!!
30'
No goals so far and although Liverpool are better, Burnley have only been threatened on a couple of occasions.
27'
Alexander-Arnold has to clear Lennon's ball into the box for a corner.
25'
Burnley clear yet another dangerous cross in.
24'
Mane's hit is deflected with a defender for a corner.
21'
Salah!!!!! Henderson plays in Salah after Salah combines with Firmino, but the Egyptian's first touch is heavy, that allows Pope to get their first. He knocks it onto Salah's leg and it just goes wide.
17'
Fabinho is penalised now. Burnley will make life difficult for Liverpool this evening. It's not an easy ground to play at. They always make it tough for the big teams. The set piece was dreadful, by the way.
16'
Tarkowski is unable to direct his header from the free-kick on target.
15'
Van Dijk penalised for a foul.
14'
Liverpool continue to put crosses in, but Burnley looking good at the back.
11'
Adrian punches away despite being surrounded by players.
11'
Nothing comes from that, but they get a second chance.
10'
McNeil makes a lovely move down this near side and earns a corner off Alexander-Arnold.
7'
Liverpool are the better team here now after a positive start by the Clarets.
5'
Salah hits the post!!! Mane passes him the ball and the Egyptian's shot is tipped onto the post by Pope!
4'
The crowd stand up to applaud a Burnley fan who passed away recently.
3'
Henderson's centre is too strong and Burnley win a throw on the far side.
2'
Wood forces a great save out of Adrian after a long punt forward. McNeil then wins a corner.
1'
Fabinho fires over the bar from distance after Robertson's ball in is only half cleared.
1'
The away side get us going here from left to right! Burnley are in their usual claret and blue, Liverpool are wearing black tonight.
Prev.
The players make their way out here!
Prev.
The players are in the tight tunnel at Turf Moor.
Prev.
Not long till kick off now.
Prev.
It's 15 degrees at Turf Moor this evening.
Prev.
Burnley make one change compared to that game. Aaron Lennon comes into the side and Gudmundsson is out after picking up a calf injury at Molineux.
Prev.
Burnley have one win, one draw and one loss from their first three games. Their last league game saw them draw 1-1 at Wolves after the home side scored a 97th min penalty while this Wednesday, they were knocked out of the Carabao by League 1 Sunderland. It finished 1-3.
Prev.
Liverpool have won their opening 3 games and beat Arsenal 3-1 last time out. Klopp has decided to field the same team that played that match.
Prev.
The referee is Chris Kavanagh and Andre Marriner is the VAR.
Prev.
Liverpool XI: Adrian (GK); Robertson, Matip, Van Dijk, Alexander-Arnold; Wijnaldum, Fainho, Henderson; Mane, Firmino and Salah.
Prev.
Burnley XI: Pope (GK); Pieters, Mee, Tarkowski, Lowton; McNeil, Westwoood, Cork, Lennon; Wood and Barnes.
Prev.
Good afternoon and welcome to live coverage of the Premier League clash between Burnley and Liverpool from Turf Moor. Will Liverpool go into the international break with maximum points? Find out here!