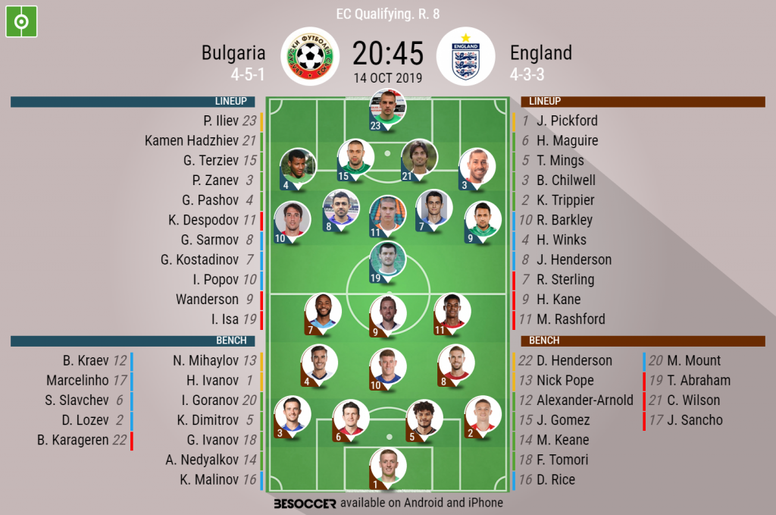 Bulgaria V England - As it happened.
90'
FT: Bulgaria 0-6 England. England thrash Bulgaria, who should be happy at about the fact that the game finished, which seemed unlikely when the game was halted twice in the first half because of racist abuse. Southgate's men kept their cool and delivered a performance which brings them a little closer to the Euro.
90'
Jadon Sancho almost makes it 7-0 but the goalkeeper makes a clinical save. Two minutes of added time.
88'
Bulgaria fans won't be happy about how the game has gone but at east they will be happy they were able to complete it. It's been completely dominated by England, and Bulgaria's fans will have a pretty terrible reputation after this.
85'
After an outstanding performance as a team captain and leader, Kane gets a well-deserved goal. He nutmegs his marker on the edge of the box and bursts through on goal. No chance of him spurning this one - straight into the bottom corner. A deserved goal.
84'
AND THERE IT IS! HARRY KANE!!!!
83'
Kane drives a low shot off the outside of the post! The king of assists almost gets one for himself.
80'
It looks like game is going to finish, which looked very unlikely at half-time.
76'
Wanderson makes way for Malinov on Bulgaria's left-wing.
75'
Another change as Wilson replaces Rashford.
72'
Double change for England. Mount and Sancho replace goalscorers Barkley and Sterling.
69'
It's been coming. Bulgaria go to sleep and England fly past them like their playing a different game. Kane feeds one to Sterling who gallops through the centre and finishes into the corner. His second of the game. England in full flow, and Kane's selflessness is truly outstanding.
68'
GOAAAAAAAAAALLLLL STERLING!!!!!!
67'
Galin Ivanov replaces Ismail Isa Mustafa.
63'
Iliev saves from Kane's close-range strike. England could have doubled their 4-0 half-time lead.
60'
Zanev's low long-range shot is well claimed by the unsighted Pickford.
58'
Tensions running high here. Maguire tackles Despodov. Barely any contact between Maguire and the Bulgarian, but he is clearly not ready to let it go. Not really necessary when winning 4-0, though...
57'
Foul by Harry Winks in the middle of the park but England won the ball straight back. Sterling found himself with the ball at his feet on the right-hand corner of Bulgaria's box before some trademark footwork saw him in space on the penalty spot but his left foot shot was saved by the keeper's legs.
55'
Chance! Rashford stood up the right-back on the left corner of the penalty area, Chilwell raced past him on the overlap but once played in the Leicester man's cross was just too quick for Kane to get on the end of.
53'
Some stats for you! This is the fifth time in 2019 that England have scored four or more goals in a match - the last time the Three Lions achieved this in a calendar year was in 1937!
50'
Another close one! Sterling's right footed shot from the centre of the box is close, but misses to the left.
48'
CHANCE! Harry Kane with a vicious shot from 20 yards was too close to the keeper and who parried out comfortably. Kostadinov down injured after a brush with Sterling but he's up and running. Probably when he realised there was virtually no contact.
46'
Bulgaria made a change in the second half. Defender Sarmov is replaced by the attack-minded Kraev.
46'
England begin the second half, and Raheem Sterling is immediately booed.
45'
Update on the situation... The referee has stopped the game twice and has issued two of the three steps of the UEFA protocol, which means the next step is to abandon the game and it looks like a possibility at the moment.
45'
HT: Bulgaria 0-4 England. England smooth sailing at the moment, but the match is sadly being overshadowed by racists chants which threaten to have it cancelled if they persist. Bulgarian captain Popov is seen talking to the fans at half time. See you in 15...
45'
Raheem Sterling, one of the recipients of the racist chants, has silenced the crowd the best way he knows how to after a great assist from Harry Kane. Another nice team move.
45'
STERLING SCORES AND ENGLAND LEAD 4-0!!!!!
44'
The match has been stopped for the second time. A number of the home fans are apparently walking out of the stadium, not sure if out of choice or obligation.
42'
Another stop to play... The referee is going to the touchline to talk to the fourth official and Gareth Southgate. This match could be close to getting cancelled.
38'
Most of the England players are being booed now, although I'm pretty sure Mings, Rashford and especially Sterling are being jeered the most. For now, however, the match is proceeding as normal. I wouldn't put money on it finishing, though.
38'
Confirmation that the stadium was warned the game will be cancelled if the booing continues. It seems to have died down a bit...
37'
Penalty shout for England! Sterling found himself in the box down the right channel again and with his body between defender and ball was shoved to the floor. The ref gave nothing but anywhere else on the pitch that's a foul.
34'
That third goal underlines England's complete dominance so far. They've had 71% possession and four shots inside the box already and it's translated into a heavy advantage.
32'
GOAAAAAAAAAAAALLLLL!!!!!! Ross Barkley gets his second goal with a deft header from Harry Kane's right-wing cross. Kane has become quite the creator in recent times.
31'
The announcement was step one of Uefa's protocol for dealing with racist chants. The second is another appeal over the PA system; if that fails, the referee should abandon the match.
27'
The match has been stopped, almost certainly because of racist abuse. The referee has been spoken to by an official on the touchline. He's now talking to Harry Kane. I thought I heard Sterling and Rashford being booed early on, but assumed it was my imagination.
25'
From the set-piece, a loose ball drops for Mings, who deftly beats two men down the left before standing up a cross that Bulgaria just about manage to hack clear.
22'
England are firmly in control now and it'll take a rousing comeback for Bulgaria to gain anything from this game now.
20'
A superb team goal sees Ross Barkey score his third goal in six matches. Kane and Sterling work a beautiful one-two that releases the latter into the box, who squares a pass to Barkley and he taps it into an empty net.
19'
GOAAAAAAAALLLL!!!!! As I said before, it was going to happen sooner or later... And England double their lead!
17'
Bulgaria make a rare foray forward, as Popov angles a cross to a roaming Hadzhiev at the back post. However, Trippier does well to nod the delivery away for a corner and Pickford claims the resulting set-piece.
15'
The tempo to the game is considerably alower than befor the goal, which means it's not great... If England are in the mood, they could repeat their 4-0 thrashing.
12'
Bulgaria fight back but their attempt is saved by Pickford! Ivelin Popov's right footed shot from outside the box is saved in the bottom right corner.
7'
Three defensive errors from Bulgaria at a level they just can't afford lead to the opener for England. Barkley measures a pinpoint diagonal pass to Rashford on the left flank, where the Manchester United attacker beats his man, before cutting inside and whipping a curling shot into the top right corner! It's a spectacular volley from the Man Utd man.
6'
GOAAAAAAAAAAAAAALLLLL!!!!!! MARCUS RASHFORD!!!!!!!!!
3'
Jordan Henderson is booked for an unnecessary foul. It means he misses the next match against Montenegro at Wembley...
Prev.
Kick-off in ten minutes! Teams are getting ready...
Prev.
A few changes worth mentioning... A debut for Aston Villa central defender Tyrone Mings in place of struggling Michael Keane. Ben Chilwell is in for suspended Danny Rose at left-back but Kieran Trippier survives on the other flank ahead of Liverpool's Trent Alexander-Arnold. Few eyebrows raised at that one - understandably so. We're not sure it can be said that Trippier is really having a better season than his Liverpool counterpart, but fair enough to Southgate.
Prev.
England romped to a 4-0 victory at Wembley last time the teams met and what Southgate would give for the same scoreline tonight. His Three Lions were well below their best in Prague and came out second best in every department.
Prev.
Bulgaria, on the other hand, sit at the bottom of the group and will be looking for any kind of positive result to rebuild momentum.
Prev.
The away side enter this one at the top of the table and on the cusp of qualification, however, England did lose 2-1 on Friday to the Czech Republic – a result that ended a 43-match unbeaten streak in qualifiers.
Prev.
England starting XI: Pickford; Trippier, Mings, Maguire, Chilwell; Winks; J Henderson, Barkley; Rashford, Kane, Sterling.
Prev.
Bulgaria starting XI: Iliev; Pashov, Terziev, Hadzhiev, Zanev; Despodov; Popov, Sarmov, Kostadinov, Wanderson; Isa.
Prev.
Hello and welcome to our minute to minute coverage of this Euro 2020 qualifying clash, as England try to recover from their shock loss last week against the Czech Republic by beating Bulgaria on home soil!