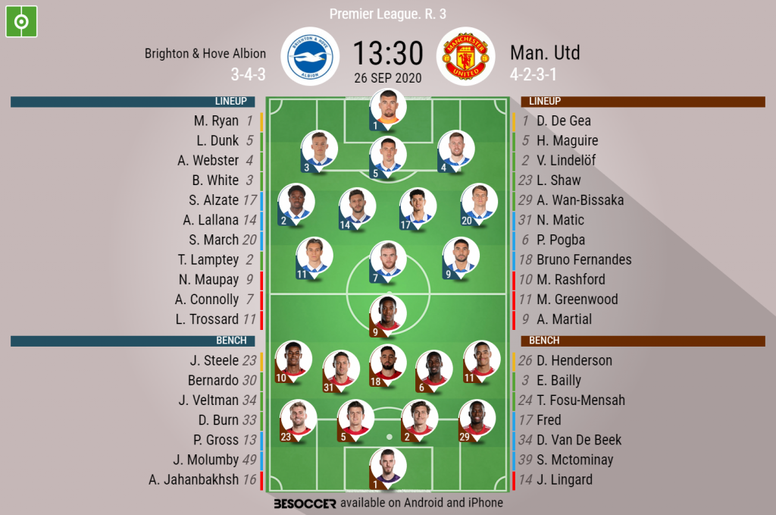 Brighton & Hove Albion v Man. Utd - as it happened
Post.
Thanks for joining me for this match full of drama. See you later for the Chelsea game.
97'
FT: Brighton 2-3 Manchester United. United very lucky to come away from the match with a win but Maupay was foolish having his arm up in the box. You do have to feel sorry for the Seagulls.
96'
FERNANDES STEPS UP AND SENDS THE KEEPER THE WRONG WAY.
96'
PENALTY UNITED!!!! Maupay handball.
96'
MAGUIRE HEADER IS OFF THE LINE!!!! He heads it off a Brighton arm and it's off the line. The referee blew the whistle to end the match but looks like it will be a penalty.
95'
And it's nothing less than what Brighton deserve. The cross comes in, beats everyone and March is alone at the back post to make it 2-2.
95'
MARCH!!!!!!!!!!!!!!!!!!!!!!!!!!!!!!!!!!!!!!!!!!!!!!
93'
Trossard hits straight at De Gea from close range. What a chance that was.
90'
United sub: Martial off for Van de Beek.
89'
These teams actually face each other in the League Cup on Wednesday.
85'
Another great chance for Brighton. March skies his volley at the back-post.
83'
United sub: Bailly on for Greenwood. A smart decision from United to bring on a defender.
83'
Dunk is booked for a foul on Rashford.
80'
Another chance for Brighton. March has a deflected shot over. Thought that was hitting the post.
79'
Very unlucky for Brighton today if they don't get anything
78'
March has a shot that goes over the bar.
76'
CRAZY!!! Trossard strikes the post again. 5 times!!!!
75'
Brighton sub: Jahanbakhsh on for Connolly.
75'
Brighton sub: Lallana off for Grose.
74'
White is booked for a foul on Shaw.
69'
Brighton have played very well this match.
68'
Maupay has shot from inside the box straight at De Gea.
65'
United sub: Fred on for Pogba.
63'
This has not been Brighton's day. They have hit the post three times and hit the bar once.
60'
MARCH OFF THE POST!!! The ball is played to him, he beats De Gea with the drilling shot and it hits the inside of the post.
56'
This one will count. Rashford is played through, he beats White, he beats White again, beats White for a third time and fires off Dunk and into the top corner. 2-1 United.
52'
Rashford scored for United after Greenwood's cross but after giving the goal it's been given for offside.
47'
Brighton were awarded a penalty for a foul on Connolly from Pogba. After checking VAR the referee has said no penalty.
45'
HT: Brighton 1-1 Manchester United. The hosts have been the better side but some good play from United saw them level.
45'
Matic has a shot from the edge of the box straight at Ryan.
43'
Fernandes crosses in the free-kick, Matic cuts it back at the byline and Maguire taps it in. 1-1.
43'
Fernandes could go for a shot.
42'
Trossard is booked for bringing down Shaw as he was breaking.
41'
Matic is booked for fouling Connolly.
41'
Cheeky cheeky cheeky. Maupay steps up and panenkas it down the middle. 1-0 Brighton.
39'
A silly foul on Lamptey by Fernandes in the box.
33'
Greenwood scores for United but Rashford was offside.
30'
BRIGHTON HIT THE BAR. This is all Brighton. Maupay crosses in and Webster has a looping header off the bar. Nervy times for United.
29'
United have barely threatened in this match so far.
22'
Fernandes is booked for a foul on Maupay.
21'
Another chance for Brighton and it's Trossard. He is once again allowed to have a shot from the edge of the box and it hits the outside of the post.
19'
Fernandes puts a cross in that goes just past the post. Closest chance for United.
17'
Closest United have come but Greenwood has a shot that is deflected far wide.
14'
Brighton have started the better side so far.
9'
First chance of the match goes to Trossard who has a shot from the edge of the box that hits the post. The rebound is then skied over the bar.
Prev.
Still no chances yet with both teams looking for a goal.
Prev.
First prediction comes from Mohammed_308_704 and he thinks United will win. Based on the team selections I reckon that will happen.
Prev.
United haven't lost their opening two Prem games since 1992-93. Unthinkable to lose today.
Prev.
Brighton have beaten United three times and they were all at home. Two of their last three matches at home to United ended in a win.
Prev.
Manchester United XI: De Gea; Wan-Bissaka, Lindelof, Maguire, Shaw; Pogba, Matic; Greenwood, Fernandes, Rashford; Martial.
Prev.
Brighton XI: Ryan; White, Dunk, Webster; Lamptey, Lallana, Alzate, March; Trossard, Connolly, Maupay.
Prev.
Hello and welcome to Brighton for this Premier League match. United will be hoping to get back to winning ways in the league. Team news to come.