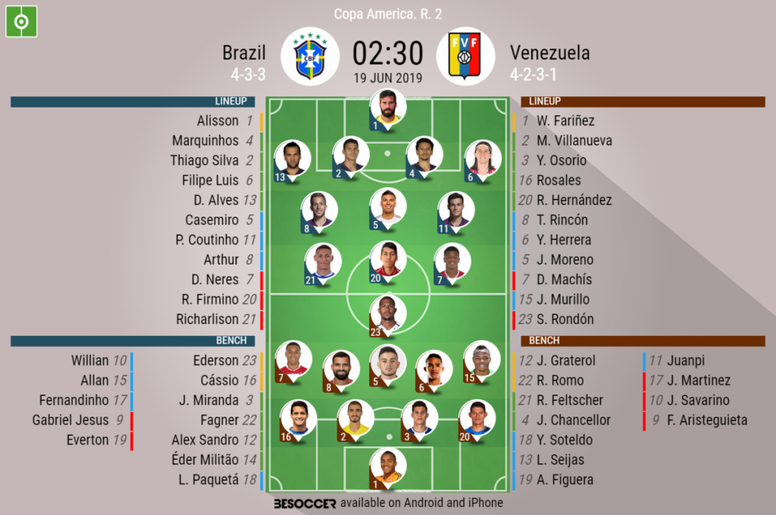 Brazil v Venezuela - as it happened
100'
FT: Brazil 0-0 Venezuela! It's all over!! The ref blows for full time! What a game! Brazil were the better team, but Venezuela defended exceptionally well. Brazil saw three goals disallowed. Firmino had a goal chalked off for a foul in the first half and in the second, Jesus saw a goal taken away by VAR for offside followed by Firmino having a goal in the 89th minute chalked off by VAR once again for offside. Thanks for joining us and see you again soon!
99'
Fenandinho heads wide!!!!! What a glorious opportunity. It was a free header.
99'
Brazil can't get the ball off them and now they do after 90 seconds.
98'
Venezuela keeping the ball brilliantly.
98'
Everton heads wide and we are going to 99 now.
96'
Injury now for Venezuela and an extra minute has been added so eight in total. Hernandez down to 10 for the last two minutes.
93'
Filipe Luis hits it and Jesus can't reach it at the far post.
92'
Brazil have had three goals disallowed in this game. Two of them by VAR.
92'
Seven minutes of injury time!
91'
Figuera gets a card for foul on Fernandinho. It's getting rough.
89'
Long chat here. Still speaking. Offside!!!! It's offside!!! Coutinho hits it in put it takes a little deflection off Firmino and he is offside because there is only one defender. Good call.
88'
VAR again here! Maybe a handball. He is getting info.
87'
Coutinho scores, but Venezuela protest again! Everton makes a fabulous run down the near side, his cross in is slightly deflected by the goalkeeper and one of Coutinho or Firmino knocks it in.
85'
Venezuela sub: Josef Martinez on for Rondon.
83'
Brazil are getting a bit frustrated with the ref. He's not helping them.
81'
Figuera is down injured, Filipe Luis knocks the ball out of play and is booed.
80'
Everton has a go, but it goes miles wide. This looks to be finishing 0-0.
77'
Jesus wants a penalty! He feels he was hauled down, but Bascunan says no.
76'
Venezuela sub: Machis leaves the park and Figuera comes on.
75'
Villanueva clears an Everton cross for a throw in.
72'
Brazil sub: Everton joins us as Neres leaves the park.
71'
Time's running out for Brazil. The crowd won't be happy if it ends in a draw, but a draw should be enough to see them qualify. A point would be great for the Vinotinto.
69'
Melo shoots from distance, but it flies over the bar.
66'
Soteldo replaces Herrera for Venezuela.
65'
Arthur is having an argument with Murillo. Getting a bit rough.
63'
So still goalless here and Brazil have had their second goal disallowed.
61'
Jesus looked for a teammate, the ball hit Villanueva and fell to Firmino, who was in an offside position and then the pass was played for Jesus who tapped in. The ref had to go to the touchline as it was interpretation. Was it a deliberate pass or a rebound? For me, it's not a mishit pass. Good decision.
61'
Ref has gone to monitor. And no goal!! Correct decision.
60'
Gabriel Jesus scores! Claims for offside! VAR looking! For me, it's offside as it's not a deliberate pass by the defender, it's a rebound.
57'
Brazil sub: Fernandinho replaces Casemiro.
57'
Jesus fires wide of the far post with his right foot!
57'
Fernandinho is ready to come on.
54'
Osorio is down injured when he went for the ball with Jesus. Nothing major though.
52'
Machis is brought down by Filipe Luis and foul is called despite the Brazil man getting a piece of the ball.
50'
Neres wants a handball after his strike at goal hits Osorio. Not for me. Hit his shoulder. Brazil are much more fired up now.
48'
Firmino shoots, it is blocked and the Liverpool man's flying boot hit Rosales on the back! Comical.
47'
Not much contact on Firmino and he falls. Play on.
47'
Alves puts it into the box and there is a penalty shout. Nothing given, but VAR checking.
46'
Venezuela get us back underway! Welcome back everyone.
45'
Brazil sub: Jesus on for Richarlison.
45'
HT: Brazil 0-0 Venezuela! Half-time in Salvador! Some boos from the home crowd after a first period in which Brazil have had much more territory and possession, but they haven't tested Fariñez. The closest they came was when Firmino saw his goal chalked off for a foul. Venezuela are defending well and just playing on the counter. Join us in 10 for the second half!
45'
Rondon wins a foul just as the first half is about to end.
43'
Venezuela scramble it away again and Murillo almost finds Rondon on the counter. That is how Venezuela are playing. Defending and then try and score on the counter.
40'
Casemiro commits a foul now on Rincon. The natives are starting to get restless. He gets a card as well. Looked a touch harsh.
38'
Firmino scores, but it's disallowed for a foul! Alves crosses the ball into the area for Firmino, he brings down Villanueva before hitting home. Correct call and VAR confirms it.
37'
Murillo is carded for that. Fair.
36'
Thiago Silva is down injured and being stepped on his foot.
33'
Richarlison wants a pen! Nothing given though.
32'
Dani Alves hits a free kick from 30 yards against the wall, the ball comes back to him and his second effort finds row 7 behind the goal.
30'
Still no score here. Brazil are the much better team, but Venezuela are holding firm. It's far from a siege.
28'
Coutinho tries to hit home a bouncing ball from inside the area, but he miscues it.
25'
Machis has a pop from 25 yards after a corner is half-cleared, but it was meat and drink for the Liverpool GK.
24'
Been more even now in the last few minutes. Machis makes a good move and forces the corner.
21'
Firmino is penalised for jumping up and catching Herrera in the back with his boot.
20'
82% possession for Brazil.
19'
What an opportunity for Venezuela! Herrera finds Rondon at the far post and his header just goes wide of the target.
17'
Farinez!!! Venezuela lose the ball stupidly in their own half, Richarlison picks up the loose ball and runs with it before forcing a fine save from the Venezuela keeper.
15'
What a miss by Neres! The Ajax man is fed the ball in the box and his strike goes quite a bit wide of the goalie's right hand post.
14'
Herrera sends a long punt forward to try and play in Murillo down the far side. The pass is overhit though.
12'
Richarlison!!! What a run down Venezuela's left! He has done that twice now. He beat Villanueva all ends up. Fortunately for the Vinotinto, Moreno rescued them.
11'
Venezuela go on the counter after a poorly taken cornr, but it is wasted.
10'
Firmino heads wide! Dani Alves makes a nice run before sending it into the box. Firmino's header took a nick off the defender. Corner.
9'
Free-kick taken by Alves now, but it is headed away.
9'
Neves gets the ball in the box and passes for Firmino who is standing more or less where the penalty spot is. Osorio gets there first though.
8'
Brazil dominating possession and territory here, but they seem relaxed and will look for the opening as and when it comes.
5'
Venezuela attack down the near side, but Machis' ball in cannot find a maroon shirt.
4'
Filipe Luis scoops the ball into the box looking for a teammate, but Osorio clears it.
3'
Herrera is fouled by Casemiro in midfield.
2'
Good start by the hosts here.
2'
Neves wins a corner off Rosales on the far side after his cross is blocked.
1'
Brazil gets underway! Brazil in the yellow shooting from left to right!
Prev.
Venezuela make more switches. Chancellor, Mago (who saw red), and Savarino miss out. Osorio, Hernandez and Cadiz's Darwin Machis make the starting XI.
Prev.
Brazil make one change from the first game. Arthur replaces Fernandinho.
Prev.
Peru are top with 4pts, Brazil 3, Venezuela 1 and Bolivia 0. Bolivia and Peru have already played two games remember. The top two from each group plus the two best thirds progress to the quarters.
Prev.
Venezuela drew their opening game 0-0 to Peru and got lucky as the Peruvians saw two goals chalked off by the VAR.
Prev.
Coutinho was the star of the show in the first game by scoring two of the goals in their 3-0 victory over Bolivia. Two goals which will certainly give him confidence after a tough season at Barca.
Prev.
The referee for this game is Julio Bascuñan from Chile. Roberto Tobar also from Chile is the VAR.
Prev.
Venezuela team: Farinez (GK); Rosales, Villanueva, Osorio, Hernandez; Machis, Rincon, Moreno, Herrera, Murillo and Rondon.
Prev.
The teams are in so here we go: Brazil XI: Alisson (GK); Filipe Luis, Marquinhos, T Silva, Alves; Coutinho, Casemiro, Arthur; Neres, Firmino and Richarlison.
Prev.
Good evening and welcome along to our live coverage of this Copa America clash between Brazil and Venezuela from Salvador. A win for Brazil should see them into the next round. Stick around wherever you are.