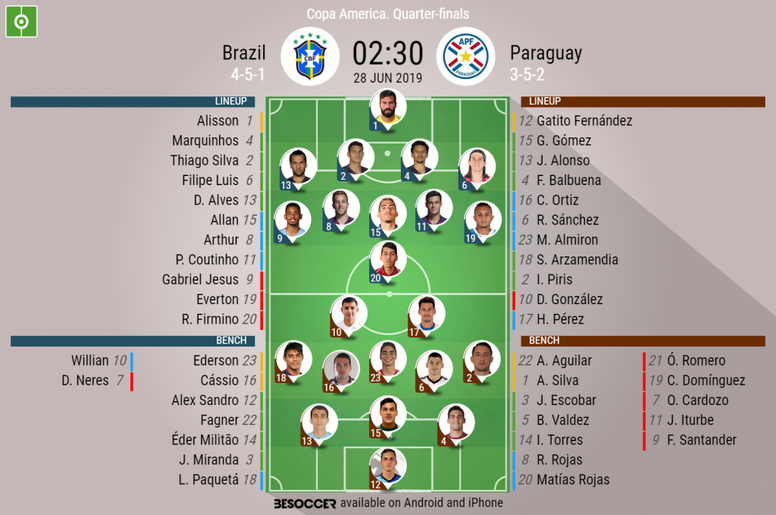 Brazil V Paraguay - As it happened.
Post.
That's all from us here tonight/this morning, thank you for joining us and see you tomorrow for more Copa América coverage!
Post.
BRAZIL THROUGH ON PENALTIES! A big sigh of relief from 'A Canarinha', who break their horrible run against Paraguay on penalties. They will now face the winner of Argentina v Venezuela on Tuesday.
90'
BRAZIL SCORE! BRAZIL WIN! Gabriel Jesus steps up and tucks it into the bottom left corner and Brazil are through to the semi-finals!
90'
PARAGUAY MISS! Gonzalez steps forward and, like Firmino, blazes wide. Brazil can win it if they score here...
90'
BRAZIL MISS! Firmino steps up and blazes his penalty wide of the left post!
90'
PARAGUAY SCORE! Rojas steps up and rifles into the roof of the net - what a penalty!
90'
BRAZIL SCORE! Coutinho squeezes his penalty into the bottom left corner.
90'
PARAGUAY SCORE! Valdez drills his penalty into the bottom left corner.
90'
BRAZIL SCORE! Fernández guesses right, but he can't keep out Marquinhos' penalty.
90'
PARAGUAY SCORE! Almirón beats Alisson with a penalty into the bottom left corner.
90'
BRAZIL SCORE! Willian sucks it into the bottom right corner. Cool as you like.
90'
PARAGUAY MISS! Alisson saves from captain Gómez as he dives to his left and pushes away.
90'
Paraguay won the toss and will shoot first. Could history repeat itself once again with a third Paraguay quarter-final penalties win against Brazil?
90'
FT: BRAZIL 0-0 PARAGUAY! We're going to penalties...
90'
The ball now falls to Coutinho, who tries to bend one into the far post but his effort is deflected just wide of the post.
90'
Huge chance for Everton! The ball falls to him in the area, but he takes a touch and his effort gets a flick on its way over.
90'
Sloppy from Brazil as both Willian and Paquetá lose the ball before Paraguay win a free-kick in midfield. Time running out for the hosts...
90'
Big counter attack on for Paraguay! González runs the length of the pitch and slides in Escobar, but the defender hesitates and eventually settles for a corner.
90'
More good work from Willian down the right sees him win a corner. He's looked dangerous since coming on.
90'
Seven (yes, SEVEN) minutes added on here...
89'
Willian hits the post!! The winger cuts in from the left and, after playing a one-two with Firmino, hits a left-footed effort low across goal and onto the post.
88'
Huge save from Fernández as he instinctively pushes out a Paquetá header from the free-kick that Coutinho whipped in.
87'
Free-kick down the left for Brazil as Escobar allegedly brings down Paquetá - again, not much contact in that one.
86'
Marquinhos loses out to Almirón down the right, but the Brazilian defender just about recovers in time as the Newcastle man breaks into the area and wins a free-kick.
84'
Arthur gets a yellow for his alleged elbow, which certainly did not catch the face of González.
83'
Lucas Paquetá comes on for Dani Alves as Brazil make their final change.
82'
Meanwhile, González goes down clutching his face and screaming as Arthur's arm flies out whilst he chased the Brazilian midfielder. Ref checking this on VAR....
82'
Everton tries his luck from distance, but his shot is horribly wide and high.
77'
Final change for Paraguay as Juan Escobar replaces Richard Sánchez.
76'
Another chance for Brazil! The ball is laid off to Everton as he entered the box from an angle, but he tries a shot at the near post that Fernández pushes behind.
75'
Marquinhos tries a flicked header from a Dani Alves cross, but it flies behind for a goal kick without threatening the keeper.
74'
Juan Rodrigo Rojas comes on for Pérez for Paraguay.
73'
Big miss from Gabriel Jesus! Excellent work from Everton down the left as he gets a decent cross in after cutting back from the byline. Coutinho makes a mess of his header flying in, before the ball drops to Jesus who somehow fires wide from 7 yards out.
72'
The fresh legs of Willian get going down the right and he beats his man, but his cross is too close to Fernández in goal.
71'
Willian replaces Allan as Brazil look to add more firepower to their attack.
70'
Brazil starting to work Fernández as Arthur draws a smart save with an effort from the edge of the area, but nothing clear-cut created as of yet.
69'
Backs to the wall stuff from Paraguay now... a last ditch block stops Coutinho as he looks to fire home from inside the box.
66'
Brazil ramping up the pressure now, whipping crosses in as they look to bombard the Paraguay box.
63'
Thiago Silva takes a pot-shot from all of 30 yards, but it's easy enough for Fernández. Paraguay will be happy to let Brazilian defenders shoot from there all night long.
62'
4-4-1 is the shout from Berizzo on the touchline. He wants his team to remain compact now.
60'
Paraguay make their first change as they look to shore up the defence following that dismissal, with Arzamendia replaced by Bruno Valdez.
59'
Alves hits it low and hard across goal from the free-kick, but his effort flies wide of the target,
57'
Well we did not expect this!! The referee awards a free-kick instead of a penalty, and Paraguay start clapping....but he then shows Balbuena a red card sinche he was the last-man as he committed that foul.
55'
After a long delay, the referee has decided he wants to see it again on the monitor...
53'
A VAR check here, with suggestions the foul may have taken place outside the box...
53'
Penalty for Brazil!! Firmino charges into the area after linking up nicely with Jesus, but Balbuena upends the Liverpool forward and the referee points to the spot.
52'
Arthur tries his luck from outside the area, but his effort flies over the top.
51'
A great turn from Firmino sees him charging towards goal, but Jesus seems to get in his way and he ends up losing it as he breaks into the area.
48'
Brazil string together a move which ends with Firmino laying-off for Coutinho, but his effort from distance rolls into Fernández's hands.
46'
Firmino sees yellow as he treads on the foot of Arzamendia whilst attempting a drag-back - another harsh one, that.
45'
Paraguay start the second-half off! If there's no goal in the next 45 minutes, we'll go straight to penalties.
45'
Filipe Luis, who was booked late on in the first-half, makes way for Alex Sandro for Brazil.
45'
HT: Brazil 0-0 Paraguay! Deadlock yet to be broken at the break then, with Paraguay doing well so far and Brazil struggling to break them down. See you in 15 for more of the same!
45'
Brazil have a promising break on with Everton, who beats his man cutting in from the left but his cutback is behind Coutinho and Alves loses it.
45'
Two minutes added on in Porto Alegre.
43'
Flilipe Luis picks up a yellow card...seems a harsh one, but it may have been for dissent.
42'
Firmino breaks away down the left and cuts the ball back to Jesus in the box, but his touch is poor and Paraguay crowd him out.
40'
Half-chance for Coutinho! He gets in down the left with a nice turn, but his left-footed effort from an angle is straight at the goalkeeper.
38'
Everton gets to the byline and fizzes a ball across goal, but it flicks off the defender and spoons up at the back post before being cleared. Brazil looking to up the tempo before half-time.
36'
Another yellow for Paraguay as Alonso goes in late on Everton, who has switched wings with Jesus and is now trying his luck on the right.
35'
Firmino tries a tough header fading away from goal around the penalty spot, but it gets a knick off Balbuena and runs though to Fernández.
34'
Camera has just panned to the stands where Neymar is watching on - he's virtually been forgotten about at this Copa America.
33'
Second card of the day as Piris is too slow and takes down Jesus who had burst past him down the left.
31'
Ortiz does well and wins the ball back after more high pressing in midfield, before being pushed over by Firmino and winning a free-kick. Pargauay will be largely happy with the opening half an hour, here.
29'
First yellow of the game as Arzamendia chops down Dani Alves on the right wing.
28'
Big save from Alisson! The ball is whipped in by Pérez from the left and finds González at the back post, who chests down and volleys but Alisson stays strong at his near post and pushes behind for a corner.
27'
Marquinhos gives the ball away in a dangerous position playing out the back, needing Arthur to recover and conceded a corner.
24'
Paraguay break forward in numbers and look dangerous, but another poor cross from the right is dealt with by a combination of Marquinhos and Thiago Silva.
22'
Nearly another chance for Firmino!!! Sánchez gives the ball away to Coutinho playing out of defence, who finds his ex-Liverpool teammate in the box. Firmino, however, is quickly brushed off the ball by Gómez and Paraguay can breathe again.
19'
Gómez heads the back of Coutinho's head after a cross from the left, and we have a break in play as both are seen to. Should be ok to carry on, however.
18'
Jesus the man in the centre of the action at the moment, and he goes down dramatically in the area under very little contract from Gómez. Referee waves play on, then warns Jesus for diving. Not the best start from the City man.
17'
Once again, Jesus receives the ball on the right and loses it trying to find Firmino in a promising position, prompting some jeers from the partisan home crowd.
15'
Jesus twice finds space down the right, but twice fires rather hopeful balls towards Firmino which are easily cleared.
13'
González beats two with some strong running down the right, but his cross is poor and Brazil regain possession.
12'
Jesus pulled up for a foul on Almirón as he tries to track back. Could be space to exploit down Brazil's right as Alves and Jesus bomb forward.
10'
Paraguay dropping deep when Brazil get the ball and looking to press the hosts in midfield. Tite's side may have to be patient tonight.
8'
The lightning-quick Almirón gets his first chance to stretch his legs down the left, but Dani Alves recovers and snuffs out the danger.
5'
First big call of the day for the referee as Jesus and Alonso battle for a ball breathing down on the Paraguay area, but the Manchester City forward is pulled up for a foul.
4'
Willed on by a home crowd that have roared every time he's touched the ball so far, Everton tries his luck from distance. He didn't catch it right, however, and it's easy enough for Fernández. Open start here.
3'
First chance for Brazil!! A flowing attack sees Dani Alves charge forward and slide the ball to Firmino on the edge of the area, but his first time shot is straight at Fernández.
2'
Another long distance effort from Paraguay, but this time it's blocked and Alisson does well to prevent a corner.
2'
First shot of the game is a Paraguay one from distance, but it flies harmlessly wide. Could be tough to beat Alisson tonight - he's yet to concede a goal at this tournament.
1'
Some fancy footwork early on helps Dani Alves beat a high Paraguay press, but Arthur undoes his hard work and passes the ball straight out of play.
1'
Brazil get us underway kicking from left to right!!
Prev.
The players are ready to go at a not completely full Arena do Gremio...
Prev.
The crowd and players go for an acapella round two of the national anthem. They seem up for this one here...
Prev.
National anthems time here in Porto Alegre. Paraguay's out the way, now time for the hosts'...
Prev.
15 minutes until kick-off here at the Arena do Gremio, with plenty of colour inside the stadium from both sets of fans.
Prev.
Paraguay, on the other hand, have gone for a more conservative five-man defence, anchored by West Ham centre-back Fabián Balbuena. Newcastle United's Miguel Almirón is their danger man, and he starts tonight amidst reported interest from Spanish giants Real Madrid...
Prev.
Elsewhere for the hosts, promising winger Everton starts alongside Premier League duo Roberto Firmino and Gabriel Jesus in their front line. The 23 year-old has caught the eye of Europe's top clubs with some outstanding performances so far this tournament, and will be hoping to impress again tonight at the stadium he plays at with his club Gremio.
Prev.
So, just as he promised in a pre-match press conference, Tite has included Napoli's Allan in the starting lineup. This could be a bad omen for Brazil, as the only two matches that 'A Canarinha' have lost under their current boss have been games where Casemiro hasn't featured.
Prev.
Paraguay: R. Fernández; Balbuena, Gómez, J. Alonso; Piris, R. Sánchez, Ortíz, Arzamendia, Almirón; Hernán Pérez y D. González.
Prev.
Brazil: Alisson, Dani Alves, Thiago Silva, Marquinhos, Filipe Luis; Arthur, Allan, Coutinho; Gabriel Jesús, Firmino y Everton.
Prev.
The lineups have now been announced for the first quarter-final - let's check out how both teams start the game...
Prev.
Although on paper Brazil may seem overwhelming favourites for this clash, the reality could well be far from it. They've met tonight's opponents Paraguay in each of their last two Copa America quarter-finals in 2011 and 2015, losing on penalties both times. Could we see history repeat itself once again tonight?
Prev.
Welcome to our live coverage of the first Copa America 2019 quarter-final between hosts Brazil and underdogs Paraguay.