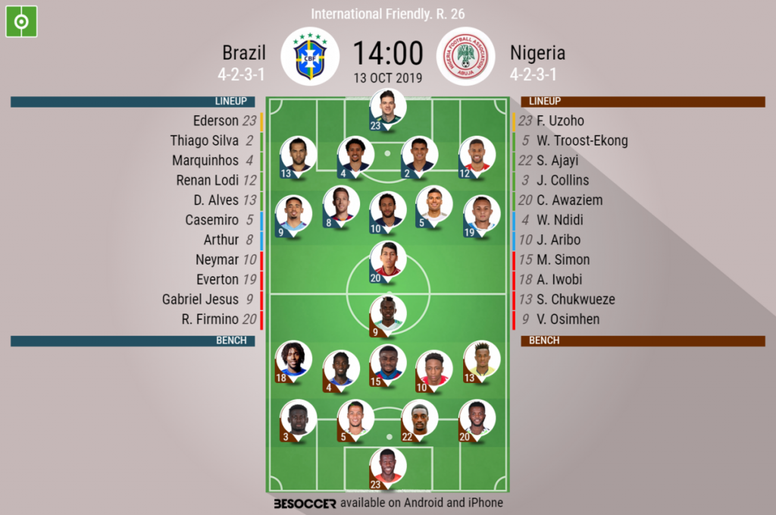 Brazil v Nigeria - as it happened
90'
FULL TIME!! Full time sees Brazil draw with Nigeria in Singapore, in an exciting and rather even game, which saw Nigeria take the lead early on, only to be stopped in their tracks by Casemiro! A great game!!
90'
Abdullahi comes on for Aribo, as Nigeria make yet another change!!
90'
Thiago Silva goe sinto the book for a bad foul on Aribo! In which both players end up hurt!
90'
Another corner for Brazil! The keeper manages to come off his line and punch the ball away, but Brazil get it back. However, they just can't do anything major with it.
90'
5 minutes of added time!!
88'
Olaykinya comes on in yet another substitute for Nigeria, as Chukwueze is replaced!
87'
11th corner for brazil in this game! But it comes to nothing!!
87'
Chukwueze has a shot at Ederson, but the keeper manages to deal with it! A very even game in this half!
85'
How did Coutinho not score that!! His shot goes straight to a Nigerian defender, who just unknowingly flicks it from his feet to the keeper, who keeps hold of it!
83'
Iwobi comes off for Nigeria as Azeez comes on, Nigeria putting a lot of fresh legs on the pitch at the moment!
79'
Fabinho on, Arthur off for Brazil! Another change for Nigeria as Real Madrid slayer Emmanuel Dennis comes on for Moses Simon
79'
Corner for Brazil as Marquinhos' shot is saved just over the bar
76'
Nigeria have a corner but the ball goes straight to Brazil. However, Thiago Silva clashes with Ajayi, who was down hurt, but is back up and running now!
73'
Osimhen comes off in Nigeria's third change of the change, he is replaced by Onauchu as Nigeria try to look for the win! Decent performance by the Lille man
72'
Gabriel Jesus gets past Nigerian defenders at the corner post and runs into the box, passing to Richarlison, whose shot is blocked wide for a corner. Which also comes to nothing!
69'
The two teams have a cooling break, as it is over 30 degrees in Singapore!
62'
Brazil also made their third change, as Firmino is subbed off and Gabriel Barbosa comes on in his palce
62'
Okoye comes on as Nigeria goalkeeper in place of Uzoho!
61'
Uzoho down injured after a save he made! The stretcher is coming out and it looks like he may be forced to come off!
60'
Casemiro has a shot, but it hits the bar! Brazil also have a corner as they are looking very threatening in this game!
56'
Another corner for Brazil! They took the last corner short and then Coutinho volleys it into the box, Jesus is there to try and hit it into the net, but Ozoho makes a great save and it goes out for another corner!
54'
Brazil looking dangerous in the box now and Nigeria doing everything they can to defend and not concede anymore! Coutinho tries his luck at goal but it is cleared away by Nigeria!
52'
Simon is in the box and receives a ball that is passed to him, he heads it towards goal but Ederson easily deals with it!
47'
Dani Alves is fouled dangerously and Brazil have a free kick, but nothing comes of it and Nigeria manage to clear. Brazil have come out strong in this second half.
47'
Brazil are back in the game!! Casemiro is the goalscorer here! The goal occurred from a corner kick, which landed on Marquinhos' head, but his shot hit the bar and deflected back out for Casemiro, who just slotted the ball calmly in the back of the net!! Brazil 1-1 Nigeria
45'
Brazil make a change at half time, as Everton goes off and Richarlison comes on!
45'
The second half is underway!
45'
2 minutes of added time is over and Nigeria go into the half time in the lead! Brazil shocked and struggle to make any of their chances count and although they have had the most possession, Nigeria have been more clinical on the finish. An exciting second half to come!
43'
Coutinho aims straight for goal and his powerful shot skims just past the post and goes wide! Good chance for Brazil
43'
Casemiro goes down as Simon performs a dangerous challenge on his knees. Free kick for Brazil about 30 yards out of the box. Can they get back in the game here?
39'
Jesus kicks the ball across the goal line, but it is cleared for a Brazil corner
36'
Nigeria have a bit more confidence now, as they are looking to double their lead, their recent chance, however, Ederson managed to deal with easily.
34'
Aribo is the one who gets the goal, following a great pass form Simon, which sees Aribo receive the ball and run through the defenders in the box and confidently slot the ball in the back of the net! What a shock for Brazil!
29'
Brazil coming into the game more now, they make a good run up fromt he centre of the pitch, Firmino receives the ball, but shoots right at Ozoho, the ball rolls away from him and Brazil try to go for the defelction but the keeper manages to get to it just in time!
27'
What a chance for Brazil!!! Casemiro crosses the ball in powerfully for Coutinho, who is in the box, he gets his head on it and the shot is on target, forcing Uzoho to make a great save to stop the ball going in the top right corner!
20'
Nigeria looking strong in this game now, as they are having a lot of action in their attacking box! Brazil can't just run all over them like they probably thought they would!
18'
Marquinhos got lucky there as he nearly put the ball in his own net! Iwobi crossed the ball in for Troost-Ekong, but Marquinhos gets to it first and tries to clear, with the ball hitting the netting at the top of the net. Lucky there for Brazil!
17'
Everton has a shot, as the ball is crossed i for him, but he cannot quite control it well and heads it wide. No problem for the Nigeria keeper there! Nigeria now on the counter
11'
Early sub for Brazil! Neymar comes off and is replaced by Coutinho, it appears that Neymar may have picked up a slight injury (muscle)! Big blow for Brazil and the striker himself, who has just returned from injury.
8'
Nigeria looking for opportunities to get up and shoot now, as they are looking rather threatening in the limited times that they have the ball! Brazil having most possession here!
4'
What a save from Ederson to deny Iwobi! Nigeria make the run down the pitch and a pass from Arthur in the box to Iwobi, who gets past the defenders sees Ederson force into making a good save!
3'
Corner for Brazil, as Neymar hit it towards to the near post, but Nigeria clear away!
2'
Firmino has a shot as he receives the ball in the box, turns with it and fires it towards the goal, but the ball goes just wide! Brazil have got off on the better foot and have had most of the possession in the start of this game
Prev.
Brazil kick off today's game!
Prev.
Brazil make two changes to the side that drew against Senegal with Renan and Everton coming in for Alex Sandro and Philippe Coutinho respectively.
Prev.
Nigeria: Francis Uzoho (GK); Collins, Ndidi, Troost-Ekong, Aribo; Ajayi, Chukwueze, Simon; Iwobi, Awaziem, Osimhen
Prev.
Brazil: Ederson (GK); Thiago Silva, Marquinhos, Dani Alves, Lodi; Casemiro, Arthur, Everton; Gabriel Jesus, Neymar, Firmino
Prev.
The line-ups will be revealed soon!
Prev.
Join us for live commentary of the international friendly game between Brazil and Nigeria at Singapore's national stadium. The meeting between the two sides will be the first since 2003 when Brazil defeated Nigeria 3-0 at the Abuja National stadium.