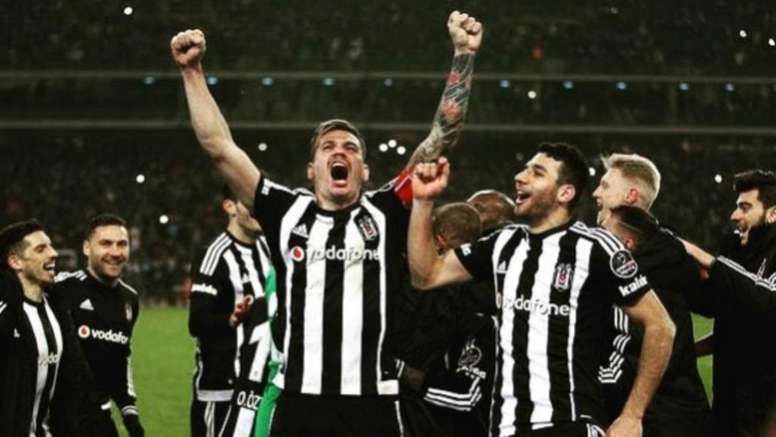 Besiktas bound for success as Gulum prepares for Western United adventure
After threatening to dominate Turkish football and take Europe by storm, Besiktas and their rise has been curbed since back-to-back league titles. Besiktas won the Super Lig in 2016 and 2017 – the Turkish giants leaving Istanbul rivals Galatasaray and Fenerbahce in their shadow.
A financial crisis threatened the collapse of Besiktas in 2012 but the election of president Fikret Orman set the wheels in motion and the Black Eagles were champions four years later. It ended a seven-year wait for 20-time Turkish champions Besiktas. Led by Senol Gunes and with Australian-born Ersan Gulum in the centre of defence, the club added another title the following season.
But following a run to the Europa League quarter-finals the same year after narrowly missing out on progressing from the Champions League group stage, Besiktas have struggled to maintain their momentum. Besiktas' title defence ended in a fourth-place finish in 2017-18, followed by third this term. Financial problems and big-name departures halted the club. Former Turkey international Gulum, however, believes Abdullah Avci's men are bound for success again sooner rather than later.
"I think they just overspent in some areas and players where they didn't need to," Gulum – who spent six years at Besiktas across two spells from 2011 to 2017 – told Omnisport. "To have a good team, it's not just about players. We built a young team into an experienced team. That's when we weren't really successful but we were still building with the age group of players we had. We blossomed at the same time and we won two titles in a row, that shows the direction we were heading in.
"Financially we did have struggles at times during my early years there. Then towards the middle part, everything started blossoming. We reaped the rewards and then at the same time, there were players leaving. There were five, six of us that kept the team together, we always stayed together and that was the key… the atmosphere in the dressing room is what brought the two championships. We took initiative as a playing group.
"Obviously players got sold and big players came in. They had more Champions League ambitions, so higher quality players came in, which means higher salaries. And if you don't perform in the league, it can take a dint in the financial side of things. That's what happened and they had to rebuild, which is what they're doing. At a big club like that, it will only take a year or two for them to be back at the top again. You can see they'll be successful again in the next couple of years with that young group of players."
Gulum – born and raised in Australia to Turkish parents – initially joined in 2010, a rare transfer seeing the 32-year-old loaned out by a second division side before Besiktas signed him permanently for €4million.
And he has the utmost faith that president Orman, who arrived when Besiktas were on their knees seven years ago and oversaw the move to Vodafone Park, will help the club back to the summit of Turkish football.
"You'll know Galatasaray and Fenerbahce more globally than Besiktas because financially, they're always helped by wealthy businessmen no matter what," he said. "Besiktas are a club by themselves, they thrive off their fans. They don't thrive off wealthy businessmen on the side who come to the committee and say here's €10-20million, buy who you want.
"Besiktas own their own stadium, where other clubs have rented out their stadiums or sponsorships to invest into the stadium. That's big credit to the president because he came in when the club were financially in a bad crisis… there was a time players weren't being paid for nearly a year but it's Besiktas so you'll always get your money. But it's the struggles you went through to get where you are today. I was one of those players that saw those struggles and the president has achieved so much.
"They're in the right direction. When we won the league two years in a row, the president had a plan in place. Maybe they went too big too quickly when they should've gradually kept the same base players but not change so much at the same time. That's football, it happens."
Besiktas are known for their fanatical support – the club's stadium an intimidating and deafening cauldron. "Those fans, and I'm not just saying it because I played there and I've followed the club as a child, playing in front of them and in that atmosphere, it's why you become a professional athlete," Gulum added.
"You can't hear the person you're playing next to. It's hard to communicate at times, you just can't hear each other. That's how loud and big they are. Playing in that atmosphere, it gives you goose bumps."
After stints with Chinese side Hebei China Fortune alongside Ezequiel Lavezzi and Adelaide United in the A-League, seven-time Turkey international defender Gulum is preparing for a different challenge.
Gulum left Melbourne to pursue a career abroad in Turkey in 2005. Fast forward 14 years and the veteran is back home where it all started – with A-League newcomers Western United.
Western United – boasting former Celtic striker Scott McDonald and Greece international Panagiotis Kone – will make their debut in 2019-20 and Gulum, who contemplated quitting football, is excited as Mark Rudan and Co. start from scratch.
"I had probably thought in my mind I had retired," Gulum said. "I hadn't announced it but that's where I felt I was heading. I thought I'd start getting my coaching badges and I started that but I realised I'm still too young to give up playing. When I spoke to Mark Rudan, he excited me about what he wants to achieve. I wanted him to give me a reason to push myself again and body to become the same player I was three years ago when I played at the top level. His excitement is what triggered me.
"From Adelaide to Western United, it's a new club and no one knows what's going to happen or what we can achieve, but looking at the transfers we're heading in the right direction."
"The club can make finals in the first year with the players we've signed," he continued. "It should be our ambition to play finals in our first year. I only know one thing and one thing only and that's to win games. I've always been at a club where you have to win every game and that's how you have to look at it. We're going to be a team that when teams play us, they'll struggle."