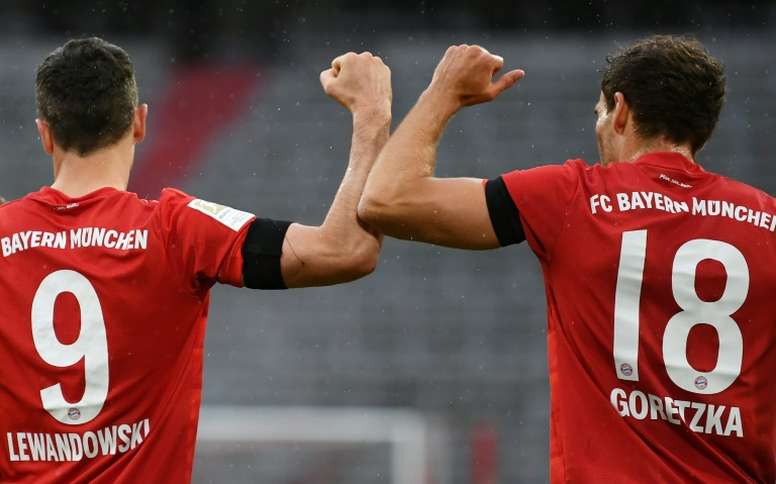 Bayern race to victory after second half scare
Bayern Munich have a four point lead at the top of the Bundesliga ahead of Tuesday's huge game with Dortmund after beating Frankfurt 5-2 in Southern Germany. Bayern were 3-0 up one minute into the second half, but Martin Hinteregger scored twice from corners to make it 3-2 with more than half an hour to play. However, Alphonso Davies took advantage of a defensive calamity to kill off the contest in the 61st minute. A comical own goal by Hinteregger then gave Bayern their fifth.
The home team were dominant from the off and Robert Lewandowski hit the crossbar with a powerful shot from Kimmich's corner after just 11 minutes. Six minutes later, they were in front through Goretzka. A pass from Bayern's half was left by Perisic, that fooled the defender, Muller picked up the ball on his near side and the cut back was scored by Goretzka. The visitors did not turn up in the first half and Flick's men had plenty of chances to make it 2-0.
They did that four minutes before half-time after Davies found Muller. He controlled with his chest before scoring. Despite Frankfurt players raising their hands for offside, Muller had timed his run perfectly. The game then looked to be dead 45 seconds into the second half when Muller passed to Coman and his chipped pass was headed in by Lewandowski from eight yards to make it 3-0. That was the Pole's 27th Bundesliga goal this term. However, Frankfurt had other ideas.
Out of nothing, the away team won a corner seven minutes into the second half and Martin Hinteregger won the header from the corner. The ball went up in the air, but he got a second bite at a cherry and he scuffed an effort past Neuer to make it 3-1. Three minutes later, he was on the scoresheet again. Bayern, who were sloppy in defence in the second period, were once again caught out at a corner. Hinteregger headed the ball and, with the help of the far post, pulled Frankfurt back to within one goal. It was game on all of a sudden.
May 23, 2020
Kostic then sent in a dangerous cross from Bayern's right which called Davies in the Bayern defence into action, but shortly afterwards, the game was over. Davies looked to find a teammate just outside the Frankfurt box, Fernandes intercepted it, but then inexplicably played the ball straight back to Davies with a tame lateral pass inside his own area. Davies could not believe his luck and he kept his composure to give Bayern a fourth goal. The chances kept on coming at both ends.
Coman was denied by Kevin Trapp in the Frankfurt goal before the visitors so nearly made it 4-3. Andre Silva played a lovely backheel to Gacinovic whose shot was well stopped by Neuer and then Andre Silva sent the rebound wide of the target. Frankfurt did not take their opporutnity and Bayern got their final goal of the night in bizarre fashion.
Gnabry was through on goal and as he tried to square for a teammate, he was felled by Trapp. Referee Marco Fritz was about to point to the penalty spot when Hinteregger attempted to control the ball with both feet, but he only succeeded in diverting the ball into his own goal. That summed up both sides' defending. There was still time for Kostic to strike the woodwork for Frankfurt, but Bayern ended the game worthy winners.
Bayern are now four points clear of Dortmund ahead of the big clash in Dortmund on Tuesday evening while Eintracht Frankfurt were condemned to their fifth consecutive defeat and look set to be involved in a relegation battle. They are 13th, five points above the relegation play-off spot, and host Freiburg on Tuesday.