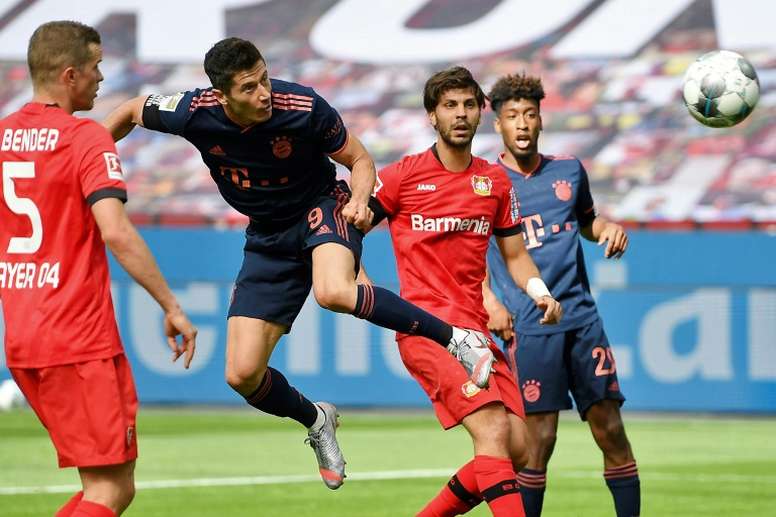 Bayern cruise to victory after early scare as Lewandowski scores again
Bayern Munich took another step towards winning the Bundesliga for an eighth time in a row after a comfortable 2-4 victory at Leverkusen. A slow start was punished by Lucas Alario inside ten minutes, but then Bayern hit back with four goals. The third, which came just before half-time, all but ended the match as a contest before 17 year-old Wirtz added respectability to the scoreline. Bayern fully deserved the win against their opponents.
Leverkusen hit the front in the 10th minute after a Leverkusen throw-in was half-cleared to Baumgartlinger. His then sent a lovely chipped pass for Alario who beat Manuel Neuer to his near post. The flag went up for offside, but the VAR proved that Boateng's trailing foot was playing the Argentine on.
That spurred Hansi Flick's men into action and despite Bayern having few chances, Leverkusen were gradually getting pinned back inside their own penalty area. The breakthrough came in the 27th minute when Diaby's defensive error was penalised. Goretzka sent a long pass for Coman, who was in acres of space and he made no mistake in front of Hradecky.
Despite Diaby threatening for the home team with an effort at Neuer and some good runs, the champions were on top. Lewandowski had an effort, but could not direct it goalwards and then three minutes before the interval, Goretzka put Bayern in front. Leverkusen saw a corner cleared and they were taken apart on the counter. The move ended with Muller flicking the ball to Goretzka who shot past the goalie to his left.
June 6, 2020
Leverkusen were crying out for half-time as Gnabry was denied after being one on one for with the goalie, but Bayern did end up going 1-3 before the break. Kimmich's hopeful ball forward saw Hradecky come out of his goal and then hesitate. He was in no man's land and Gnabry just lobbed him. It was a poor goal to concede and the fifth placed side never recovered.
Bayern continued to dominate the second half and Muller shot wide early on, but the tempo of the game was far slower. Leverkusen continued to threaten through Diaby, but he was lacking the end product. Bayern had a couple more chances themselves and made it 1-4 in the 66th minute. Tapsoba lost the ball easily, Gnabry when they found and after his pass was blocked, Muller put in a lovely cross for Lewandowski to head in.
Leverkusen had a couple of late opportunities including one which saw Neuer have to tip off Diaby's shot across him, but there was time for a consolation in the 89th minute. Volland passed to Paulinho and he then fed the 17 year-old who cut inside before curling the ball into Neuer's bottom right hand corner. It was a lovely goal, but it was far too late.
Bayern Munich go ten points clear at the top with four games to play ahead of Dortmund's match with Hertha in the late slot while Leverkusen stay fifth after missing out on the chance to go into the Champions League places. A Bayern win, Lewandowski on the scoresheet and the Bavarians went a step closer to winning the title. A good day at the office for Hansi Flick's side even though they were not at their best.