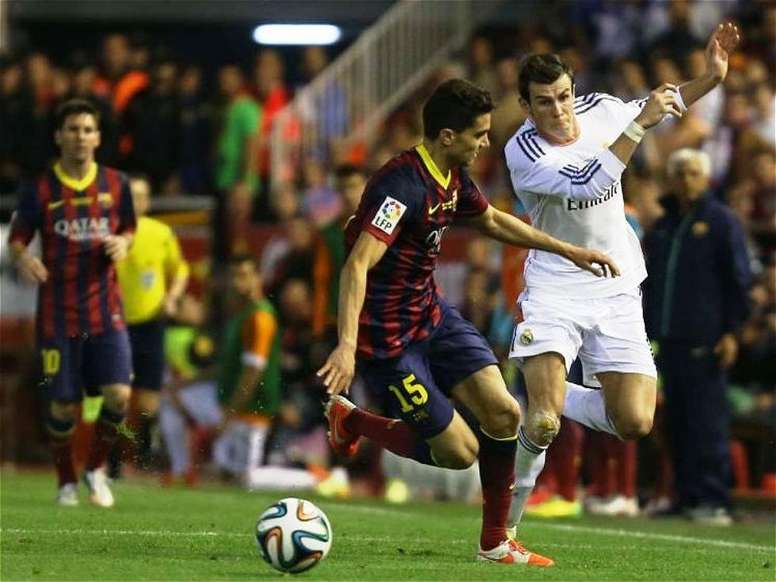 Bartra and Bale: Four years later
April 16, 2014. The two biggest clubs in Spain faced off in the Cup final at 'La Mestalla' with Carlo Ancelotti at the helm for 'Los Blancos' whilst Gerard Martino controlled the opposing dugout. Cristiano Ronaldo had to watch the game from the stands making 'Los Cules' clear favourites but it didn't go the way they had hoped.
Angel Di Maria drew the first blood, scoring in the 11th minute to put Madrid ahead before Marc Bartra equalised from a corner in the second half to set up a tense final 20 minutes.
With the game running towards its conclusion, extra-time awaiting, a moment of football history occurred. Barcelona were desperately searching for a late winner but it would be Gareth Bale who would be given his moment to shine.
The Welsh forward, determined to get the better of Neymar, knocked the ball up the field before blistering past a helpless Bartra to finish the move with a thunderous shot and hand Madrid a late victory.
Fast forward to the present day and it's been a rollercoaster of high and lows for both clubs and the two protagonists.
Madrid would undergo unparalleled Champions League success under Zinedine Zidane whilst Bale fell down the pecking order to fresh blood Marco Asensio and Lucas Vazquez.
Across to Catalonia, Barcelona would achieve a magnificant treble with Luis Enrique but Bartra's time at the club would be up in 2016. The defender then enjoyed a two-year spell at Borussia Dortmund, marred by the bomb attack on the team's bus, before arriving at his current club Real Betis, where he has become a staple figure.
How the two have diverged over the years. Bartra proving what a brilliant defender he can be in La Liga whilst Bale is desperately hoping to recreate those 15 seconds of unbelievable football again.