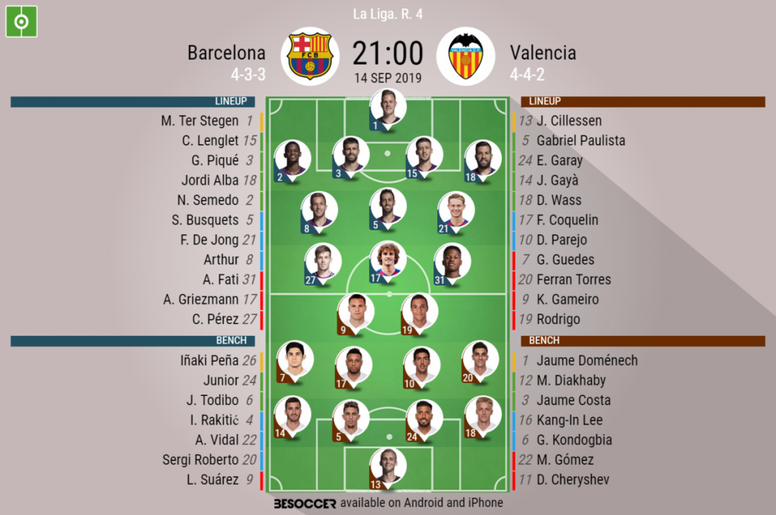 Barcelona v Valencia - as it happened
92'
FT: Barcelona 5-2 Valencia!! Al over here in an easy win for Barca. Fati and de Jong scored early on for Barca before Gameiro got back into the game. Pique then took advantage of a Cillessen error before Suarez added two more. Gomez got a mere consolation right at the death. Celades couldn't get off to a winning start as Valencia start. That's all from us. Thanks for your company and hope to see you again soon!
92'
5-2!!!! Maxi Gomez!!!! Wass crosses from this near side, Semedo heads straight to Gaya, he passes to Cheryshev and Maxi Gomez hits home right on full time! And that's that!
88'
Both teams are happy for this to end now. I don't there will be much injury time.
84'
Cheryshev booked for a foul.
82'
And it's five!!! Suarez makes it 5-1!!! Griezmann gets the assist and beats Cillessen at the near post! Suarez gave it to Raktic first, but his shot was blocked and then Valencia cleared off the line before Griezmann fed Suarez.
80'
He steps on the back of his leg and then on his heel, I think. Could be in trouble here.
79'
Gomez is cautioned after catching Lenglet on the back of his leg.
77'
Lee goes for an ambitious effort from over 30 yards and Ter Stegen catches.
74'
Busquets goes for goal from distance!!! It's well wide though.
73'
Barca sub: Vidal on for Arthur.
72'
Valencia sub: Gomez on for Rodrigo.
70'
Barca sub: Rakitic on for De Jong.
69'
Kang-In Lee gets a yellow card for a foul on Perez.
67'
Valencia subs: Cheryshev and Kang-In Lee on for Guedes and Torres.
64'
What a save by Cillessen to deny Carles Perez!!! Before that after Griezmann was denied as well. He's trying to redeem himself a bit.
61'
Suarez scores!! That's what you call an instant impact! He scoops the ball from the edge of the D and it goes in off the base of the post. Superb goal.
60'
Barca sub: Fati gets a huge standing ovation and Suarez is on.
58'
Rakitic is warming up for Barca.
55'
Semedo hits the post now for Barca with a low shot.
53'
Alba gets a card for a clear pull back on Rodrigo.
52'
Cillessen has had an absolute shocker there. It should have been a routine save.
51'
Pique scores!!! Shot from outside the box by Griezmann, Cillessen spills the routine shot onto the post and Pique is there to pick up the pieces.
51'
Carles Perez gets a corner for Barca.
50'
Daniel Wass chests back to his keeper as Barca attack.
46'
Lenglet clears Wass' cross with his chest and then Gameiro volleys the second one over the goal
46'
Valencia get us back underway!
45'
HT: Barca 2-1 Valencia!! Half-time at the Camp Nou! Barca went two up after seven minutes courtesy of goals from Fati and De Jong and dominated the opening 30 minutes. However, after Gameiro got a goal give by the VAR, Valencia picked up and not out of this one at all. Stay with us for the rest of this one!
45'
Griezmann fires well over the bar as two minutes go up on the board.
45'
Valencia have been much more in this game in the last 15 minutes.
44'
Ansu Fati approaches F Torres on the far side near the box and his centre is caught by Cillessen.
41'
Ter Stegen bats it away this time.
40'
Guedes earns a corner off Semedo. And the set piece is turned for another one.
39'
Fati scoops it over a Wass! Superb skill.
38'
De Jong makes a fantastic run down the middle and he then gives it to Fati. The 16 year-old goes down wanting a penalty, but nothing is given.
38'
Gameiro!!! He's denied by Ter Stegen who comes out and then he makes saves from Gameiro and Rodrigo. That was poor defending by Barca!
36'
Semedo's cross in is deflected by Paulista to Cillessen. That could have gone anywhere!
33'
Ansu Fati shoots from just outside the box and it goes wide.
31'
Barca want a penalty for handball!! Not given by the ref though. Perez deliberately played it at Parejo. May have been outside the box.
30'
Rodrigo is carded for a foul on De Jong.
29'
It's been given!!!! Valencia make it 2-1! It's game on. It was a lovely team goal.
28'
It's very, very close. I think it's just on.
27'
Gameiro scores for Valencia, but it's been given offside! Garay passes to Rodrigo and he feeds Gameiro to tap home the lovely move. It's very close, I don't think it's offside.
23'
Arthur's pass runs straight through to the keeper.
20'
Great chance for Gameiro!! He hits well wide after a lovely pass by Rodrigo.
18'
Valencia attack through Rodrigo after Gameiro plays him in, but couldn't get a shot off.
16'
Fati again!!! He cuts through the Valencia defence with ease and his strike is deflected wide by Garay! Otherwise it would have been 3!
14'
Barca are very comfortable and are happy to wait for the opportunity to add to their tally.
11'
Nothing comes of it though.
10'
Coquelin wins a corner for Valencia.
9'
Valencia can't have imagined this. The wrost possible start.
7'
It's 2-0!!! It's another!! Fati is at it!! The youngster beats Garay with ease before cutting back for De Jong to tap in.
6'
Free-kick for Valencia in their own half.
5'
What a start that was for Barca and they are dominating possession early on.
2'
Barca score through Ansu Fati! Carles Perez has the ball on this near touchline, passes to De Jong and he gives it to Fati from just next to the penalty spot and he beats Cillessen. What a start for the home team!
1'
Barca get us going in their usual kits from left to right!
Prev.
One minute's silence first.
Prev.
Busquets and Parejo shake hands in the middle!
Prev.
The players are out on the pitch here!
Prev.
Marcelino claims he was told by the board to throw away the cup competition and winning that trophy accelerated his departure. He was well liked by the players and captain Dani Parejo among others, have criticised the decision. The new man is Albert Celades who used to be the Spain U21 coach, but has no experience coaching at club level.
Prev.
It has been a chaotic week for Valencia. Marcelino was sacked by the owner Peter Lim after criticising him for not getting the signings he wanted. Marcelino helped Valencia qualify for the CL again after coming 4th as well as winning the Copa del Rey after beating Barca.
Prev.
10th v 12th as both teams have claimed just four points from three games. Barca drew 2-2 at Osasuna last time out while Valencia beat Mallorca 2-0 thanks to two pens.
Prev.
Valencia go to Chelsea on Tuesday night in the CL will Barca travel to Dortmund on the same evening.
Prev.
16 year-old Fati and Arthur Melo make their first starts of the season for the home side.
Prev.
The temperature is 23 degrees celsius.
Prev.
The referee is Jose Maria Sanchez Martinez and the main VAR is Carlos del Cerro Grande.
Prev.
Valencia XI: Cillessen (GK); Gaya, Gabriel Paulista, Garay, Wass; Guedes, Coquelin, Parejo, Ferran Torres, Gameiro and Rodrigo.
Prev.
The teams are in!!!! Barca team: Ter Stegen (GK); Alba, Lenglet, Pique, Semedo; De Jong, Busquets, Arthur; Fati, Griezmann and Carles Perez.
Prev.
Good evening and welcome to our live coverage of the La Liga clash between Barcelona and Valencia from the Camp Nou. Valencia are in turmoil after their manager was surprisingly sacked, a decision which upset their players.