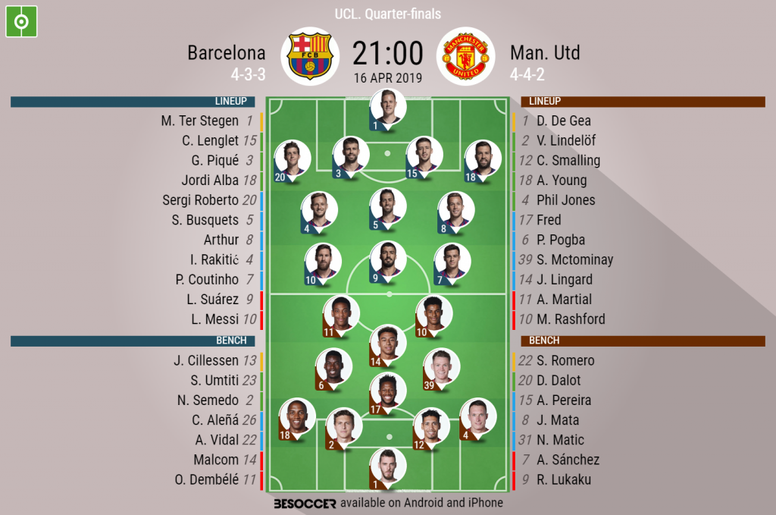 Barcelona v Man. Utd - as it happened
Post.
Thank you for joining us tonight, and see you again soon!
92'
FT: Barcelona 3-0 Manchester United. It's a fair result in the end at the Nou Camp, Leo Messi once again shows his class, and if Barça weren't already favourites to win the Champions League, they're running out of suitable opponents for that role. They will face the winner of Liverpool v Porto in the Semi-Finals which could be tasty...
90'
2 minutes of stoppage time.
90'
CLOSE! Ter Stegen makes a superb save to deny Alexis Sanchez a goal at his old ground, to be fair to United they have never given up, and that is a very useful trait to work wit for Solskjaer.
87'
Ole Gunnar Solskjaer looks on, he can have no complaints here really, they failed to register a single shot on target in the first leg and have been well beaten here (to put it lightly), there is certainly a lot of work to do in the summer market...
85'
Barça have a corner after Arturo Vidal's shot is deflected behind, Barça are certainly enjoying themselves this evening.
81'
Coutinho is replaced by Dembele to a large round of applause, after a fantastic goal by the Brazilian that totally finished off the tie.
80'
Alexis Sanchez replaces Jesse Lingard.
78'
Luis Suarez is booked for dissent.
76'
The noise going around the Nou Camp is quite incredible now, not only are Barça through to the last 4 for the first time in 4 seasons, but Juventus are currently heading out too as they trail 1-2 to Ajax!
74'
Lukaku comes on for Rashford and Arturo Vidal replaces Arthur.
67'
Manchester United are gone, you could argue they have been since the 16th minute, but they're definitely gone now, and there are still 20 minutes to go...
64'
That was so so so close to being the most incredible hat-trick for Messi! He goes with the bicycle kick and it is inches away from the left hand upright!
61'
GOOOOOOOOOOOOOOOOOAAAAAAAAAAAAAAAALLLL! GAME OVER! If it wasn't already, it certainly is now. That is an absolute beauty form Coutinho, a classic Coutinho goal you might say, cutting inside and floating a beautiful curling effort into the top right corner, United now need 4 goals.... I think it's fair to say this game is done.
58'
I've said it before, and I'll say it again, United are running out of time now for an incredible comeback, Barça still look more likely to score, and to be honest, this could get a little bit embarrassing for United here...
53'
United have a corner, which is dealt with by Barça, I don't think United quite know what to do here to be honest.
48'
Messi almost has his hat-trick! Opening up and trying a left footer, takes a deflection off Ashley Young and just heads wide! The corner was dealt with, but this Barça side are looking different class tonight in front of a crowd of over 96,000 people!
46'
We're back for the second half, will we see something special? Or is this a routine victory now for Barça?
45'
HT: Barcelona 2-0 Manchester United (3-0 on aggregate). Lionel Messi has had a simply fantastic half, his credentials as the greatest of all time grow everytime I see him play, what a goal the first was, the second was a calamitous error from 'the best goalkeeper in the world'. Either way United have it all to do in the second half...
45'
WHAT A SAVE! David De Gea has had a shocking half, but that is a superb save, and just about keeps United in the game. He stopped an effort by Sergi Roberto from approximately 10 centimetres out, very good reaction save.
43'
United have a free kick, and they have a few superb takers of free kicks too, Marcus Rashford, Ashley Young... Rashford takes and hits it staight at the wall...
41'
A lovely ball from Messi from the free kick forces a save from a Rakitic header, Messi is having an incredible game, Chris Smalling clearly inspiring him with the whack in the face last week.
38'
Pogba has a long range shot that Ter Stegen deals with comofrtably, it is looking a bit better for United now though, but they really need to score in the next few minutes of the half.
35'
Messi is lining up a freekick... which goes a long way over the bar, Barcelona are in complete control of this tie though.
30'
The game has quietened down a little bit, which is probably exactly what United needed, if there is any hope of an incredible come back there will need to be a United goal before half time you would think.
25'
United now look deflated, this does not look like it will be a famous victory for Solskjaer's men, Messi is simply too good I'm afraid.
20'
GOOOOOOOOOOOOOOOOOOOOOOOOOOAAAAAAAAAAAALLLLLLL! AND HE'S AT IT AGAIN! David De Gea will not want to see that again, that is a howler.. Straight at him from Messi and it slides under De Gea, United now need 3 goals to progress...
16'
GOOOOOOOOOOOOOOOOOOOOOOOOOOAAAAAAAAAAAAAAAAALLLLL! GUESS WHO! Lionel Messi, that's who! United have been the better side in this game from the get go, Messi takes the ball inside a few United defenders and slots it bottom right, United with it all to do now!
14'
Rashford has an effort saved comfortably by Ter Stegen, United on the counter attack look deadly though.
11'
PENALTY! Ivan Rakitic goes down and the referee points to the spot... this should go to VAR because that is never a penalty!
8'
Barcelona now with a decent spell of possession which results in a corner, and a decent ball in, Smalling heads away before barça go backwards.
5'
In the end nothing is doing from the corner but United have come here with a swagger about them, they are clearly confident!
4'
Some superb football from Manchester United in the opening exchanges, they have a corner...
1'
CLOSE! WOW! Marcus Rashford very nearly gives United the lead after 37 seconds, hitting the crossbar! What a start!
1'
Here we go, United are in pink, the same strip they wore when they defeated PSG!
Prev.
The traditional anthem is played, and as always is whistled, Barça aren't huge fans of UEFA, mind you most of the teams aren't huge fans of UEFA at the moment
Prev.
The teams are walking out into a raucous atmosphere at the Nou Camp, it's almost as if this is a massive Quarter-Final clash in Europe's premier competition.
Prev.
Barcelona have replaced Nelson Semedo with Sergi Roberto in their only change from the side that defeated Manchester United at Old Trafford, Ernesto Valverde rested several players in the 0-0 draw at Huesca, and Lionel Messi is fit and raring to go after his nose injury in Manchester.
Prev.
So then, Manchester United have recalled Anthony Martial and Jesse Lingard to the starting line-up, whilst Phil Jones starts on the right hand side of defence, other than that it is an unchanged side for the away side.
Prev.
Lineups: Manchester United: De Gea; Young, Lindelof, Smalling, Jones; Fred, Pogba, McTominay; Martial, Rashford, Lingard.
Prev.
Lineups: Barcelona: Ter Stegen; Alba, Lenglet, Pique; Roberto; Arthur, Busquets, Rakitic; Coutinho, Suarez, Messi.
Prev.
Barcelona hold a 1-0 lead, but as it is an away goal, that lead is looking like a rather healthy one, Manchester United have a lot of work to fo here at the Camp Nou, BUT, they have defeated both Juventus and PSG away from home to get this far so it is certainly far from over.
Prev.
Hello and welcome to out live coverage of this mammoth Champions league tie between Barcelona and Manchester United at the Nou Camp.