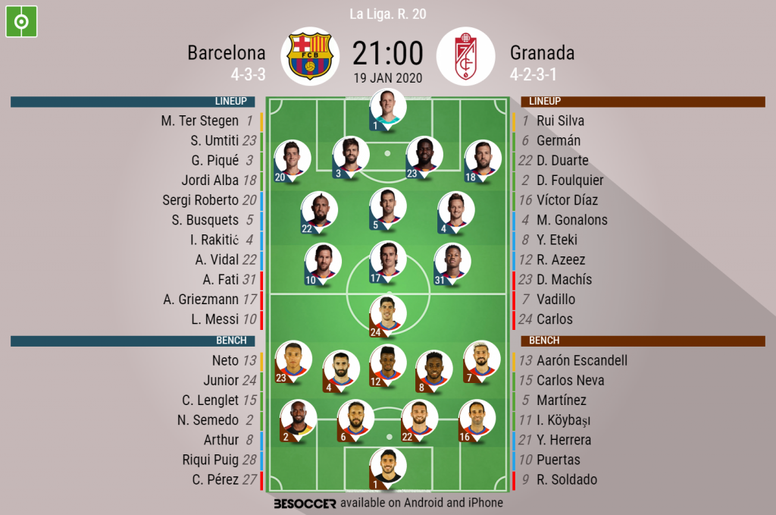 Barcelona V Granada - As it happened.
Barcelona

Granada CF

Post.
As always, thank you for joining us this evening! See you soon!
93'
FT: Barcelona 1-0 Granada. It's not the comfortable win Setién would have hoped for, but it's a win nonetheless and Barcelona stay on top with Real Madrid coming second, only through goal difference. Barcelona had the better chances and most of the possession, but it was not that comfortable of a display and the frequent reliance on Messi for creativity showed. meanwhile, Granada had some chances but only what you'd expect from a side that's 10th on the table.
90'
Granada have a shot! Machis with it, from 25 yards, but it goes straight to Ter Stegen.
90'
Griezmann tries to go for a shot after some passing around, but nothing comes from it. Barcelona have not stopped looking for goals, but it does feel like there's a lot less energy now.
84'
Chance for a second! Puig bursts forward and passes to Vidal, who hits a left-foot shot into the side netting!
82'
Arturo Vidal is replaced by Arthur Melo.
79'
Ansu Fati is replaced by Carles Pérez.
76'
It's also worth noting that the play is started by Riqui Puig,the academy product. Very nice buildup here.
75'
The breakthrough! And guess who scores the first goal of the Setien era? It's a nice build-up: Messi passes to Griezmann, who flicks to Vidal, who controls and backheels to Messi, now 12 yards out, who passes it into the corner!
75'
GOAAAAAAAAAALLLLLLLLLLLL!!! LEO MESSI!!!!!
72'
Just before that, Fernandez is booked for a foul.
72'
Granada bring Yan Eteki off, and bring on another centre-back in the shape of Jose Antonio Martinez.
71'
Barcelona bring Riqui Puig on for Rakitic. The fans seem very happy about it. It's the first time the academy product plays official minutes this season. Setién arrival on the bench could be career-changing...
69'
Second yellow card for German, who fouls Messi. It's his second one, which means he is sent out for it, leaving Granada with 10. Silly thing to do...
65'
CHANCE! Granada's Eteki goes for goal from outside the box but it hits the post!!! Granada almost open the score!
64'
Granada's second alteration of the game sees Vadillo replaced by Puertas.
64'
Vidal fouls Machis, and Granada can have a shot of their own here, from 30 yards or so.
61'
Messi misses yet another free kick... Is Barça just unlucky or is this a serious issue now? No one seems to be able to score, and the Messi-reliance is showing.
59'
Yellow card for German Sanchez after a toul on Arturo Vidal.
56'
Granada bring Yangel Herrera on for Azeez.
55'
Messi passes to Rakitic, who tries a first-time backheel return which is a complication too many... Barcelona not managing right now.
50'
Messi slips as he unleashes a curling shot from the outside of the penalty area, missing the target but forcing Rui Silva across his line just in case.
48'
Granada have had the ball for a minute or two. They even manage to mount an attack, getting three or four bodies in the box to compete for a right-wing cross. There's no shot at the end of it, but still, fair dos.
46'
Back underway in the Camp Nou!
45'
HT: Barcelona 0-0 Granada. The hosts have thoroughly dominated from the get go despite a lack of goals. Granada, except through their defensive diligence, have offered nothing in the contest, sitting back and clearing wave after wave of attack. Setien's first 45 minutes in-charge have seen Messi pulling the strings, creating lovely opportunities for his team-mates, though Griezmann and Fati have been unable to use the space they've been given.
44'
JUST WIDE! Alba cuts the ball back for the oncoming Messi, whose first-time effort is swept just wide of the near post!
42'
Granada will be happy to see out the remainder of the first half and head into the half-time pause level at 0-0. It's not for a lack of trying on Barcelona's part, as they've tried every way they can to manufacture a goal.
39'
Lovely pass by Messi to Fati, but nobody's there to offer him a centre and the attack leads nowhere. It's proving an issue now.
37'
: Barcelona have twice got runners to the byline in the last couple of minutes, but both have been well tracked and have won nothing more than corners, neither of which have led to anything... There's a lack of creativity at the moment.
33'
Play is stopped as Gonalons catches the shin of Alba with his studs, leaving the left-back wincing in pain as he rolls on the turf. Firpo is getting warmed up as a precautionary measure, while Messi and Busquets have words with the referee.
28'
Umtiti gives the ball away to Fernandez, who runs forward and then shoots well wide from 30 yards or so. Still, it's a shot...
25'
It's not exactly a surprise, but Barcelona have dominated since the beginning, with nearly 85% possession for the hosts. They've somehow not scored yet, but it will come soon, surely.
23'
But this time Messi's effort clips the wall and goes over... It leads to a corner, but nothing comes off it.
22'
Messi is brought down yet again and he could have another shot at that free-kick from earlier.
22'
Impossible miss! Griezmann rolls the ball across goal, it runs to Fati at the back post, and he ... forgets to kick? Leaves it? Whatever, the ball is not in the net.
21'
Granada are pressing well as soon as the ball is in their half, but this constant chasing and harrying is going to knacker them out pretty quickly, and they are getting very little respite.
20'
Barcelona have had three clear chances but no goals yet. It feels like a good night for the hosts though.
16'
Granada get their first real attack of the game as Fernandez is played into space on the left. However, Griezmann shows his Simeone-taught skills by sprinting into the right-back position and getting the ball back. Good stuff from the Frenchman.
13'
But he floats it over the bar... Unlucky for the Barça captain, but it does feel like some wind might have affected that shot a bit. It's an unusually windy night in Barcelona.
12'
The evening's first yellow card is shown to Machis, who brings Messi down from behind about 25 yards from goal. It leads to a free-kick, Messi's favourite..
11'
Chance! Messi's dancing feet, and a lucky rebound, takes him past a couple of defenders. He passes left to Jordi Alba, who moves it on to Fati, who spears over the bar from just inside the area!
9'
Fati goes into a sliding challenge on Machis, taking him down and giving away a free-kick. The following set-piece is lofted into the penalty area where Ter Stegen takes a step off his line, but the defence ahead of him does its job.
7'
Ansu Fati gets his first chance of the game!!! Fati takes Foulquier on inside the Granada penalty area and drives a low, unexpected shot at Rui Silva - forcing the goalkeeper to parry it into the middle of the penalty area. The visitors are allowed to breathe easy after Vidal fouls during the ensuing scramble.
3'
Barcelona are working it around in the early stages, making sure everyone gets a touch on the ball. Setien will be hoping for a bright start to his tenure, though so far the hosts haven't moved it past midfield.
Prev.
The players have arrived... We are almost underway here!
Prev.
A fun fast for you: Ernesto Valverde's only home defeat at the helm of Barcelona was against a then Betis coach Setién, a 4-3 in November 2018. Explains Barça's respect for the new-appointed coach...
Prev.
Could tonight be as surprising as that fateful match? Let's hope not, for Quique Setién's sake!
Prev.
Granada have put out a very offensive starting line-up, fit for a match of this stature. But the Andalusians won't be forgetting about the last time they played Barcelona any time soon: it was only matchday 5 and Barcelona's new comers were starting to settle in, but they managed to beat Messi's team 2-0...
Prev.
The Blaugrana sit three behind leaders Real Madrid after their victory against Sevilla yesterday, but with a better goal differential already, the three points today would see the Catalans go joint-top with 18 fixtures remaining.
Prev.
Quique Setien's first match in charge of Barcelona comes at the Camp Nou, where they host 10th place Granada.
Prev.
Granada starting XI: Rui Silva; Víctor Díaz, Domingos Duarte, Germán, Foulquier; Vadillo, Eteki, Azeez, Gonalons, Machís; and Carlos Fernández.
Prev.
Barcelona starting XI: Ter Stegen, Sergi Roberto, Piqué, Umtiti, Jordi Alba; Busquets, Vidal, Rakitic; Messi, Griezmann, Ansu Fati.
Prev.
Hello and welcome to our minute to minute coverage of this LaLiga clash as Barcelona host Granada for Quique Setien's first match on the Camp Nou bench!