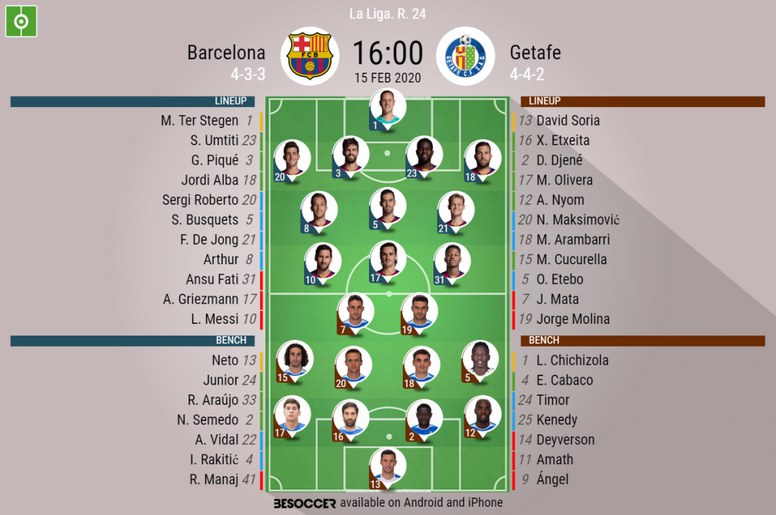 Barcelona v Getafe - as it happened
94'
FT: Barcelona 2-1 Getafe! Full-time at the Camp Nou! No handshake between the managers. Angel scored a great goal, Getafe pressed towards the end and Ter Stegen had to make a vital stop to prevent it being 2-2, but goals by Griezmann and Sergi Roberto were enough for the home side. It wasn't a great Barca performance, but it was job done. That's all from us, thanks for joining us and hope to see you again soon!
94'
Getafe are caught offside again and Bordalas goes down the tunnel without shaking Setien's hand. Poor stuff.
92'
Mata is down with a bit of cramp, but he's up after 30 seconds.
92'
Getafe send the ball forward and a tame header goes straight to Ter Stegen.
92'
Two minutes left, still 2-1.
90'
Messi!!!! What a chance! His curling effort from the edge of the D goes narrowly wide!
88'
That's a very late challenge by Kenedy on Sergi Roberto and he's deservedly booked.
87'
77% possession for the home team, but they've been unimpressive.
86'
Barca had a good last 20 minutes of the first half and were comfortable for the first 20 of the second, but it's been far from impressive by Setien's men.
85'
Fati carded for taking too long to go off. He was taking his shinpads off as he was leaving.
85'
Barca sub: Arturo Vidal on for Fati.
84'
Barca are caught offside and it's a Getafe free-kick just outside the box.
82'
Junior is cautioned for a very clear handball.
81'
Barca were cruising at 2-0, but it's got very tense around the stadium now.
79'
Corner for Getafe now. Nyom goes down in the box, there's nothing and Mata hits it off the defender for another corner. Goal kick given though.
79'
Mata runs towards goal inside the box and Pique stops him or it was one on one!
78'
Red card to a member of Getafe's coaching staff for protesting! They wanted a foul on Angel just outside the box.
77'
Griezmann misses again! A pacy Barca attack sees Messi play in Griezmann and the shot across the goal and wide.
74'
Griezmann!! What have you done? Junior runs into the box, Fati's shot is blocked and then Griezmann blazes over from 12 yards out!
73'
Mata is booked for a foul.
72'
What a save!!! So nearly 2-2!! The free-kick is sent in by Arambarri, Angel hits it at the far post, Ter Stegen parries, the ball is on it's way in and just as Mata is about to tap in from one yard out and away from the GK, Ter Stegen bats it away!
72'
Free-kick for Getafe here on this near side.
69'
What a save by Soria to deny Ansu Fati and it's a corner. Nothing comes of it though.
67'
Amath replaces Etebo for Getafe.
66'
Angel scores!!! It's 2-1!! A ball is sent from the far side by Mata and Angel volleys home from inside the area! What a goal! Game on!
66'
Barca concede a foul after a pull back on Cucurella.
64'
Fati wins a corner for the hosts.
63'
Getafe down this near side after a bad pass by Ter Stegen, but Kenedy's cross is knocked away by Busquets.
60'
Messi runs towards Djene and the Getafe man pulls him back.
59'
Griezmann passes the ball to Fati who chests down for Messi and then he unsuccessfully wins a corner off Nyom.
57'
Still 2-0 and this game is much quieter in the second half. Getafe have done next to nothing in the second half.
54'
Griezmann and Nyom arguing after Nyom pushes over Fati, Nyom wanted to take a quick throw-in and Fati was in the way.
51'
Getafe double sub: Angel on for Molina and Kennedy replaces Olivera.
50'
Arambarri goes for it and ... it goes over the bar!
49'
Free-kick for Getafe 30 yards from goal here.
49'
Umtiti is booked for catching Mata in the back of the head with his right arm.
47'
A long pass is intended for Fati, but it's too strong and Soria gets there. It would have been offside anyway.
47'
Angel is warming up for Getafe.
46'
First attack for Getafe includes a ball going across the box by Cucurella, but there's no end product.
46'
Getafe get the second half underway!! No changes.
45'
HT: Barcelona 2-0 Getafe!! Half-time at the Camp Nou. Several Getafe player go to the ref to talk about the disallowed goal, but they'll realise later on it was the right decision. Getafe were the much better team for the first 25 minutes and had a goal disallowed before Griezmann and Sergi Roberto scored for Barca. Alba had to go odd injured. Barca in control now here. Back for more in a bit!
45'
What a save by Soria to deny Messi! A long pass is sent to Messi at the far post by Griezmann and his header is well stopped by the Getafe GK!
45'
The free-kick in beats everyone.
45'
Free-kick to Getafe 25 yards from goal after Umtiti fouls Mata.
43'
That was close!! Messi goes for goal and he doesn't miss by much! Just wide of the post.
41'
Messi is fouled just outside the box by Arambarri.
40'
Getafe were clearly shaken by conceding the first goal, but Barca have just been clinical. There 's no way Getafe deserve to be losing 2-0.
39'
It's 2-0!!! Sergi Roberto doubles Barca's lead! Arthur passes to Junior on this near side whose pass all along the ground finds Roberto in the middle and he hits home!
38'
Fati runs towards goal, but Djene and Etebo dispossess him.
36'
How will Getafe react to this?
34'
It needed a top Barca move to break down this very solid Getafe defence and the team from the capital are undeservedly behind.
33'
What a goal! Griezmann scores! Umtiti has the ball 30 yards from goal, he passes for Messi in the middle, the Argentine plays a through ball first time for the Frenchman and Griezmann knocks it over the advancing GK into the net. Superb Barca play!
31'
Arthur flicks the ball nicely to Griezmann, the Frenchman is by the byline by the time he gets the ball though and no chance is created.
29'
Barca move through Arthur and then Griezmann before the Getafe defence stop him going anywhere.
28'
Getafe have had just 24% of the possession, but they have been the much better team.
27'
Getafe are the much better side here. Barca haven't really got started.
26'
Cucurella!!! Mata is played in, he tries to go round the goalie, Mata then passes to Cucurella who fires wide of the far stick!
25'
The ref takes a long look at the screen, comes back onto the pitch and it's no goal!! Free-kick to Barca! Nyom clearly barges him in the face with his shoulder. Nyom and Etebo are furious, but the Getafe man looked at him before the barge.
24'
It looks a clear foul as Nyom puts his arm in the face. He looks towards him and it's deliberate. The ref is going to the screen!
23'
Nyom scores for Getafe!!! Molina heads the corner goalwards, Ter Stegen saves and Nyom scores the follow up!! Umtiti is down on the ground and Barca protest Nyom knocked him down. Will be checked by VAR.
22'
Molina!!! What a chance!! Pique makes a horrendous pass back towards goal, Molina runs onto it and is running towards goal, but then Umtiti gets back to knock it for a corner.
22'
Barca sub: Junior on for Alba, who has now gone down the tunnel. Barca once again with 11.
21'
Barca with 10. Alba has gone to sit on the bench and looks on the verge of tears while Junior is waiting to come on.
20'
Alba held his groin region after overstretching to reach a ball.
19'
Pepe Bordalas, the Getafe manager, has been booked for protesting something. I'm not sure what though.
19'
Alba is bending down and his game looks up. He is sat down now the referee.
16'
Alba seems to have a problem and Junior is warming up on the sideline.
15'
Good play by Fati, Nyom fouls him and the ref tries to play advantage, but then gives the free-kick. Getafe react to the quick free-kick and clear.
14'
Chance for Messi!!! A chipped pass is played for Messi from midfield, the Argentine controls, the GK comes out and the attempted lob is well caught by Soria!!
11'
Lovely play by Messi to beat Arambarri 25 yards from goal! Fantastic footwork, but counts for nothing in the end.
10'
De Jong attacks for Barca through the middle, he is stopped by Djene and then on the counter, Mata is played towards goal, but Pique defends well and the Getafe man runs out of room. The flag was up.
8'
Pique is down injured holding his leg after challenging for the ball with Mata. It doesn't look too serious and he's back up,
6'
Good run by Messi into the Getafe half, Djene cynically obstructs him and is perhaps lucky not to see yellow.
4'
Getafe are caught offside. Good start by Bordalas' men.
3'
Cucurella is penalised for a foul on S Roberto now.
2'
Getafe attack, but Mata is unable to keep the ball in. Goal kick.
2'
Getafe win the first free kick of the game at midfield.
1'
Barca get us going from right to left! Barca in the usual kits, Getafe in yellow.
Prev.
Messi and Molina shake hands in the middle and we're good to go!
Prev.
The players are out here at the Camp Nou! There's a very good crowd in for this one. Warm, sunny and no sign of Storm Dennis.
Prev.
There's an interesting element to this match. Angel Rodriguez of Getafe, one of their best players, has been linked with a move to Barca on loan as an emergency replacement for Dembele. Barca could not get him for this game as they had to wait for the Spanish FA's approval. Angel is on the bench for Getafe. Will he come on later? Will he score? We shall see.
Prev.
Barca make four switches from the Betis victory. Pique, Alba Arthur, Fati in, Lenglet, Semedo, A Vidal and Junior out.
Prev.
Getafe make just one change from the Valencia game. Etebo is in for Damian Suarez.
Prev.
It's 16 degrees and sunny in Barcelona this afternoon.
Prev.
Barca won 2-3 at Betis in their last game are three points behind leaders Real Madrid while Getafe were 3-0 victors over Valencia.
Prev.
2nd v 3rd. 49pts v 42pts.
Prev.
Guillermo Cuadra Fernandez is the referee and Alejandro Hernandez Hernandez is the VAR.
Prev.
Getafe XI: Soria (GK); Olivera, Etzeita, Djene, Nyom; Cucurella, Maksimovic, Arambarri, Etebo; Mata and Molina.
Prev.
Barca XI: Ter Stegen (GK); Alba, Umtiti, Pique, S Roberto; De Jong, Busquets, Arthur; Fati, Griezmann and Messi.
Prev.
Hello and welcome to live coverage of the La Liga clash between Barcelona and Getafe from the Camp Nou. This should be a cracker!