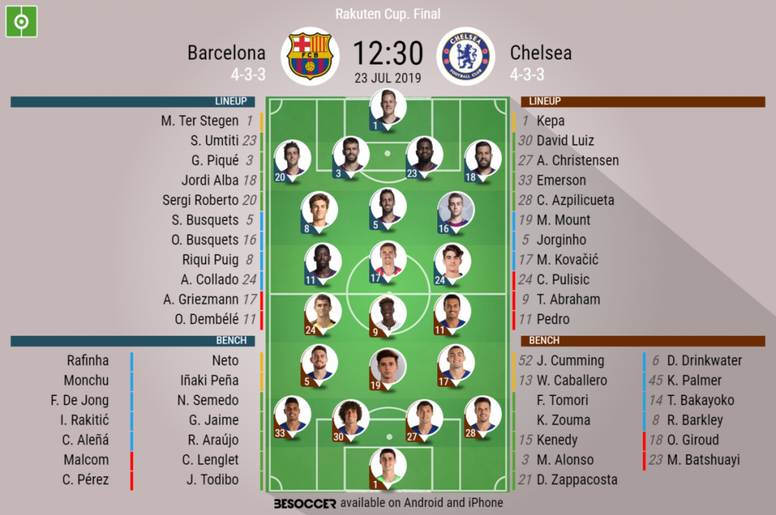 Barcelona v Chelsea - as it happened
93'
FT: Barcelona 1-2 Chelsea!!! Chelsea are deserved winners here after dominating the first half and after weathering a good 20 minute Barca storm in the second before taking control. Abraham and Barkley netted for Chelsea while Barca were poor apart from the first 20 minutes after the interval. Ivan Rakitic scored a stunner right at the end, but it was far too late. That's all from us, thanks for joining us and hope to see you again soon!
93'
It's all over!!! Chelsea win here!
91'
What a goal by Rakitic!!! Do we have a grandstand finish on here?? A teammate crosses to the Croatian in the middle and he fires a 25 yard thunderbolt into the top corner!!! Unstoppable.
90'
Rakitic sends it well over the bar.
90'
Free kick for Barcelona on the edge of the area after Drinkwater is fouled by Malcom.
89'
The Brazilian is walking gingerly to the sideline after taking a knock.
88'
Kenedy is getting some treatment here, but doesn't seem too serious.
86'
Chelsea are just seeing this one out. Comfortable.
84'
Barca had a very good 20 minute spell at the start of the second half with Carles Perez showing some promising play, but it's been plain sailing for Chelsea once they weathered that storm.
81'
Barkley doubles Chelsea's lead! Giroud crosses in for Barkley who is in the middlejust outside the box and his shot seems to take an odd trajectory and end up in Neto's right hand corner. Didn't seem to be a deflection. Maybe he scuffed it. Very strange.
80'
Barca counter and Rafinha looks for Rakitic, but the ball is far too strong.
77'
Batshuayi!!!! He was so close to doubling Chelsea's lead.
73'
Alonso gets on the end of Barkley's corner and touches it off the defender for another one. A foul is called on the second set piece.
72'
Chelsea head wide and it may have been offside. A tight one.
70'
Bakayoko, Zappacosta, Batshuayi, Drinkwater all on. Kovacic is one of those to make way.
69'
Alonso sees his cross in cleared away!
67'
Kenedy sends a long ball in which beats Giroud at the far stick.
63'
Kenedy shoots and his effort is going wide before it takes a big deflection off a defender and the goalie has to make a vital stop!
61'
Perez passes to a teammate whose is denied by Kepa!
59'
Chelsea subs: Abraham, Pulisic and Mount off, Barkley, Kenedy and one other on.
58'
Alena!!!!! He hits a powerful strike at Kepa after a lovely flick by Rafinha. Rafinha is then flagged offside as he picks up the rebound.
57'
Pedro has an ambitious hit from distance which goes comfortably to the keeper.
56'
Perez is fed the ball once again and Kepa is tested once again!!! This is a completely different Barca performance now.
55'
Perez!!!! What a lovely run by the Barca man! He beats a couple of defender with his twists and turns before firing a disappointing shot at the goalie.
53'
Rafinha!!!!!! He turns and shoots from inside the D, but Kepa makes a comfortable save.
49'
Barca have made a decent start to the second half. Half-time has done them good.
46'
There were many other subs at the break.
46'
Alonso. Tomori and Zouma came on for Chelsea at the expense of Luiz, Emerson and Christensen, De Jong and Semedo on for Barca.
46'
Semedo hits wide for Barcelona!!
46'
The second half is underway!! Numerous changes. Frenkie de Jong has come on.
45'
HT: Barcelona 0-1 Chelsea!!! Chelsea have been the much better side so far. Apart from an second minute chance for Oriol, Chelsea have looked the more dangerous. Pulisic and Abraham are playing very well and Abraham gave Chelsea the lead in the 34th minute after Sergi Busquets' pass was deflected to him by Jorginho. Barca will need to pick up after the break. Join us in 10 for the rest of this one!
45'
After two minutes of injury time, the referee brings this one to a close!
45'
Abraham is caught offside now as he is one on one. Just off. Good call.
45'
Griezmann hits well wide of the goal after being passed the ball by Alba. Kepa had nothing to woory about.
43'
Azpilicueta gets a corner kick for Chelsea after his cross is deflected behind by Alba.
41'
Dembele hits straight at Kepa now! The first sign of Barca danger since the goal.
40'
Pulisic makes a charging run on the counter. However, his shot is only able to find the side netting. He looks in fine form.
38'
Chelsea definitely look a bit sharper here. It seems like Barca are still acclimatising to the conditions. Chelsea's season starts a week earlier than the Spanish side's.
35'
There was a slice of luck involved as Jorginho didn't intend to deflect it straight to Abraham, he just put his foot there to get the ball off Busquets, but Barca took a chance and were punished.
34'
Abraham scores for Chelsea after a defensive calamity! Oriol passes to Busquets just outside his own area, Busquets then tries to pass, but it is deflected by Jorginho's foot straight into the path of Abraham, who rounds the keeper before tucking into an empty net.
31'
Dembele has a shot at goal from the D, but Pedro gets back to block it.
28'
Pulisic slices a shot wide after a good Chelsea move down the far side.
24'
Mason Mount has a go!!! Umtiti can't clear a long ball by Pedro and the ex-Derby man shoots over from 25 yards.
24'
Barca are probably having more possession, but Chelsea definitely look more dangerous.
23'
Double chance for Chelsea!! Kovacic plays in Pulisic, the American sees his shot saved by Ter Stegen and Abraham blazes the rebound well over. Should have hit the target.
22'
Little to report in the last few minutes. Chelsea have a free-kick in their own half.
19'
Griezmann sees a shot blocked on the edge of the area after Roberto plays him a one-two.
18'
He has blood on his right knee after the studs caught him. He will be able to carry on, but that will sting.
17'
Full blooded challenge by Jorginho on Griezmann as the duo go for a 50:50 ball. The Chelsea man gets there slightly late and Griezmann requires treatment on his leg. Studs showing.
14'
Unbelievable play between Dembele and Puig!!! Dembele passes to the Catalan and he pulls off an outrageous backheel which is very slightly overhit. Had it been a touch softer, Dembele would have been one on one with the GK.
13'
Pedro gets the ball back for Chelsea and nearly gets a move going. The English side are playing more direct than their opponents.
13'
Barca are keeping possession in Chelsea territory now patiently waiting for the opening.
12'
Big interception by Azpilicueta from Alba's cross after a well worked team move near the Chelsea box.
8'
Nothing significant happens from the corner. Barca made sure they were not caught out at a set piece like they were at Anfield a few months back.
7'
Umtiti makes a vital intervention after Chelsea take a free-kick quickly!
5'
Pedro brings down Pique inside the Barca are and is penalised.
4'
Azpilicueta heads wide Kovacic's cross in to the back post! Open start here.
2'
Collado sends the ball in, Griezmann gets a flick on to the back post where Oriol heads over. He is not related to the other Busquets, by the way.
1'
Jordi Alba wins a corner inside 20 seconds.
1'
Pulisic gets us going here! Chelsea in the white attacking from right to left in this first half.
Prev.
We have Japanese officials for the match tonight. Masaki Imaeto in charge.
Prev.
The players are coming out here! It's 27 degrees in Saitama!
Prev.
There is no Messi or Suarez for Barcelona as they are still on holiday after the Copa America.
Prev.
Chelsea are looking to bounce back from defeat against Kawasaki Frontale last week. A very late goal by Damiao meant they ended up losing the match 1-0.
Prev.
This is Barcelona's first game on this tour of Japan. They play Vissel Kobe on Saturday who have Andres Iniesta in their team.
Prev.
Chelsea XI: Kepa (GK); Luiz, Christensen, Emerson, Azpilicueta; Mount, Jorginho, Kovacic; Pulisic, Abraham and Pedro.
Prev.
The teams are in!! Barca XI: Ter Stegen (GK); Alba, Umtiti, Pique, Roberto; Oriol Busquets, S Busquets, Puig; Collado, Griezmann and Dembele.
Prev.
Good morning and welcome to live coverage of the pre-season friendly between Barcelona and Chelsea in the Rakuten Cup. We will get to see some Barca stars in action and Chelsea will want to bounce back from their defeat last time out so it should be exciting!