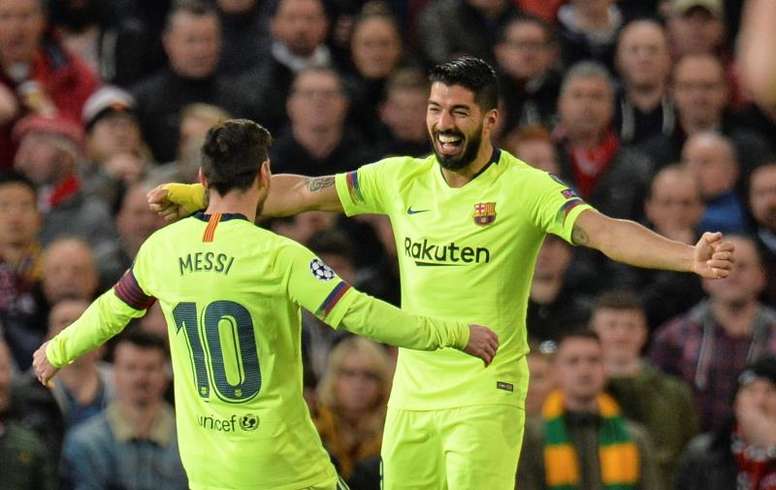 Barcelona take slender lead back home thanks to VAR intervention
Barcelona left Manchester with a one goal lead thanks to a VAR assisted own goal in the 13th minute. It was not a sparkling performance by Ernesto Valverde's men, but a strong defensive display, led by the ever dependable Gerard Pique, meant the Catalans kept a clean sheet.
The first leg of possibly the tie of the round was as expected a very even contest. Alexsandr Ceferin, the UEFA president did not want to miss the match and he saw Barcelona start strongly. They forced a corner early on through Jordi Alba's deflected cross and Man Utd had to wait three minutes before they realy touched the ball. The first chance of the match fell the home side's way though. Marcus Rashford fired over a free-kick from 25 yards out on a night where Ter-Stegen did not have to make a single save.
He did have to run out though a few minutes later to prevent Rashford running onto a long ball by Pogba. He was alert to the danger and that was probably the busiest he was all evening. Barca had plenty of long possessions whereas United were more direct and looked more dangerous. Semedo tried to find Suarez on one occasion before Pique had to stop the pacy Rashford on the counter. Pique was given the man of the match and rightly so.
In the 13th minute, the visitors went in front. Busquets launched the ball into the box for Messi whotook a bad touch. He then recovered to cross for Luis Suarez whose header across goal for Coutinho took a nick off Shaw's shoulder and went into the net. The linesman intially raised his flag for offside by Messi, but he was wrong and the Italian VAR buzzed in to give Barcelona their goal. The goal actually went down an own goal by Luke Shaw, who incidentally will miss the return after fouling Messi and seeing yellow.
The game then became a bit scrappy and Rashford shot just wide from 25 yards out in the 21st minute after a terrible error by Jordi Alba. Chances were few and far between though. Barca were still controlling possession without really threatening.
The next moment of action was just before the half-hour mark when Lionel Messi went down after being caught by Chris Smalling's stray arm. He was bleeding heavily from his nose and the United man was perhaps lucky to avoid being booked. He quickly recovered though and a few minutes later, Pique read a Pogba chip which was heading for the Barca area.
Nine minutes before half-time, Barca nearly made it 0-2 in what was the best chance of the half. A long ball was sent forward to Luis Suarez, Lindelof committed the cardinal sin of letting the ball bounce, Suarez got there first and controlled the ball before the defender then managed to stick his foot out. Unfortunately for him, the ball fell straight to Coutinho in the area who forced De Gea into a fantastic stop. Dalot could have equalised four minutes later after he inexplicably headed a Rashford cross across goal rather than it into it. Suarez shot wide on half-time and a draw would have been fair.
After the break, Man Utd put Barca on the back foot for 10 minutes. That said, they were all cleared by the defence and the odd shot off target. Ashley Young forced a corner and Man U wanted a handball by Busquets, but there was nothing coming. Rashford volleyed over after a Ter Stegen parry six minutes into the second half before Barca went into the box for the first half. That said, there was very little to right home about.
Fred had a shot blocked and the next 10 minutes were dull. Suarez broke the lull by hitting the side netting 25 minutes from time after being found by Semedo. He should have gone for the far post instead of the near one. Valverde did not like what he saw and made a double change bringing on Roberto and Vidal. His side had had just 3 shots to Man U's eight, none of those eight on target. Just after that, Alba forced De Gea into a save after Messi was brought down on the edge of the box and the referee Gianluca Rocchi played a great advantage.
Rashford then shot over the bar from a free-kick and Barca's defence was comfortable. Lots of passion and balls sent in, but little goal threat. Messi almost made it 0-2 in the 81st minute after he struck a free-kick under the wall which got deflected and almost wrong footed David De Gea. After that, Barca had no interest in attacking while Man Utd were huffing and puffing without any success.
Barca were so comfortable that when the three minutes went up, Barca spent over two minutes passing the ball for fun in United's half. Poor Carles Alena was waiting for two or three minutes on the touchline before finally coming on. Man Utd were just chasing shadows. With the final play of the game, Pogba delivered in a free-kick, Smalling beat Vidal to the loose ball and then hit over the crossbar. His claims for a corner were turned down and that was the end of the game.
Barcelona go back to the Camp Nou next Tuesday with a one goal cushion, but as Gerard Pique said post game, it is not over because the Red Devils lost 0-2 against PSG before turning it around. That said, there is no doubt Barca should expect to qualify for the quarter-finals after winning a hard-fought and defensive game at a ground they had never won at before.