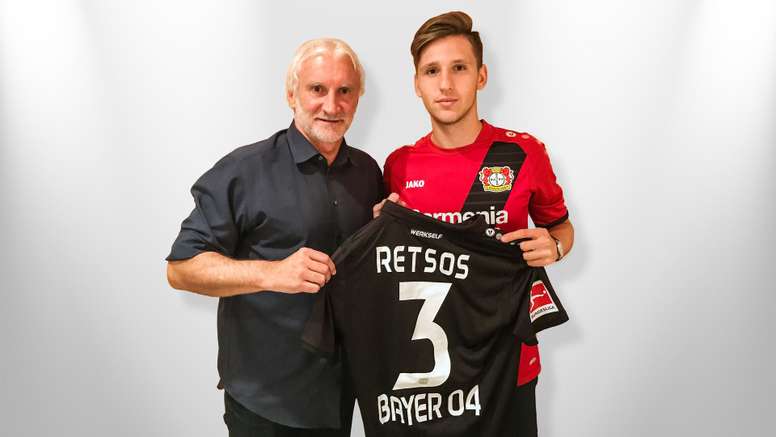 Barcelona keep tabs on Retsos
Barcelona are tracking the progress of Panagiotis Retsos, Bayer Leverkusen's Greek defender and one of the biggest surprises to come out of the Bundesliga this season, according to 'Mundo Deportivo'.
The Catalan club are following the market closely, looking for any bright stars that may appear and right now Retsos is shining with Bayer who find themselves second in the German league. Born in South Africa with a Greek passport, Retsos is 19 and stands tall at 6"1 and is known for his versatility.
As reported by the aforementioned soucre, Barca's technical secretary, Robert Fernandez, watching the player closely, has been dazzled by the progression his football has made.
A Greek international, his season began with his boyhood team, Olympiakos, before he was snapped up by Leverkusen toward the end of the summer transfer window. He has played 23 games for club and country this season, starting 17 of those.
Retsos is also highly rated in his native Greece, and Leverkusen had no doubts about his ability when the paid a big price for a player of his age - €22m.
He's tall, strong, quick and can play in a number of positions. Although predominantly a central defender, he is also comfortable out wide. Retsos remains on the radar of the 'Blaugrana' despite the fact that they have brought in some more well-known reinforcements recently.
In the last month the Camp Nou has welcomed Philippe Coutinho and Yerry Mina. In defence manager Ernesto Valverde can now call upon 4 natural centre-backs (Gerard Piqué, Samuel Umtiti, Thomas Vermaelen and Mina), but in the boardroom they are already looking toward the future.