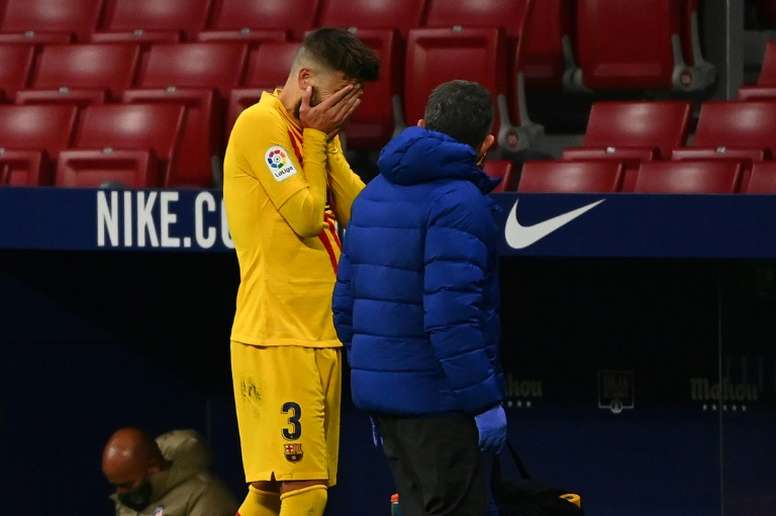 Barca will look into signing a replacement for Pique but has no money
Misfortune once again for Barcelona. Apart from the defeat against Atlético, the drama came in the form of injuries: Ousmane Démbélé, Sergi Roberto and a Gerard Piqué who left the Metropolitano crying.
Through a statement, the azulgranas confirmed that Piqué suffered a sprain and damage to the cruciate ligament of the right knee. A mess that will keep him out for several months.
With Umtiti and Araujo still out, Lenglet is the only first team centre-half who is healthy at the moment. Ramos Mingo has been brought in from the youth team but Barcelona will have to consider what to do in this situation.
According to 'Marca', Ronald Koeman and the management will meet in the next few days to study whether to reinforce the central position in the winter market. But the issue is not so much one of necessity as possibility.
The fact is that economically, Barca does not have the capacity to make any payments at the moment. While the salaries of the players are lowered, the margin of maneuver is at a minimum and to pay a transfer is almost discarded.
The arrival of Eric Garcia seems impossible economically. For the moment, a loan would be the only way to strengthen this much-needed position.
The board does not have the power to negotiate or to make major expenditures, as any move would have to be endorsed by the new president which further complicates the situation.
Bearing in mind that the elections will be in mid-January, the margin would be reduced to the last week of the market so that the new management can approve the signing of a central which, given the situation, seems necessary.