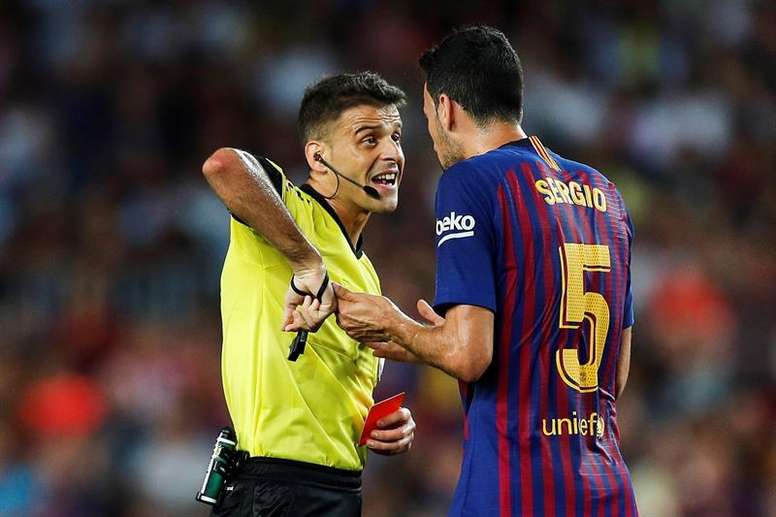 Barca to see referee Gil Manzano again for Athletic Bilbao clash
VAR has done a lot of good for football, but it has led to some football fans get angry with two referees instead of just the one. That is what many Barca fans feel about Gil Manzano.
The official will be the on-field referee for Barca versus Athletic Bilbao. It is a referee who has had the odd run in with the Catalans, but also been good to them sometimes. 'Marca' says that the match comes at a time when Barca are upset about the officials in recent games.
Pique started things off after the goalless draw at Sevilla. "It's going to be very difficult that Real Madrid drop points and for us to win this La Liga," he said after the game, words which led to a controversy which has rumbled on.
There were those who said that Gil Manzano's appointment came as a result of their complaints, but it had already been announced.
Gil Manzano was in charge of the VAR for Barca's trip to Real Sociedad earlier in the season which ended 2-2. Barca complained about the penalty given to Sociedad and the one not given on Pique at the back end of the game.
But the issues come from long ago. In the 2018-19 season, Gil Manzano sent off Lenglet against Girona after a VAR review for elbowing Pere Pons.
That day, Pique had his problems with Gil Manzano in the tunnel and after the game, he said that "his history speaks for itself". The Barca central defender referred to several controversial incidents when he allegedly favoured RM.
The man from Extremadura has refereed Barcelona on 23 occasions with 15 wins, five draws, and three losses. He has also sent off six of their players.
The match this Tuesday will be the 24th and it is an important game. Athletic want to keep their Europa League hopes alive while Barcelona cannot slip up and are waiting for a RM slip up.