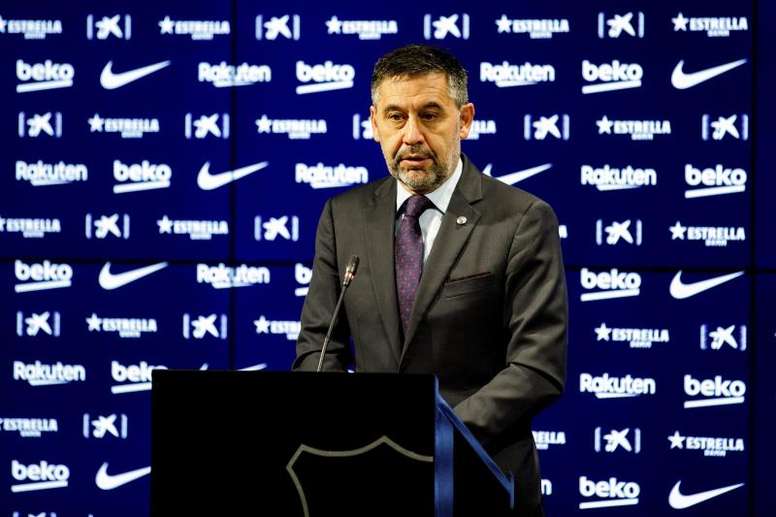 Barca's signings under Bartomeu: 34 players for 1.082 billion
Josep Maria Bartomeu is no longer the Barcelona president. He decided to leave the club when a vote of no confidence was on the horizon. The most eye-catching thing of his departure was the 2019-20 season and the poor performances of his club. Some of the decisions made at board level have also attracted criticism. It can sometimes be unfair to judge someone off one year so ProFootballDB looks at his whole tenure.
The former Barca president took over in January 2014 after Rosell's resignation and the controversy over signing Neymar. In 2015, after a Barca treble, he was voted by the club members in elections. BeSoccer's database analyses all of Barca's transfers and their cost. The total comes to 1.08 billion euros.
Only three transfers have been more than 100 million: Coutinho, Dembele and Griezmann. The Brazilian did not settle at first at Barca and ended up going out on loan to Bayern Munich. He is currently part of the Koeman 'revolution'. Ousmane, hit by so many injuries, looks promising and Griezmann is still looking to try and fit into the side.
Some eye catching signings include De Jong, Pjanic and Lenglet. De Jong knows Koeman well because the latter used to be the Netherlands coach, Pjanic was part of a swap deal involving Juventus which saw Arthur go the other way while Lenglet is part of the Barca defence. Andre Gomes, Paulinho and Arda Turan failed to shine at the club, Paco Alcacer, Cucurella and Denis Suarez were not there for long and Dest, Trincao and Pedri and youngsters who have just joined.
October 28, 2020
Other players joined the first team for free: all of them came from the Barca academy, La Masia. Despite the multi-million euro transfers, the academy is not forgotten about. Akieme, Araujo, Monchu, Iñaki Peña, Riqui Puig, Miranda, Ansu Fati, Carles Pérez, Wagué, Aleñá, Cucurella, Palencia, Cardona, Ortolà, Sergi Samper, Sandro, Munir amd Halilovic are some of them.
With regards to sales, it is impossible not to mention Neymar. The Brazilian star joined PSG for his buyout clause of 222 million euros. That is 150 million euros more than the second highest sale, Arthur. The Brazilian, like Cilessen and Semedo, formed part of a plan to get value for money for some players.
The sales that occurred last summer were at a very low price. The good thing is they do not have to pay a lot of players' expensive salaries. Rakitic went to Sevilla for 1.5 million euros, Rafinha went to PSG for free and Luis Suarez to Atletico also for nothing. They got a total of 724.05 million.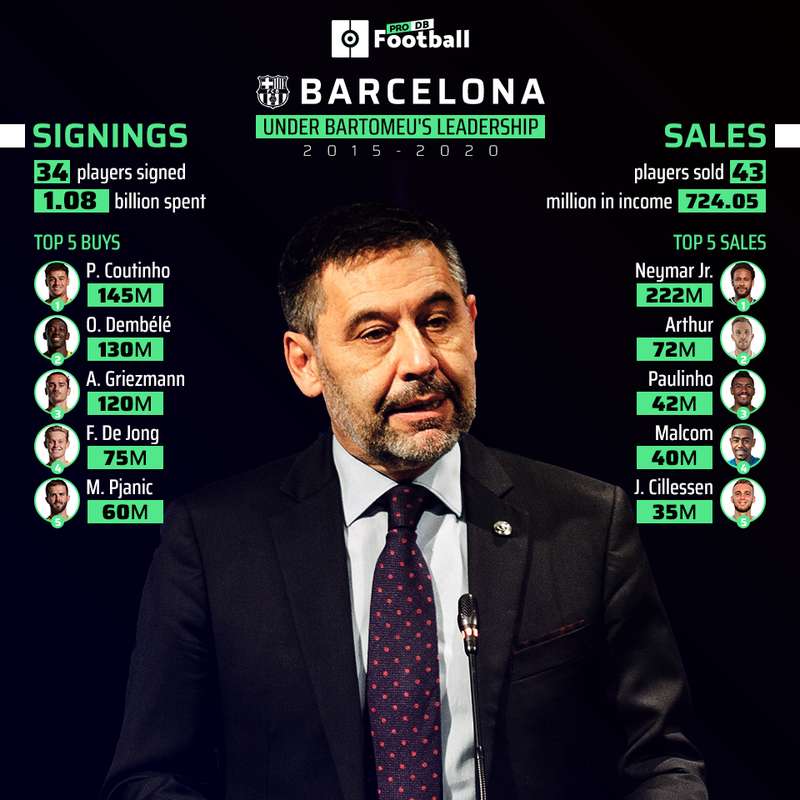 These are all of Barcelona's signings under Bartomeu:
- Coutinho (145 million euros)*.
- Dembélé (130)*.
- Griezmann (120).
- De Jong (75)*.
- Pjanic (60).
- Malcom (41).
- Paulinho (40).
- André Gomes (37).
- Lenglet (35.9).
- Semedo (35.7).
- Arda Turan (34).
- Trincao (31).
- Arthur (31).
- Paco Alcácer (30).
- Neto (26).
- Umtiti (25).
- Dest (21).
- Junior (18).
- Braithwaite (18).
- Arturo Vidal (18).
- Aleix Vidal (17).
- Digne (16,5).
- Cillessen (13).
- Deulofeu (12).
- Emerson (12).
- Yerry Mina (11.8).
- Matheus Fernandes (7).
- Pedri (5).
- Marlon (5).
- Cucurella (4).
- Denis Suárez (3.25).
- Murillo (1.2)
- Todibo (1).
- Kevin Prince Boateng (1).
* Dembele and Coutinho's figures are their fixed amounts plus bonuses already paid. Other variables have not been included. De Jong's 75 million could go up to 86 if certain conditions are fulfilled.