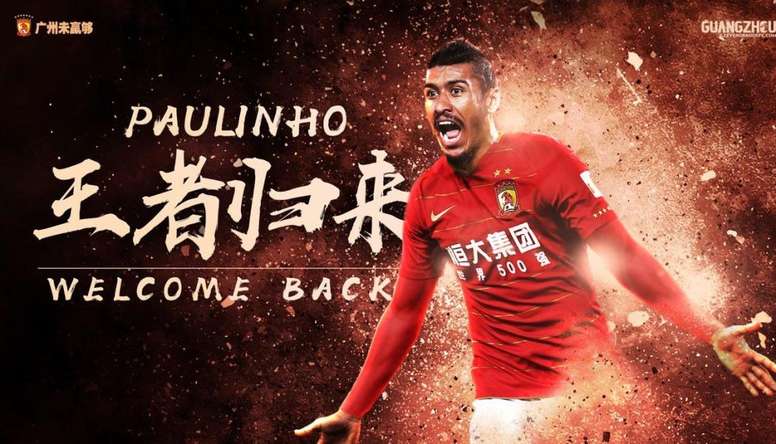 Barca confirm that Paulinho has been loaned out with an option to buy
The Chinese side announced on their website on Sunday that the Brazilian will rejoin them, one year after he left for Barcelona for €40m. Barca later confirmed that the deal was a one-year loan with a mandatory option to buy, with sources suggesting the fee will be €50m.
Paulinho, who recently turned 30, leaves the Spanish side after an impressive season. He played in 49 games for Barca, bagging nine goals and earning himself a La Liga title and a Copa del Rey.
A utility player for Ernesto Valverde, the midfielder defied expectations, and will now return to a team he knows well, having spent over two years there previously.
His return to China can be explained by various factors. Barcelona are receiving a €10m profit on the player, who is a year older than when they signed him, and Paulinho himself will earn a healthy salary in the Chinese League. Furthermore, his departure frees up a non-EU spot at Barca, who will see the arrival of another Brazilian, Arthur, in the coming weeks.
Barcelona were considering offloading Yerry Mina to sort this problem, but with this resolved thanks to Guangzhou's bumper offer, it remains to be seen whether Mina will still be moved out.
July 8, 2018
Barca's 2017 move for Paulinho was met with scepticism, after the midfielder's disappointing spell at Tottenham, but he won the affection of the Catalan fans over his year at the Camp Nou. His mobility and eye for goal made him a useful weapon for the team.
Although he didn't quite match the 'Barca DNA', his performance went above what was initially expected of him, and he will leave the club with his head held high.
"Barca publicly expresses its gratitude to Paulinho for his commitment and dedication and wishes him luck and success in the future," read the statement released by the club on Sunday night.
July 8, 2018