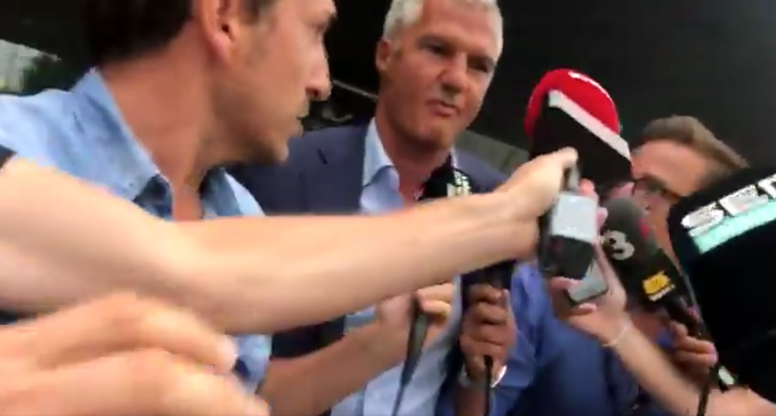 Barca after returning from Paris: "Neymar? We are getting closer"
He said it after loads of journalists surrounded the Barca party which travelled to Paris. Oscar Grau, Eric Abidal and Javier Bordas landed in Barcelona and the reporters asked about the state of the negotiations. Andre Cury, the link with the Brazilian market and Neymar's friend, stayed in France. He was with Pini Zahavi, Neymar's agent.
"No, there's no agreement, not yet," Bordas replied, the board member responsible for the Barcelona first team, after being asked by the media present. Then he confirmed that progress has been made: "We are closer." Come on, I can't say anymore, he said before getting into a car.
The Barca expedition which travelled to Paris to sit down with their PSG counterparts and talk about the signing of the Brazilian. The latest information says that there is no agreement between the clubs after Barca offered 170 million euros in two instalments.
At the moment, there is no deal although in France they say that the Parisian outfit will give Barcelona a definitive answer on Tuesday night or Wednesday morning. The Neymar operation has reached a crucial phase.
The Barca board members got on a plane in the morning and the meeting lasted until 5pm. Three hours later, Grau, Bordas and Abidal were already back in Barcelona. There were more meetings afterwards in the PSG offices.
And Neymar? While the two clubs were discussing Neymar's future, the footballer announced that he was going to appear in the famous TV series 'Money Heist'. Teammates like Thiago Silva, the PSG captain, have asked him to stay, but the Brazilian's intentions are clear: he wants to leave.
During the meeting we heard other things. Rivaldo, the ex-Barca player asked the Barca board not to miss out on the opportunity to get Neymar while Neymar's father liked the status.
The next few hours will be crucial in Neymar's future. The transfer window closes on 2nd September.
August 27, 2019