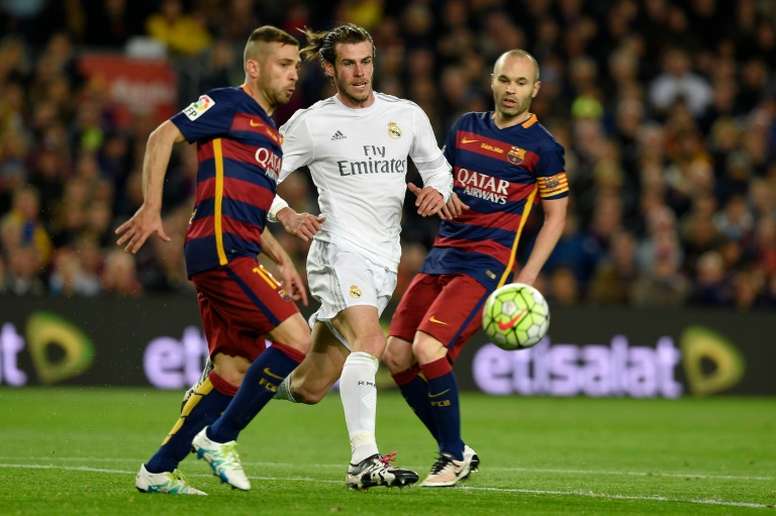 Bale, the superstar that jinxes the 'Clásicos'
It is difficult to find such a negative for a player against their eternal rival. But of course, Gareth Bale has had no choice but to suffer the spectacular dominance that Barcelona have exercised over Real Madrid in recent seasons.
Since he signed for Real Madrid in 2013, he has only managed to win 3 times against Barcelona in the 15 matches he has played.
It all started on 26th October 2013, when Barcelona played Real Madrid at the Camp Nou, in Neymar and Bale's first derby. Neymar and Alexis Sánchez scored the Barca goals that day in a 2-1 win.
After Barca's 4-3 win in the next fixture, in which Messi gave another exhibition, the cup final arrived. In that the phenomenal Bale stood out. 6 minutes from the end, with extra time around the corner, the Welshman turned the turbo on, got past Barta and converted past Pinto.
That goal deserved a trophy, but it is true that Bale has only won twice more against Barcelona in five years. The only wins came in the league in 2016, a few days after Cruyff's death, in a match that Bale got a goal chopped off; and in the summer of 2017, in the Supercup where Real Madrid won 3-1 at the Camp Nou.
The statistic is so disheartening for Real Madrid in the 'Clásicos' with Gareth Bale that they have only managed two more draws, the 2-2 draw in 2017-18 and the 1-1 draw in last season's cup first leg.
On the other hand, as well as the 2-1 and 4-3 defeats in 2013-14, Barcelona beat Bale's Madrid in 2014-15 (2-1), in 2015-16 (4-0), in 2016-17 (3-2), in 2017-18 (3-2 in a friendly and 3-0 in the league) and 2018-19 ( 5-1 and 1-0 in the league, and 3-0 in the cup).