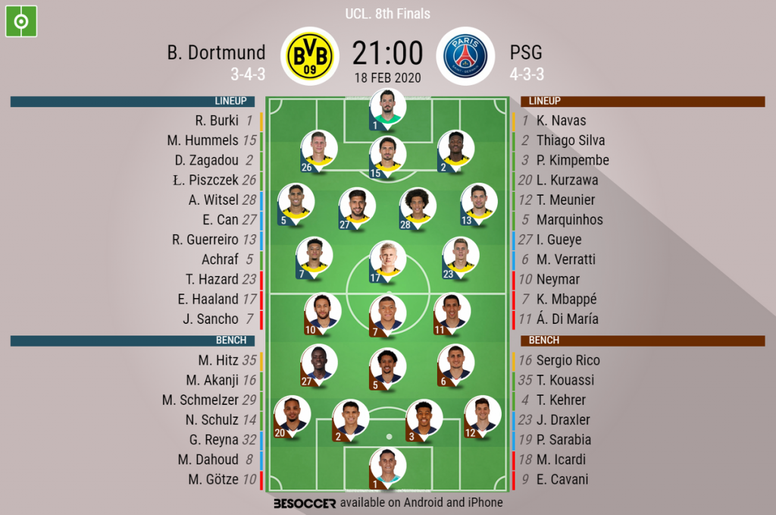 B Dortmund v PSG - as it happened
B. Dortmund

PSG

93'
FT: Dortmund 2-1 PSG!!! All over in Dortmund! Two goals from Haaland gave Dortmund a deserved win, but Neymar's goal gives PSG a vital away goal. Thiago Silva nearly made it 2-2 at the death, but the bad news for PSG is that Verratti and Meunier will miss the second leg. That's all from us, thanks for your company and see you again soon!
92'
Nearly 2-2!!! Neymar's delivery is headed by Thiago Silva and it lands on the top of the net!!! Favre breathes a huge sigh of relief!
92'
Marquinhos shoots and his effort is deflected for a corner.
92'
Marquinhos shoots and his effort is deflected for a corner.
91'
Haaland runs towards the box, but he's penalised for a foul.
90'
Dortmund sub: Schmelzer on for Sancho.
89'
Verratti is carded and he can't believe the decision. Booked for a mild protest and he misses the second leg. Not a booking at all.
87'
Hummels makes a vital block to deny Neymar after Can loses the ball in his own half!
87'
Meunier sees yellow for fouling Reyna. He'll miss the return leg.
86'
Sancho lays it off to Achraf and he fires wide!
85'
Lahoz runs over to the touchline to have a word with Lucien Favre over something.
82'
Verratti wins a foul off Sancho.
81'
Neymar strikes the post!!! Verratti's ball to the far post is headed back by Meunier and then Neymar hits the upright!
80'
It has taken a while to get going, but this is very lively now!
77'
And now Haaland makes it 2-1 with a thunderbolt!! Dortmund attack from their own half and the move ends with Reyna laying it off to Haaland who thumps in from inside the D!
76'
PSG sub: Sarabia on for Di Maria.
75'
PSG level through Neymar!!! Mbappe makes a tremendous run down the far side, he beats three or four players and he squares it for Neymar to tap in from inside the six. Great goal.
75'
Haaland attacks again for Dortmund, but Navas stops him.
75'
This game is very open now.
74'
Achraf cross again, it's deflected and Navas catches!
72'
PSG attacking again, but Dortmund clear.
70'
A bit of good fortune but Dortmund will take it.
69'
Haaland scores for Dortmund! Hands up for offside, but the goal is given! Dortmund work it to Achraf on the near side his cross in the middle is shot by Guerreiro, it hits Marquinhos and the ball pops up kindly for Haaland to hit home!
67'
Dortmund sub: Hazard off, Reyna on.
66'
Double chance for PSG!!! Di Maria passes to Neymar, he feeds to Mbappe and Burki has to make a fantastic save!! On the rebound, Neymar's shot deflects off Mbappe and goes wide!
65'
Mbappe has a shot for PSG!!
64'
Still 0-0 and I think that's how it will stay.
62'
Kurzawa makes a tremendous run despite Piszczek trying to foul him multiple times. After getting past him, he sends a wayward pass.
59'
Neymar sees yellow after felling Witsel. There wasn't much in that. After Witsel went down, Neymar lightly caught Witsel in the chin with his elbow. Not really a yellow though.
57'
A PSG move breaks down after Neymar can't find his man and Dortmund threaten on the counter! Haaland gets the ball near the box, but then Marquinhos come in to concede the corner.
54'
Gueye sees yellow for a foul on Witsel.
53'
Hummels brings down Mbappe. The free-kick is not launched into the box though. It's taken short and wasted.
52'
Neymar plays in a lovely through ball for Di Maria and Burki comes sprinting out of his goal to clear!
50'
Verratti!! Haaland gets into the box and Verratti takes the ball off him after one cut back too many.
49'
The corner is taken short, it's worked brilliantly by the home side, but there's no end product.
48'
Achraf is played down PSG's left, he runs down towards the byline and then Navas blocks the Moroccan's cutback! Achraf's touch was slightly too hard and that left hims with a tight angle.
47'
First sign of Mbappe as he goes down Dortmund's right and then Piszczek cuts out his pass.
46'
PSG get us going again!! No changes.
45'
HT: Dortmund 0-0 PSG! Half-time in Dortmund after no added time! Dortmund have had the better of the opening 45. Neymar came the closest for PSG with a free-kick while Sancho forced a great save out of Navas. Haaland also came close twice. Dortmund the more dangerous side, but it's still goalless. Back for more in a bit!
44'
Haaland catches T Silva in the face with his arm. He is warned by the ref.
44'
Axel Witsel gets the first card of the game for barging Di Maria off the ball. There has been a lot worse things that have gone unpunished. It was cynically though.
43'
Nothing comes of the set piece.
43'
Hazard wins a corner off Marquinhos despite the Brazilian's best efforts to keep it in.
41'
Dortmund work it around nicely, but Witsel's effort goes well over the bar!
41'
Fabulous run by Di Maria, but just before he gets to the D, Zagadou takes it off him.
39'
PSG are having possession, but Dortmund definitely look more dangerous.
36'
Sancho and Haaland combine again! The Englishman sends a cross to the far stick after Can starts the move. and Haaland can't connect properly with his header. It goes wide and Hazard was actually in a better position.
35'
Haaland!!! Sancho passes to Haaland just outside the area, he runs into the box before hitting the side-netting with his left foot! Dortmund definitely the better team.
33'
Achraf shields the ball and he watches the ball go out for a goal kick and Neymar shoves him from behind almost into the hoardings. The PSG man then apologises.
33'
Whistles from the home crowd as the away side have some long possession.
30'
PSG passing the ball around now having a long possession.
27'
What a save by Navas!!! Can passes to Jadon Sancho and his curling shot is well stopped by the former RM keeper. Then Achraf's effort on the rebound is blocked by a sliding defender! (Kurzawa)
26'
Another foul by Can! Di Maria is the man caught this time and Can is really lucky not to have seen a yellow by now.
25'
Fairly even game this one, but I would say Dortmund are edging it.
24'
Good play by Dortmund again down this near side! Lahoz plays advantage after Guerreiro is fouled and then Sancho ball across the box is cut out by Navas.
23'
Sancho's delivery is headed onto the top of the net, but the flag is up.
22'
Free-kick to Dortmund after Sancho is fouled.
21'
Penalty shout for Dortmund after Can goes down, but Verratti wins the ball. Lahoz not interested.
20'
Good play by PSG involving Neymar, but Dortmund finally stop him. He's looking good tonight.
19'
That's a really poor challenge by Can on Neymar in the centre circle. He clearly kicked the Brazilian's right foot. Lahoz will have to get his cards out soon. Neymar is limping a bit.
18'
Sanchoi is fouled by Gueye at midfield. It's been rather quiet in the last few minutes.
15'
Witsel kicks Neymar's foot and is penalised.
15'
Mbappe! He has the ball inside the Dortmund box and he twists and turns before being dispossessed.
14'
What a counter!! The Germans break rapidly, Sancho runs a good distance, but his end product is poor. It's a tame effort off target.
14'
Corner kick for the visitors and it's headed away by a Dortmund player at the near post.
12'
Ambitious effort by Guerreiro flies miles wide of the goal.
11'
Neymar goes for goal and he's not far away!!! He's curls it round the wall and it just goes narrowly wide of the GK's left hand post. Burki had it covered though.
10'
Free-kick to PSG in a dangerous position after Neymar is brought down.
9'
PSG starting to have more ball in the last few minutes. Mbappe is flagged offside.
8'
Neymar passes the ball to Mbappe in Dortmund's half, his touch is poor and Achraf clears.
6'
Hazard picks up a pass on this near side by Hummels and then sends a ball in which beats everyone.
4'
Good start by Dortmund here early on.
3'
Sancho thinks he's won a corner, but the linesman says otherwise.
2'
Zagadou gives the ball to Achraf, he runs down the far side and wins a throw in for his side.
1'
Achraf is fouled by Kurzawa inside 30 seconds.
1'
Dortmund get us going from right to left in their usual yellow and black strip! PSG in white.
Prev.
Piszczek and T Silva shake hands with Mateu Lahoz! We are almost ready for play.
Prev.
The players are out here in Dortmund!!!
Prev.
Remember this is over two legs. This is the first game and the away goals rule applies.
Prev.
Dortmund have got Jadon Sancho and Erling Haaland whose tremendous form at Leipzig has continued at Dortmund. He was a great January signing for the Germans.
Prev.
Cavani and Icardi are on the bench. If Cavani comes on and scores, he will reach 200 goals for PSG. Tuchel is also returning to his old club Dortmund as PSG coach.
Prev.
PSG are 10 points clear at the top of Ligue 1 and they were involved in a cracking game on Saturday. They were 3-0 down at Amiens before making it 3-4 and then being pegged back. It was 4-4 and Mbappe, amongst others, sat out that match.
Prev.
Dortmund are third in the Bundesliga, four points off leaders Bayern. They beat E Frankfurt 4-0 on Friday night.
Prev.
The big news for tonight is that Neymar is back in action for the French side after being out injured.
Prev.
7 degrees is the temperature in Dortmund this evening.
Prev.
We have Spanish officials here tonight. Antonio Miguel Mateu Lahoz is the ref and Alejandro Hernandez Hernandez is the VAR in the van just outside the ground.
Prev.
PSG XI: Navas (GK); Kurzawa, T Silva, Kimpembe, Meunier; Gueye, Marquinhos, Verratti; Neymar, Mbappe and Di Maria.
Prev.
Dortmund XI: Burki (GK); Zagadou, Hummels, Piszczek; Guerreiro, Witsel, Can, Achraf; Hazard, Haaland and Sancho.
Prev.
Hello and welcome to live coverage of the Champions League last 16 first leg tie between Dortmund and PSG from Germany.