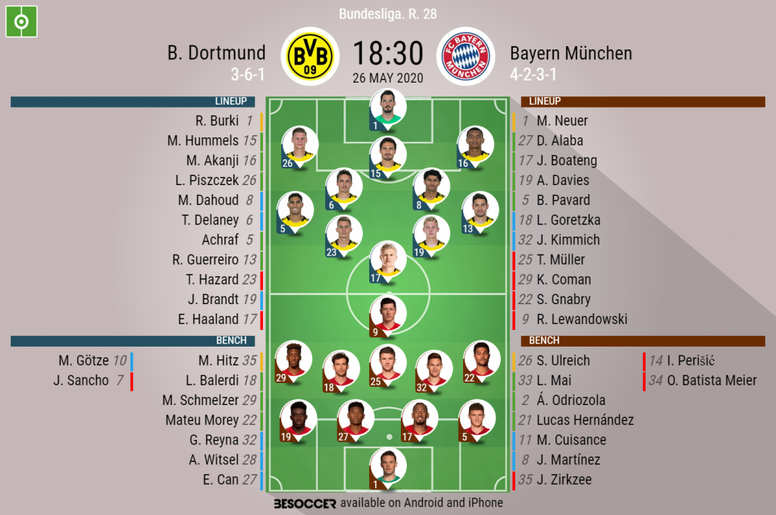 B. Dortmund v Bayern München - as it happened
Borussia Dortmund

Bayern München

93'
FT: Borussia Dortmund 0-1 Bayern Munich. A Kimmich wonder strike is the difference as Bayern Munich move one very important step closer to the Bundesliga title.
87'
Bayern sub: Gnabry off for Martínez.
85'
Dortmund sub: Witsel on for Dahoud.
85'
Bayern sub: Hernández on for Boateng.
83'
And Lewandowski almost finishes it. He cracks a shot from just behind the dee of the box off the post.
81'
Another chance for Dortmund. Dahoud hits it straight at Neuer but he parries it away. Dortmund are coming.
80'
Dortmund sub: Piszczek off for Goetze.
77'
Hazard puts it just wide after the ball is crossed in. Luckily for him he was offside.
75'
Guerreiro steps up and hits it straight at Neuer.
74'
Davies is booked for fouling Reyna right at the edge of the box. Good chance here.
73'
Bayern sub: Perisic on for Coman.
73'
Let's hope that Haaland won't be out for a while.
72'
Dortmund sub: Haaland off for Reyna.
71'
Sancho crosses and it just goes wide. Haaland almost made it.
70'
And it looks like Haaland is limping around the park, maybe he'll be the player coming off.
69'
Looks like the young Reyna will be coming on for Dortmund.
67'
Dahoud is booked for a foul on Kimmich.
63'
I wonder if there'll be any more big chances in this match. Dortmund have been pretty quiet in this half.
58'
Big chance for Dortmund. Haaland has a shot in a good position but he hits it off Boateng who is on the floor and it goes out for the corner.
57'
It's so sad to see the stadium empty, what a magnificent stadium- empty.
54'
Goretzka has a chance from outside the box that Burki dives and saves.
52'
Dortmund need to find a goal here, if they don't then Bayern could be on track to win their 8th title in a row.
49'
Dahoud has a shot but it goes straight at Neuer.
46'
Dortmund sub: Can on for Delaney.
46'
Dortmund sub: Sancho on for Brandt.
45'
HT: Dortmund 0-1 Bayern. Dortmund have probably been the better side but a Kimmich stunner a couple of minutes before half-time separates the sides.
44'
What a goal from Kimmich!!! The ball comes to him at the edge of the box, he spots Burki off his line and chips him. Burki gets a hand to it but he can't keep it out. What a goal.
43'
KIMMICH!!!!!!!!!!!!!!!!!!!!!!!!!!!!!!
40'
Another chance for Bayern. The ball breaks for Goretzka but he hits it straight at Burki and he parries it away.
36'
It looks like we will be going in at the break level, Dortmund are the better side but aren't delivering in the final third.
31'
Achraf has a half-chance that goes wide. The ball came up in the air and he came in with the header which went wide.
31'
Dortmund are getting forward but can't convert the breaks into chances.
29'
You just think that Bayern would be happy with a draw, whereas Dortmund will need to win if they want to win the league. In fact, if they lose, Leipzig could overtake them tomorrow.
24'
Coman has a shot which is parried by Burki. Bayern have been the better side recently.
19'
And Bayern come close. Coman plays it to Gnabry, his shot beats the keeper and is cleared off the line by Piszczek. Almost 1-0.
17'
Still not very many clear-cut chances yet, Dortmund know that they have to win.
13'
Hummels is booked for pulling back Coman.
11'
First chance from Bayern. Lewandowski has a shot that Burki gets down and gathers easily.
8'
Dortmund have probably been the best team so far.
4'
Brandt has a shot from outside the box that goes straight at Neuer. Good start from Dortmund.
4'
A lovely day for football to be played.
1'
Haaland almost puts Dortmund in front. Typical from Neuer coming out to clear the ball, but the ball hits a Bayern player, Haaland nutmegs the keeper and Boateng clears it off the line.
1'
Huge game for both teams.
Prev.
Dortmund are on the pitch.
Prev.
This game would normally be played in front of a sell-out crowd, but instead it will be empty... Let's hope fans can return soon.
Prev.
Dortmund are in the building.
Prev.
Now who do we think will win this one? Both teams have named very strong lineups.
Prev.
Bayern haven't won away to Dortmund since 2017, bit of a bogey ground for them. That said, Bayern won the last match between the sides 4-0 in November. We are seeing that home advantage isn't a thing.
Prev.
If Dortmund win here, they will move 1 point behind Bayern, whereas if Bayern win they will go seven points clear at the top with six games left for both sides. You have to think this is a must-win for Dortmund and Bayern.
Prev.
Some big battles between the sides here. All eyes will be om Haaland v Lewandowski, and Muller v Sancho.
Prev.
Bayern XI: Neuer, Pavard, Boateng, Alaba, Davies, Kimmich, Goretzka, Coman, Muller, Gnabry, Lewandowski
Prev.
Dortmund XI: Burki, Piszczek, Akanji, Hummels, Guerreiro, Hakimi, Delaney, Dahoud, Brandt, Hazard, Haaland
Prev.
Hello and welcome to Dortmund for this huge match between the top two. With 7 games left, if Bayern win, the league is all but over, but the hosts could throw a spanner in the works if they get the victory. Team news to come.