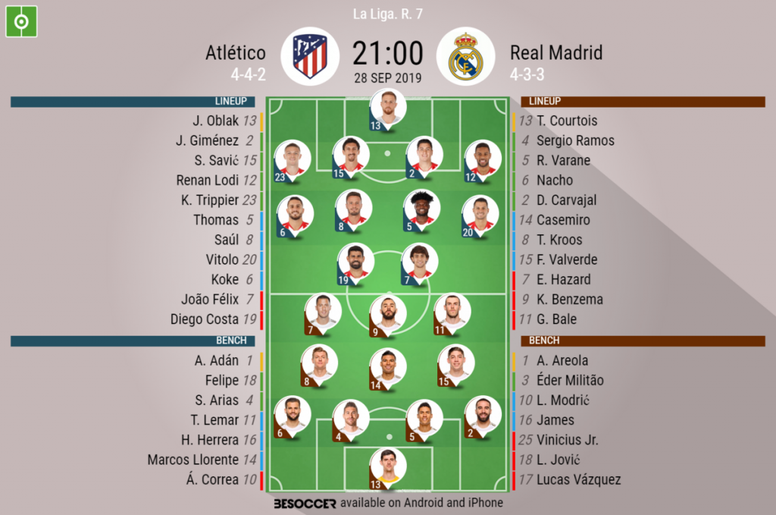 Atlético v Real Madrid - as it happened
Atlético

Real Madrid

93'
FT: Atletico Madrid 0-0 Real Madrid!!! All over at the Wanda and 0-0 was a very fair score. Real were slightly better, but there were very few chances in this match. Felix in the first half and a Correa header in the second half were their best chances while Real forced a superb save out of Oblak when Benzema headed Nacho's ball towards goal while Kroos also tried his luck. That said, defences were on top and neither team wanted to lose. That's it from us, thanks for your company and see you aga
93'
And with that, it's game over!!
93'
Thomas is booked for a foul on James. He was late.
92'
RM attack, but struggling to find a way through. Bale heads a ball back from at the far stick, but Real are penalised for a foul in the middle of the area.
91'
Shots on target: 1-3. Three added minutes.
90'
Costa heads it straight at Courtois.
88'
RM sub: Benzema off, Jovic on.
86'
Thomas is forced to go of the pitch as he has a bit of blood on him.
85'
Benzema wins a corner off the defender. Atletico are awarded a free-kick from the resulting set-piece.
82'
Correa goes past Ramos, he passes to Trippier and Varane prevents Koke getting a good shot off.
80'
Still no goals here, but if anyone will score, it will be Real.
77'
RM sub: James on for Hazard!
75'
What a save!!!!!! That's the chance of the match!!! Modric sends a cross field pass to Nacho and his cross is brilliantly headed by Benzema to Oblak's left who makes a great diving save!
74'
Nacho is down after Gimenez bumps into him from the set piece.
73'
And another corner after Real Madrid head a cross behind.
72'
Great chance!! Saul heads the corner towards goal at the near post, but it goes just wide.
72'
Atletico get a corner here.
69'
Varane steps on Felix from behind on the heel. That rule has changed now so it's only a yellow unless it's with excessive force.
68'
RM sub: Modric comes on for Valverde.
67'
Casemiro delivers it into the area and Ramos is penalised for a push in the back.
65'
Ball into the box by Trippier and a Real head gets their first.
64'
Casemiro's going to take it, not Bale. He steps up, but it was poor. Would have been ok at the Rugby World Cup as it was over the bar and between the sticks.
63'
Kroos is brought down in a dangerous area by Kroos. What can be done with it?
61'
Atletico sub: Lemar on for Lodi.
59'
Bale is penalised for a foul on Felix while jumping for the ball. RM don't like the call one bit.
58'
RM on top now, but many mistakes are being made. Numerous misplaced passes.
57'
Bale over the bar!!! Nacho creates the opportunity down the far side before Bale runs onto the ball into the box but he hits it too hard.
56'
Modric is warming up for the visitors.
55'
Benzema gets the ball with his back to goal on the edge of the box, he dribbles away from goal before passing to Bale who smacks it well over.
53'
Valverde goes down the near side before his cross is cut out.
51'
Hazard is penalised for handball in Atleti territory.
49'
Correa heads wide of the goal after a lovely chipped pass by Costa! He should have hit the target really.
47'
Real Madrid are caught offside.
47'
68,032 in the ground this evening.
46'
Atletico HT sub: Correa on for Vitolo.
46'
Welcome back everyone!! We are back underway!
45'
HT: Atletico Madrid 0-0 Real Madrid!!! 45 minutes gone here and 0-0 is very fair!! Kroos has had two chances for the away side while Felix has failed to hit the target twice. Defences clearly on top here. Join us for more in 10 minutes!
45'
There doesn't seem to be anything major, but he seems to be very upset. May be over a foul not called. Costa not happy either.
45'
It's half-time and Simeone is fuming over something!!!
45'
Atletico are clearly targeting Real's left hand side.
44'
Thomas plays in Trippier and Courtois gets a vital hand to Trippier's cross.
40'
Great save by Oblak!!!! Trippier can only half clear and Kroos pelts it from long range to Oblak's left. It was going wide, but he didn't want to take a risk. Corner.
39'
Felix!!!! Superb one touch play by Simeone's men involving Thomas and Costa before Felix's hit from 25 yards flies wide of Courtois' right hand upright. That was a good opportunity.
37'
Kroos goes for it from distance!!! Oblak dives to left to save comfortably though.
36'
Good defence again now by Atletico to send it for a throw-in. Both back lines look solid.
35'
The game is more even now, but you can tell both teams are more interested in not losing rather than winning.
33'
Koke takes a quick free kick to find Vitolo and it's a corner.
30'
Thomas!!!!! What a great cross in by Thomas from this near side and Costa is inches away from scoring. He ended up kicking Ramos though.
28'
Corner for Atletico now as Trippier plays it off Ramos.
26'
Real Madrid earn a corner, they take it short to Nacho and his strike is deflected behind for another one. Kroos then shoots from that corner and Zidane's men get a third one.
26'
Real Madrid have the ball in Atletico's half and pass the ball around before Benzema goes for the goal from the corner of the box which Savic blocks.
24'
Nothing comes of the set piece.
23'
Brilliant play by Real Madrid!!! Hazard goes down Atletico's right after a good pass, he turns past Savic before Gimenez slides in to deflect for a corner.
22'
The ref's patience has finally run out. Nacho is deservedly booked for stepping on Trippier's foot.
20'
Atletico attack, but it ends when Thomas tries a pass to himself which goes out of play.
18'
Not many chances so far in this game except the Felix effort in the 8th minute.
17'
Bale claims a corner after heading Nacho's cross in over! A goal kick was given, but Lodi clearly got the last touch. Bale was right.
16'
Felix pulls down Hazard in midfield.
14'
Trippier is caught offside for the hosts.
12'
Great defending by Savic!!! Bale charges twenty yards just to the right of the box before Savic cuts out the pass.
9'
Real Madrid are fuming!!! Hazard is played through in Atletico's half and Trippier pulls him back from behind. It's a clear yellow this one, but Gonzalez Gonzalez wants to keep his cards in his pocket early on.
8'
Chance for Felix!! He is played in by a lovely chip pass from Costa, but he shot across the keeper goes wide of the far post.
7'
Real have done next to nothing so far in this match.
5'
Ramos blocks off Felix in Real's half and even though the foul is given, no card is given much to Atleti's disgust.
4'
As Hazard jumped up for the ball with Trippier, his right boot comes down on Trippier's knee. Accidental, but painful.
3'
Atletico see a free-kick into the area cleared away by Casemiro and Trippier has picked up a knock.
2'
Trippier sends the first ball in from this near side and Ramos kicks it away to safety
1'
Atletico get us going here at the Wanda!! They are shooting from left to right and both sides are in their usual kits!
Prev.
Koke and Ramos shake hands with the ref!
Prev.
The Atletico anthem is being played
Prev.
The two teams make their way out onto the pitch here!!
Prev.
There's a lovely lights show going on in the stadium prior to kick-off. What an atmosphere!
Prev.
Quite a few players will be playing in their first competitive Madrid derby. Felix, Lodi and Trippier for the hosts, Hazard for the away team.
Prev.
It's a warm evening here in Madrid. 26 degrees is the temperature.
Prev.
Real Madrid host Brugge on Tuesday in the Champions League while Atletico go to Lokomotiv Moscow.
Prev.
Modric is on the bench after recovering from an injury while Federico Valverde is preferred over James Rodriguez.
Prev.
All the big guns are back. Morata is suspended for the home side after seeing red at Mallorca while Vinicius is only on the bench despite scoring v Osasuna.
Prev.
It's 5th v 2nd, 13pts v 14pts, but it's guaranteed that one of these two will be top come the end of the game.
Prev.
The referee for this one is Jose Luis Gonzalez Gonzalez. This is his final season as an on-field official. Alfonso Alvarez Izquierdo is the VAR.
Prev.
Real Madrid side: Courtois (GK); Nacho, Ramos, Varane, Carvajal; Kroos, Casemiro, Valverde; Hazard, Benzema and Bale.
Prev.
Atletico XI: Oblak (GK); Lodi, Gimenez, Savic, Trippier; Vitolo, Thomas, Saul, Koke; Joao Felix and Costa.
Prev.
Both teams have CL in midweek, but they have gone full strength tonight as you would expect.
Prev.
Good evening and welcome to live coverage of this massive derby between Atletico Madrid and Real Madrid from the Wanda Metropolitano! Who will end the night top and earn bragging rights? Stick with us to find out!