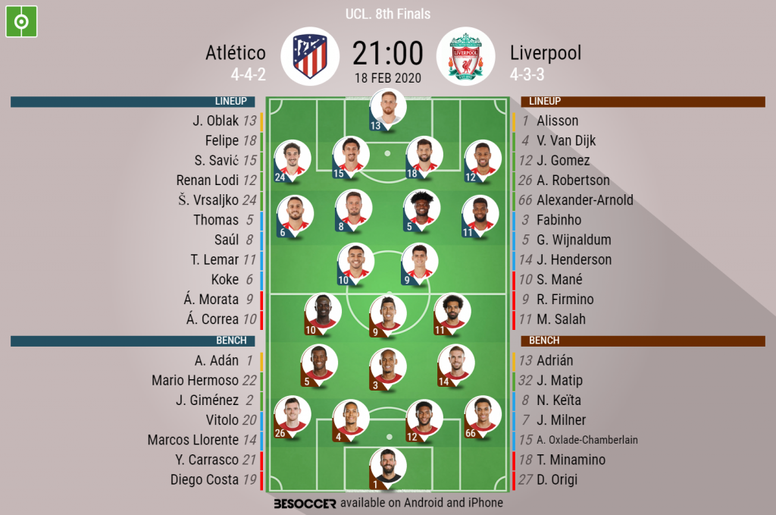 Atlético v Liverpool - as it happened
Post.
Thanks for joining me tonight for the match. See you tomorrow for more Champions League action. Good night!
94'
FT: Atlético Madrid 1-0 Liverpool. Huge win for the hosts. Saúl's goal was enough for the Spaniards who could have even knicked another. In the grand scheme of things the Reds never created enough and Atlético deserve the win.
94'
Atlético have a wayward effort and that's it......
93'
Oblak wins a free-kick and is down. He is probably o.k. but he isn't in any rush to get the game restarted.
91'
Atlético counter-attack ends with Costa shooting from about 25 yards out and it goes wide.
88'
Klopp is booked for his protests. He thinks his side should have gotten a free-kick for a handball.
85'
In the other game tonight Dortmund are beating PSG 2-1. Haaland has got a brace while Neymar got the goal for the French outfit.
81'
If Liverpool could get a goal here, it would be a crucial away goal, especially since they haven't been at their best tonight.
80'
Liverpool sub: Henderson off for Milner.
77'
Atlético sub: Costa on for Correa.
76'
Looks like Costa will be coming on.
75'
Simeone is loving this, trying to encourage the home fans who are all singing.
73'
The ball is crossed for Henderson who puts it just wide. Liverpool getting closer.
72'
Salah off for Oxlade-Chamberlain.
71'
Lodi has a shot from about 25 yards out that goes wide.
70'
Atlético sub: Morata off for Vitolo.
68'
The ball is crossed for Morata who is in the centre of the box, but it looks like he kicks the ball of his other foot and the chance is gone.
66'
Liverpool need a moment of magic as the Atlético defence are doing very well.
60'
Last time Liverpool played away to a Spanish side in the Champions League they lost 3-0 to Barcelona, before that they lost 3-1 away to Real Madrid, before that they drew 3-3 away to Sevilla, and before that they lost 1-0 away to Real Madrid. The Reds last won away to a Spanish side in the Champions League in 2009.
59'
Gomez is booked for a foul on Morata.
56'
Atlético have 11 players in their own half...
55'
Liverpool are pushing for the equaliser but Atlético are defending for their lives.
51'
Liverpool's best chance of the game. The cross comes in and Salah heads just wide.
49'
Atlético have started the better side, but they seem to be trying to walk it into the net.
46'
Atlético sub: Llorente on for Lemar.
46'
Liverpool sub: Mané off for Origi.
45'
HT: Atlético 1-0 Liverpool. The hosts have probably had the lion's share of the chances and find themselves in front through Saúl's goal. The Reds will be hoping to get off to a good start in the 2nd half.
45'
Alisson is caught off his line but the very ambitious strike from just in front fo the halfway line goes well over.
45'
Atlético are calling for Mané's 2nd yellow. Vrsaljko goes down holding his face but Mané lightly brushes the side of his head. Definitely not a yellow.
45'
Correa is booked for a foul on Henderson.
43'
Simeone will be very pleased with things so far. They may be out of the Copa del Rey, may be 4th in the league but they are doing very well so far in the Champions League.
41'
Mané is booked for a foul on Vrsaljko.
35'
Salah has a shot from the centre of the box deflected behind for a corner. That's more like the Liverpool we all know.
34'
Another great chance for Thomas. He is through on goal and puts it wide. Looked like he was offside though so probably wouldn't have counted.
30'
This time Fabinho has an effort from outside the box that goes miles over.
29'
Robertson has a shot from outside the box with his right foot that goes wide.
28'
Thomas has a shot that goes wide.
26'
And at the other end, Oblak makes a mistake with the kick. It comes to Salah who plays it to Firmino (he is miles offside), he passes back to Salah who knocks it in. Oblak will be breathing a sigh of relief there.
26'
Good chance for Atlético. Morata is through and hits it from a tight angle, but Alisson gets his body behind it and saves.
24'
Liverpool don't seem to have got going yet. They haven't created anything in front of goal.
20'
Dangerous ball from Atlético that Robertson gets clear. Morata was waiting at the back post to put it into the net.
20'
Not been too much to report on so far. Only real chance has been the goal.
15'
Great to have Champions League football back. A few crackers coming up in the next few weeks, still a long long way to go in this one though.
14'
It's like déjà vu. It's like a carbon copy of Alexander-Arnold's last cross.
11'
Alexander-Arnold puts in a cross from just outside the box but it goes flying over the bar.
11'
I've got to say that Atlético have been the better team so far.
10'
Atlético have never lost when Saúl has scored...
5'
Just 5 minutes in and the hosts are in front. The corner comes in, it looks like it hits Fabinho and falls for Saúl who knocks it past Alisson from yards out. What a start from the hosts.
4'
GOOOOOOOOOOOOOOAAAAAAL ATLÉTICOOOOOOOO
3'
Full house tonight. Hoping for some goals tonight.
Prev.
Let's run through some of the players from the last time these teams played each other and where they are now. Pepe Reina- Aton Villa, Steven Gerrard- Rangers manager, Sergio Aguero- Man City, David De Gea- Man United.
Prev.
You've joined me for a very good match. This should be a cracker.
Prev.
It's crucial Atlético get something from this game and don't concede. Likewise, if they get an away goal they'll be laughing.
Prev.
Very strong away support here tonight. Of course, they were here not long ago for the Champions League final against Tottenham.
Prev.
Looking at ProFootballDB, I'm seeing that if Salah sets up Firmino, the Brazilian will be the player that he has set up the most in his career. If he sets up Mané, Mané will go joint top.
Prev.
Atlético make 3 changes from the side that drew 2-2 with Valencia. Arias, Llorente and Vitolo are out for Vrsaljko, Lemar and Morata.
Prev.
These teams last met in 2010 in the Europa League, with the Reds winning 2-1. Atlético won the first leg of that match, and actually own the trophy against Fulham. The other two matches were draws in 2008.
Prev.
Strong sides from both teams tonight, with Liverpool making 2 changes from the side that won 1-0 away to Norwich. Keita and Oxlade-Chamberlain are out for Fabinho and Mané.
Prev.
Liverpool XI: Alisson, Alexander-Arnold, Gomez, Van Dijk, Robertson, Fabinho, Henderson, Wijnaldum, Mane, Salah, Firmino.
Prev.
Atlético XI: Oblak, Vrsaljko, Savic, Felipe, Lodi, Koke, Saul, Thomas, Lemar, Correa, Morata.
Prev.
Hello and welcome to Madrid for this huge game between the European champions and Spanish heavyweights Atlético Madrid. Team news to come.