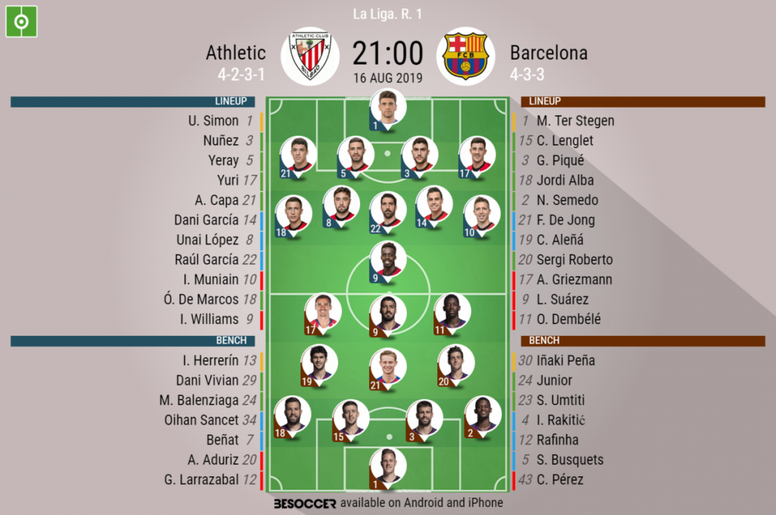 Athletic Bilbao v Barcelona - as it happened
93'
FT: Athletic Bilbao 1-0 Barcelona!! What a fantastic goal to win it!! A draw would have been a fair result, but Aduriz pulled off an absolutely ridiculous overhead kick to give three points to the home side!! Barca need to improve a lot as apart from 20 minutes in the second half, they were average. That's all from us and thanks for your company. See you again soon!
93'
Last chance for Barca and it is cleared. Semedo launches it in, it is half cleared and then Bilbao get the ball and it's all over!!!!!!! What a story! Aduriz comes on in the 86th minute and three minutes later he scores a stunner!
93'
Barca launching it in constantly and Bilbao keep clearing!!! 30 secs left.
91'
Rafinha's free-kick finds Lenglet and it's tipped over by Simon for a corner and that comes to nothing.
89'
It is a simple throw in, it is flicked on by a teammate back to Capa and he times his overhead kick to perfection!!! Ter Stegen dives to his left, but he has no chance!!!
89'
Goaaaaaaaaaallllll!!!!! This is ridiculous!!!! The legend Aduriz has done it with an overhead kick!!!!
88'
Barca try to play quickly and Ter Stegen fires it out of play. Bilbao in no rush to take.
87'
Athletic Bilbao sub: Inaki Williams leaves the park and Aritz Aduriz comes on!!
85'
Athletic Bilbao win a free-kick after Yuri is brought down. Nothing comes of it.
84'
The corner is half cleared and on the rebound, Rafinha's ball in headed over by Griezmann.
83'
Barca pressing and they win a corner after Griezmann's shot is blocked.
82'
D Garcia makes a clear foul on Dembele and the Barca man lands on Muniain's foot! Muniain is limping!!! A bit like the fan on Adrian the other night.
81'
Bilbao launch a ball in which is caught easily by Ter Stegen.
80'
Athletic Bilbao sub: Unai Lopez off and Benat on.
79'
Rafinha zig zags past three defenders on the edge of the box and Nunez deflects his effort for a corner! Rafinha has been Barca's best player!
78'
Barca sending balls in, and the hosts are remaining firm in defence.
76'
Barca sub: Carles Perez on for Roberto.
75'
Alba!!!!!! He makes a super run down Bilbao's left and his ball in is very dangerous which was aimed at Griezmann, but Nunez does his job.
74'
Sergi Roberto is penalised for a foul.
73'
17 minutes away from this game ending in a draw, just like last season.
70'
Barca are having lots of possession, but lack the cutting edge which Messi gives them.
69'
Chance for Barca!!!! Very, very scrappy move ends with Griezmann being dispossessed, Athletic trying to clear and the ball breaking to the Croatian. He hits over from 12 yards though.
68'
Carles Perez is warming up.
66'
Semedo is penalised for a foul on Muniain. It's on the near touchline and it will be launched in,. Muniain sends it in and Barca clear after lots of head tennis. Rafinha is fouled.
66'
Aduriz is warming up by the way.
65'
A Bilbao sub: Oscar de Marcos off and Oihan Sancet on, a youngster.
64'
Nunez is booked for obstructing Rakitic in midfield. That was very cynical.
62'
The free-kick is passed by D Garcia and Yuri blazes it over the bar!
61'
Pique catches Raul Garcia while jumping up for the ball and he can't believe it. Clear foul and a great chance for Bilbao here.
60'
Dembele's free-kick is chipped in, it's headed away by Yeray and Rafinha volleys wide of the goal.
59'
Dembele is brought down by Unai Lopez 25 yards from goal.
58'
Rakitic tries to find a teammate with a pass and it's intercepted.
56'
Side netting!! Long punt forward by the goalie is flicked on and Williams can only find the side netting from an acute angle.
54'
Williams looks to his right to De Marcos, his ball is deflected by a Barca head and Unai Lopez, who started the move, fires into the stands.
53'
Barca get a corner and Griezmann heads wide at the near post.
52'
Rafinha!!!! Dembele passes to Rafinha by megging Capa and his shot is deflected onto the post for a corner.
49'
Rakitic heads at the nar post and it goes over the bar!
49'
Barca get a corner! Good tempo by Barca now.
48'
Both teams start the second half sending long balls forward.
46'
The second half is underway here!!
45'
Barca sub: Rakitic on for Alena.
45'
HT: Athletic Bilbao 0-0 Barcelona!!! It's half-time at San Mames! Athletic Bilbao have been the better team, but Barca have hit the post twice! Once through Suarez after a gift by Lopez and then as a result of individual brilliance by Rafinha. Inaki Williams has tested Ter Stegen twice for the Basques. 0-0 is a fair score at the break. See you in a bit for the second period!
45'
Next to nothing happens in injury time and it's half-time!
44'
Off the post again Barca!!! Out of nothing, Rafinha cuts inside and hits a 25 yard shot which is fantastically saved onto the post! Without the touch it was going into the top corner.
40'
Griezmann is caught offside.
39'
Yuri makes a nice run then the far side, passes to Muniain and then Unai Lopez hits an ambitious effort from 30 yards which goes well wide. At least he shoots the right way this time!
37'
Barca sub: Rafinha on for Suarez.
36'
Athletic Bilbao!!! Capa plays a one-two with De Marcos and then squares to Raul Garcia who forces a simple save from the GK with his outstretched leg.
35'
Williams makes a run into the box and then finds Lopez outside the box, he plays a one-two with Capa before sending a cross in which Ter Stegen claims.
33'
Suarez has got a problem here. He has pulled a muscle in his right leg and can hardly walk. He has asked to be subbed.
32'
Suarez hits the post!!!! What is Unai Lopez doing?? He has the ball 25 yards out from his own goal, he inexplicably passes straight to Suarez inside the box and the Uruguayan hits the post when he should have really scored.
31'
Unai Lopez has a go from more than 25 yards which straight at Ter Stegen. Straight forward.
29'
Alba attacks down Bilbao's right, he crosses for Griezmann who tries to lay off for Suarez, but a home player gets there first.
28'
Capa plays in De Marcos who is miles offside. After he passes to Raul Garcia, the offside is called.
27'
Unai Lopez's delivery is cleared by Pique.
26'
Athletic Bilbao very comfortable as Williams is fouled in Barca's half.
25'
Barca try and attack now, but they waste it after another misplaced pass. Lots of errors so far and very little going forward. A rather dull match so far.
22'
Muniain is fouled in midfield. Not many top chances up to now bar one or two from Williams.
19'
Lack of communication between Alena and Griezmann leads to the ball going out of play. Barca have been toothless in attack so far.
17'
Barca enjoy some good possession near the Bilbao box. Dembele passes to Griezmann and then his backheel is cleared by a defender.
15'
Yuri makes a sliding tackle to deny Semedo. It would have been a pen had he missed the ball.
15'
Williams is fed again and he shoots at Ter Stegen!!! It's saved again, but this was an easier save.
13'
Griezmann getting booed a lot because of his Real Sociedad past.
12'
Loud boos at San Mames after Nunez is brought down by Griezmann 35 yards from goal.
10'
Alba gets Barca a corner after Alena's nice ball in. Dembele's corner then leads to another one. That subsequently comes to nothing.
9'
Athletic attack down the far side, but the cross in is deflected to the GK.
8'
Raul Garcia heads over from the corner, but it's a tame header.
7'
What a save by Ter Stegen!!! Barca lose the ball in their own half and Williams fires a 30 yard shot which sees Ter Stegen dive to his right to knock it for a corner.
6'
Unai Lopez's corner is cleared away easily by De Jong. Good start by the hosts.
5'
Williams wins a corner off Lenglet!
5'
Barca get into the Bilbao half for the first time and Griezmann miscontrols a pass. Throw-in for Bilbao.
3'
Bilbao attack and it comes to nothing.
2'
Capa makes a move down the near flank and his pass for a teammate is cleared out by Jordi Alba.
1'
Athletic get us underway in their usual kits from left to right!!! Barca in yellow!
Prev.
A minute's silence will be held before this one in memory of Koldo Aguirre.
Prev.
Muniain and Pique shake hands with the referee.
Prev.
The Athletic anthem sounds and we are about to start!
Prev.
The players are coming out at San Mames!!!
Prev.
Not long until kick-off now here at San Mames!
Prev.
Interesting to note Bilbao have gone for Unai Simon in goal and not Iago Herrerin. Gone for youth. He played a bit last season, but Herrerin played mainly. Seems a bit risky to me.
Prev.
It's 24 degrees in Bilbao tonight.
Prev.
There's a festive atmosphere in Bilbao as Aste Nagusia (big week), a big Basque festival, starts in the city tomorrow until the 25th August.
Prev.
Carlos del Cerro Grande is the referee for this one and Alejandro Hernandez Hernandez, the VAR will help him from Madrid if needed. Remember, Hawk-Eye is the new technology provider for La Liga which means more accurate offside lines. Segunda will also use the technology this season.
Prev.
Messi has not arrived in time for this one after picking up an injury in training a couple of weeks ago.
Prev.
Aritz Aduriz is on the bench and the 38 year-old confirmed this summer that this would be his final campaign for 'Los Leones'.
Prev.
This is the opening La Liga game and we start with an absolute cracker between two teams who have never bee relegated from La Liga.
Prev.
Barca team: Ter Stegen (GK); Alba, Lenglet, Pique, Semedo; Alena, De Jong, Roberto; Griezmann, Suarez and Dembele.
Prev.
The teams are in so let's bring them to you! Athletic Bilbao XI: Simon (GK); Yuri, Nunez, Yeray, Capa; Muniain, D Garcia, R Garcia, Lopez, De Marcos; Williams
Prev.
Hello and welcome to live coverage of the La Liga clash between Athletic Bilbao and Barcelona from San Mames!! La Liga is finally back after two months away!!! Who will get the first points of the season? Stick around to find out.