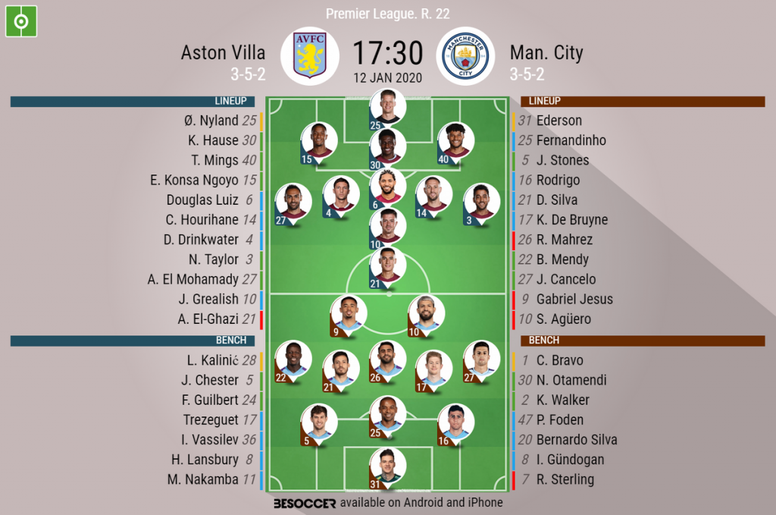 Aston Villa v Man. City - as it happened
Aston Villa FC

Manchester City FC

90'
FULL TIME!! Full time sees a ruthless Manchester City defeat Aston Villa 1-6. A merciless City did not let up and absolutely shocked Villa and their fans. Aston Villa lacked momentum and could not get into the game and they paid for it. A record breaking night for Sergio Aguero as well, as he goes away with the matchball in what is sure to be a memorable game for him.
90'
Aston VIlla have had two penalties this season and missed them both. It is El Ghazi who steps up to take it and slams it hard into the back of the net. The last kick of the game and only the slightest comfort for Aston Villa
89'
Trezeguet is brought down by Otamendi in the box and the penalty is given! A consolation goal for Villa perhaps, if they can score it.
87'
This will be Pep Guardiola's 300th win as City manager and it has come in less than 400 games played, what an achievement for the coach!
86'
The fans that have remained in the stadium have not stopped singing throughout, despite their team's poor performance!
85'
Trezeguet quickly runs down the wing and tries his luck, to get a consolation goal for Villa, but his shot is deflected of Ederson and out for a corner, which is also cleared.
80'
Aguero's 12th hat trick in the Premier League! This pretty much sums up Villa's afternoon as a ruthless city strikes again. Sergio Aguero beats the Villa defenders, as Courtney Hause was the one who gave the ball away to him in the first place and Aguero slams the ball into the top corner from the edge of the box. What a strike, what a finish and what a result for City! He is now on 249 goals for Manchester City!
80'
AND AGUERO GETS A HAT TRICK
79'
Jack Grealish goes into the book for dissent as Gabriel Jesus brings down Trezeguet
78'
Aston Villa make their final change, as Danny Drinkwater's debut ends and Lansbury comes on for him
76'
Foden feeds the ball to Gabriel Jesus, as he cuts a path through the Villa defence, but Nyland has it covered and saves the shot from going into the back of the net
72'
This statistic says it all, Manchester City have had 18 attempts at goal, compared to Aston Villa's measly 2
70'
Conor Hourihane comes off for Villa and is replaced by Trezeguet, City also make a change as Rodrigo comes off for Gundogan
70'
Cancelo lined one up as his curling strike took a defelction, but Nyland was quick to react and stopped it from going in the back of the net
68'
This game just shows the quality of Manchester City and the troubling times of Aston Villa, who are facing relegation
64'
Douglous Luiz comes off for Nakamba as Villa make their first change
63'
A great double save by Nyland denies City from making any more damage as they try their luck!
62'
First change for Manchester City, as Fernandinho comes off and Otamendi takes his place. De Bruyne, who has been excellent today, also comes off to be replaced by Phil Foden
59'
Aguero has now broken another record with that goal, as he is now the Premier League's all time overseas top scorer!
56'
Manchester City are ripping through Villa! David Silva feeds the pass through to Aguero in the box, who then beats the defenders and simply slots the ball into the bottom right corner. Aguero has been stunning today, with his link-up plays and goals. 0-5!
55'
Aguero tries his luck but his shot is aimed directly at the keeper, who manages to deal with it calmly
53'
Mahrez swings the ball into the box, but Konsa manages to get it away for a corner, which El Mohamady manages to clear well
52'
El Ghazi also sees yellow as he and Fernandinho collide and he puts his arm in the City player's face.
50'
The free kick comes to nothing and City look to counter, but Aguero is penalised for pushing Grealish out of the way of the ball in the box, then trying to start on him after. The referee is just having a word with the City player to calm him down
49'
Fernandinho takes Grealish out as he is on the attack and receives a yellow card for the challenge. Free kick for Aston Villa
47'
Free kick for City as Douglas Luiz gets more of the ball than the man with a foul on Rodrigo
45'
The second half is undeway as Villa try to limit the damage in this second half!
45'
Half time! Half time sees Manchester City completely dominate the game, as they go 0-4 ahead. Aston Villa have not bene able to get into the game and with some poor defending, they have been punished for. Some quality play from De Bruyne and some great finishes for City sees them blitz Villa in the first half. What a thrashing! 0-4!
45'
Gabriel Jesus makes it four! What a quality pass from Kevin De Bruyne as he curls the ball into the box on the right hand side and it is an assured finish from Jesus, who makes no mistake in putting it in the back of the net!
43'
Aston Villa have a corner as they look to come back now! But Kevin De Bruyne clears the ball out of the box. Man City try and counter from this, which ends with Silva having a shot, which is of no real threat as it is sent wide
41'
The longest Villa have kept the ball for and in a more advanced area, El-Ghazi gets the ball and tries his luck from the left hand side, but his effort goes wide.
40'
Into the last five minutes of the first half now. A half which City have completely dominated!!
37'
David Silva takes the free kick and look for the top right corner, it wasn't far off, but his curling effort went just wide and over the bar.
35'
Grealish brings down Rodrigo as he goes in with a late challenge and gives away a free kick 30 yards out.
33'
De Bruyne tries his luck as he also wants to put his name on the scoresheet, but his close-range shot is caught well by Nyland
30'
Villa fans have seen enough as some of them are already leaving the stands!
28'
Sergio Aguero is passed the ball from De Bruyne and makes a wonderful strike from just outside the box and of course he does not miss, as his strike powerfully rocks the back of the net! Man City being merciless here at the moment. Aston Villa are helpless!
27'
Man City are well and truly dominating now, as they have a comfortable two goal lead early on in the game!
23'
Poor defending from Villa sees Mahrez get the second as he just slots it past the Villa defenders and into the back of the net. Aston Villa once again punished for their sloppiness in defence and it is Mahrez's bit of magic that doubles City's lead
20'
Grealish is tripped up by De Bruyne and Villa are awarded a free kick as they look to get back into this game
17'
Mahrez punishes Villa as he runs into a space and makes a run down the wing with the ball, getting himself into the box and past Danny Drinkwater, in the box he just calmly and sublimely slots the ball in at the near post to give Man City the lead. This goal was definitely coming, but it came out of nowhere for them.
15'
David Silva gets the ball and Aguero runs into the box, where the ball finds him, but he can't quite control it well and get to the ball on time, meaning his slight touch on the ball is easily dealt with by Nyland.
15'
De Bruyne is brought in from the left hand side of the box and receives the ball there, but his effort/cross doesn't come anything
15'
Not a very exciting start to the game as we enter into the 15th minutes, as there hasn't been any real chances for either side.
12'
Aston Villa have another free kick on the centre circle after Rodrigo bundles over Grealish.
10'
Aston Villa have a free kick in their own end, just outside the box, as Douglas Luiz is caught by David Silva
7'
Cancelo has a shot as Man City are getting into this game and pressing more now. Canacelo's shot from out of the box goes well wide of the near post and does not pose a threat to Villa.
5'
This is only Danny Drinkwater's third Premier League match in 20 months and interestingly, all of them have been against City. It's a big risk to start a player who has had so little game time
4'
Aston Villa will be looking to make sure that City don't find their pace or their rhythm in the early stages of this game
1'
Villa press early on, as they try to get the ball into the box and put pressure on City, but El Ghazi's header is well wide of the far post.
Prev.
Manchester City get today's game underway!
Prev.
Dean Smith states that Grealish and El-Ghazi's job is to link up together and be a threat to Manchester City. He said his team need to keep the ball well and have a proper outlet to focus on. Danny Drinkwater has been performing well in training and gives the team the composure that they need, which is why he is in today's starting line up.
Prev.
Guardiola says that he is looking for his team to score goals today and that they are playing five at the back. He says that he has put Aguero and Jesus up front together to be the goalscoring machines that City need today
Prev.
Danny Drinkwater makes his Villa debut in a midfield featuring ex-City man Douglas Luiz.
Prev.
Aguero and Jesus last started a Premier League game in tandem against Newcastle United in September 2018. Therefore it is a big game for them both today. This means Guardiola has granted Aguero a shot at overhauling Thierry Henry as the Premier League's leading overseas goalscorer. The Argentina striker is on 174, one behind Henry's record mark.
Prev.
Manchester City have made six changes to their starting XI today, as Ederson returns from suspension, captain Silva comes back in after suffering a thigh injury. Raheem Sterling is dropped to the bench!
Prev.
Both teams need the three points for different reasons today. Aston Villa currently sit in the relegation zone and need the three points today to get to a safer position. Man City need all the points they can get if they have any hope of catching league leaders Liverpool.
Prev.
Manchester City: Ederson (GK); Fernandinho, Stones, Rodrigo; Silva, De Bruyne, Mahrez, Mendy, Cancelo; Gabriel Jesus, Aguero
Prev.
Aston Villa: Nyland (GK); Hause, Mings, Konsa Ngoyo; Douglas Luiz, Hourihane, Drinkwater, Taylor, El Mohamady; Grealish, El-Ghazi
Prev.
Join us for live coverage of the Premier League game between Aston Villa and Manchester City at Villa Park. Manchester City need a win here to try to catch runaway leaders Liverpool, whilst a struggling Villa need all the points they can get.