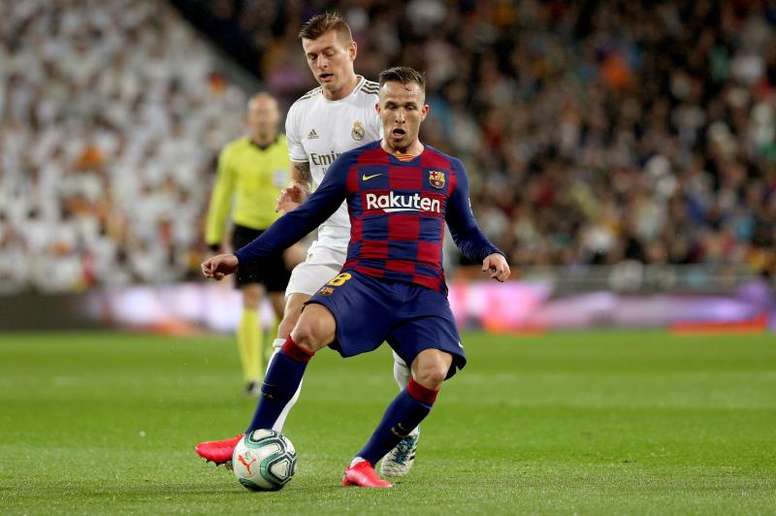 Arthur will be swapping Barça for Juve this Sunday
Arthur could be entering his last 24h as a Barcelona player. At Juventus, they're waiting for him with open arms.
The Catalan press claim that his transfer is about to take place. Juventus would like to announce it this Sunday, affirms 'Sport'.
This Saturday, Barça will play against Celta in Vigo. And Arthur will be there, he won't miss it. Setién already said in a press conference that the Brazilian was going to travel and that he expected to be focused if it was his turn to play. He could play his last minutes with FC Barcelona.
After that clash, things would accelerate. He assures 'Sport' that Barça would give him permission to travel to Turin this Sunday. This way, the operation would be closed. Juventus would have planned to leave everything well tied up and announce their arrival on 28 June.
The Catalan newspaper puts figures to the transfer. It points out that Juve will pay 70 million euros for him. The contract that the 'Bianconeri' team has offered him would triple the salary that he receives right now with FC Barcelona, always according to what has been published by the aforementioned media.
But this operation will not come alone. Pjanic, on the other hand, will be making the opposite trip, from Turin to Barcelona. He will land in Barça for about 60 million, according to the mentioned sources.
This Arthur-Pjanic exchange that has been talked about so much is about to happen. Both entities wanted to leave everything settled before June 30, the deadline.
In any case, neither Barça nor Juventus have spoken about it. As well Setién reminded the public, he is still a Barcelona player: "Nobody has said to me that it is going away, I count on him and I hope that it defends this shield with honesty until the last day that happens here".