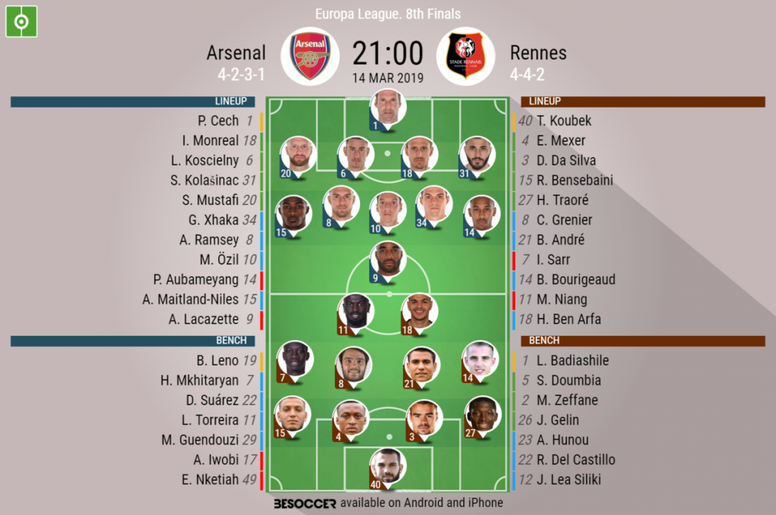 Arsenal v Rennes - as it happened
95'
FT: Arsenal 3-0 Rennes (agg 4-3)!!! It's all over at the Emirates! Arsenal get a fully deserved win after they were the much better team. Rennes tried their best in the second half, especially towards the end, but the Arsenal defence held firm. Thanks for joining us and hope to see you again soon!
95'
Last chance saloon for Rennes! Lea Siliki put in a ball into the box, Mustafi couldn't clear and Sarr's shot was too soft. It found Cech's hands and that's full time!
94'
Free kick to Arsenal deep in Rennes territory and Traore is booked.
93'
Traore's pass to Ben Arfa is poor and Arsenal get the throw.
93'
Arsenal are on the back foot now.
91'
Rennes attack again and Hunou is one on one, but it goes wide. Was just offside. Rennes should have done this earlier.
88'
Nice move by Ben Arfa to a teammate, but the flag goes up! It was tight, but it was. Hunou was who received the pass and Cech took a blow to his leg. He received treatment.
86'
Arsenal sub: Torreira comes on for Ramsey.
83'
Aubameyang misses another! Monreal has dispossessed brilliantly, Iwobi contributed to the move and Ramsey fed Aubameyang, but the shot was wayward.
82'
Chance for Aubameyang! He tried to slot the ball in the far corner, but it goes wide.
77'
Mkhitaryan is booked for a foul.
75'
Aubameyang was indeed booked for the celebration.
74'
Rennes still only need a goal though. A goal from them would mean ET.
72'
3-0 now!!! Aubameyang scores! He puts on a mask and may see a yellow. One-two between Mkhitaryan and Aubameyang, the Armenian gives the ball to Kolasinac, who puts in a superb ball to the far post where Aubameyang is waiting to smash home. He may have been offside, but looked ok.
71'
Xhaka find Iwobi inside the D, he takes a touch with his right foot before firing wide with his left.
69'
Rennes have also made a change. Hunou has replaced Grenier.
69'
Arsenal double sub: Ozil leaves the pitch to a standing ovation and Mkhitaryan comes on. The other change is Lacazette off and Iwobi is on.
66'
Bensebaini strikes the post with his volley!!! But he's miles offside.
65'
What an amazing run by Sarr! He goes down the far side with ease, makes his way into the box and if it weren't for Koscielny, it would have been dangerous. Fifth corner for the visitors.
62'
Arsenal look to have this under control, but they need to be careful. They seem to be taking it a bit easy. One Rennes goal knocks them out. They need to up the tempo.
59'
Aubameyang beats Da Silva down the far side despite the defender's best efforts, but Mexer deals with the cross.
57'
Sarr sends in a cross, but straight to Cech.
55'
Grenier booked for Rennes for backchat.
54'
Rennes man down here! It's Bensebaini after the away player kicked into Lacazette. Lacazette has already been booked remember.
52'
This game looks quite open now. Both teams attacking. Rennes have certainly been told to up their game. Aubameyang had an opportunity a few minutes back after a GK error, but the goalie managed to get back to catch.
48'
Lacazette heads over a Xhaka free kick!
47'
Off the post by Rennes! A terrible mistake by Mustafi is almost punished. Grenier gives the ball to Niang whose shot is tipped onto the post by Cech. Arsenal have been warned!
46'
Positive start by Rennes! A long ball by Andre and then Sarr's cross is sent for a corner by Koscielny.
46'
Welcome back for the second half! No changes here.
45'
HT: Arsenal 2-0 Rennes (agg 3-3). Half time here in London! Arsenal are absolutely cruising. They came out all guns blazing and scored 2 goals in 15 minutes through Aubameyang and Maitland-Niles. After that, they took their foot off the gas, but still made promising moves. Rennes have offered very little going forward to be honest. Remember, the French side need a goal. Join us in 10 minutes!
45'
Aubameyang tries a cute flick-on, but De Silva anticipates it.
45'
Rennes are having a go as you would expect. Bourigeaud tried to find somebody in the box without success. Arsenal comfortable.
45'
Free kick launched into the box by Arsenal is headed away.
45'
Four added minutes largely due to De Silva receiving treatment. Arsenal are cruising here. But they need a 3rd.
41'
Corner for the away side after nice play from Sarr! Taken short, Ben Arfa dribbles with the football and tries to find an opening before hitting tamely to the goalie.
39'
Ramsey has a go from outside the box, but the strike goes straight into Koubek's hands.
38'
Rennes try and attack now for one of the few times this half, but the flag goes up.
36'
Lacazette and Kolasinac combine down this near flank, but the last pass by the Frenchman was too strong and Kolasinac was offside.
34'
Aubameyang tries an overhead kick after Ramsey was given the ball by Maitland-Niles! Maitland-Niles is having a good match. Aubameyang's shot went way wide.
31'
What an awful challenge by Lacazette! He comes sliding and catches Andre on his foot. That was nasty.
29'
He has got up, but has a clear stud mark on his side.
28'
Da Silva is down injured after Aubameyang jumped for the ball and caught him in the side with his studs. Deserved a booking.
26'
A superb ball is played for Niang by Bensebaini, who is one on one with the GK but he is ruled offside.
25'
Traore has a shot which goes for a throw in. Rennes are struggling to do anything here.
22'
Corner to Rennes! Ben Arfa overhit a ball to Bourigeaud in a previous move. Terrible corner.
20'
Mexer cuts out Aubameyang's cross after Ramsey started the move. Arsenal targeting the flanks especially Rennes' left.
18'
Mexer is cautioned for after climbing all over Lacazette.
15'
Arsenal make it 2!!! Maitland-Niles scores! Aubameyang goes down the flank, plays a one-two with Ramsey before putting in a spectacular cross when he was running out of pitch for Maitland-Niles to head in at the far post. Kolasinac was clever to leave the ball as he was offside. Aubameyang may have been offside in the build-up. The ball definitely didn't go out.
14'
Lacazette is caught offside after Xhaka passed him the ball. Correct call.
13'
66% possession for Arsenal so far
11'
Kolasinac makes a dangerous move down the near side after he is fed the ball by Aubameyang, but the cross in is cleared.
9'
Aubameyang is played in down Rennes' left by Maitland-Niles and his ball into his box is blocked by a sliding defender for a corner. Nothing came from it.
7'
Arsenal are in control here so far. Rennes have tried, but Arsenal are defending solidly.
5'
Aubameyang gives Arsenal the lead!!!! What a brilliant goal! Ramsey had the ball at midfield, his pass was beautifully flicked on by Aubameyang, Maitland-Niles made a brilliant run down the far side and Ramsey then crossed for Aubameyang to tap in. The perfect start for Arsenal.
3'
Ozil wanted a foul on the edge of the box, but wasn't given strangly. Andre pulled him back.
2'
First effort of the game comes Rennes' way. Traore's shot goes wide from 30 yards. By the way, lots of smoke in the ground because the Rennes fans have let off a few flares.
1'
Just 15 seconds needed for the first foul. Kolasinac fouled Sarr.
1'
Arsenal get us underway here!
Prev.
The players are out on the pitch here in London! Enjoy!
Prev.
The referee tonight is Andris Treimanis from Latvia.
Prev.
Rennes make two alterations for the second leg with respect to the first game. Zeffane and Hunou are replaced by Niang and Traore.
Prev.
Lacazette starts for Arsenal tonight after his 3 match ban was reduced to two. Mustafi comes in to replace the suspended Sokratis. Torreira drops to the bench after starting the first leg.
Prev.
Arsenal need to score twice this evening to go through. A 2-0 victory would see them qualify on the away goals rule.
Prev.
Remember Arsenal lost the first game 3-1 and saw Sokratis dismissed early on. Bourigeaud and Sarr caused havoc in the Arsenal defence last time out. Monreal, especially, was really struggling to handle them. Will he handle them better today?
Prev.
The visitors will try and eliminate Arsenal with these 11 men. Koubek (GK); Bensebaini, Mexer, Da Silva, Traore; Sarr, Grenier, Andre, Bourigeaud; Niang, Ben Arfa.
Prev.
We now have the line-ups for the two teams this evening. The hosts XI is: Cech (GK); Kolasinac, Monreal, Koscielny, Mustafi; Aubameyang, Xhaka, Ozil, Ramsey, Maitland-Niles; Lacazette
Prev.
Hello and welcome to our live coverage of the Europa League last 16, 2nd leg encounter between Arsenal and Rennes from the Emirates Stadium. Stay tuned for all the pre-match info!