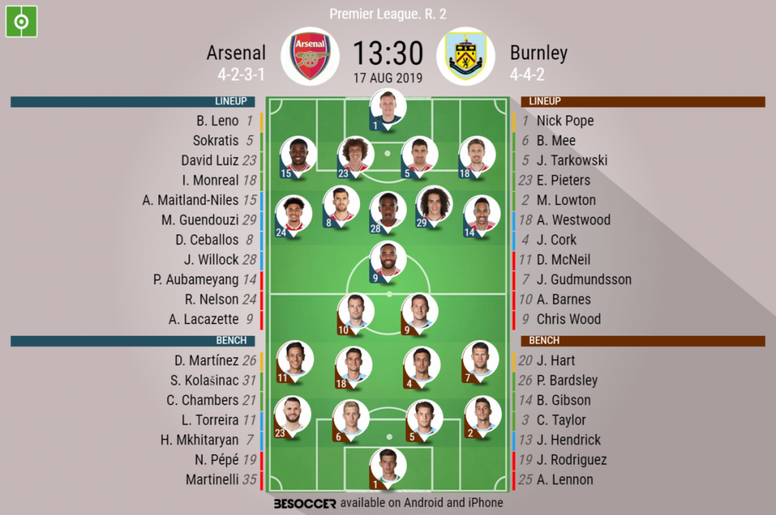 Arsenal v Burnley - as it happened
Arsenal

Burnley FC

90'
Times up! Arsenal 2-1 Burnley. Dyche unhappy. Thank you for joining!
90'
Barnes fouled Kolasinac, that ruins it for the final Burnley attack! Time almost up
90'
Corner after Lennon runs into the box and the ball is cleared
90'
Luiz booked for an off-the-ball collision with Barnes
90'
+4 Minutes of added time!
89'
Torreiro powerful shot is saved by Pope!
87'
Torreira down, looks like he has a problem with his shoulder after a clash with Lennon. Back on his feet now
85'
Arsenal corner! Pepe takes
82'
Final sub for Arsenal! Ceballos off to a standing ovation from the fans! What a performance! Torreira on
78'
David Luiz foul and Burnley have a free kick. Central position.
77'
Ben Mee clears a shot on the left hand side from Kolasinac, but it is offside anyway
76'
Handball by Lennon! Arsenal free kick
75'
Pepe has a shot, but didn't really catch on. Looks like Pepe is now playing in a more central position
71'
Burnley - Lennon comes on for Gudmundsson
71'
Substitution for Arsenal - Kolasinac replaces Lacazette
71'
Burnley put the pressure on following Lowton's deflected shot as McNeil heads over the bar!
67'
Luiz clears for a Burnley corner!
65'
Foul by Westwood on Ceballos, just hungry to get to the ball! Free kick!
63'
Aubameyang scores! 2-1 to Arsenal. Beautiful finish
62'
Ceballos denied from outside the box as Pope makes another excellent save!
60'
9 Chris Wood is being replaced by 19 J. Rodriguez for Burnley
59'
Instant reaction from Pope as Pepe passes to Aubemayang who has a shot, only to be saved!
57'
Maitland-Niles has a shot but never hit it with any real conviction and it goes right over the bar! 1-1
56'
Corner after Maitland-Niles kick is blocked!
55'
Arsenal have definitely started this half the better team! It's all Arsenal with 94 % possession! Burnley players looking tired
54'
Burnley have a very solid and compact defense and Arsenal are struggling to break through at the moment!
52'
McNeil has a shot but it is far too high and goes flying over the crossbar!
50'
Tobias sets up a ball for Monreal, but there is too much on the shot and Aubemayang can't keep it down!
47'
Guendouzi has picked up a knock but it looks as if he'll play on!
45'
The second half has kicked off! Arsenal to start! Pepe comes on!
45'
Half time! 1-1. What a competitive game this has been so far, with both sides giving it their all!
45'
Ceballos slots the ball in the back of the net but it is disallowed due to being offside!
42'
Burnely equalise after a counter attack and cut open the Arsenal defence. Barnes goal and McNeil assist! 1-1
40'
Guendouzi run up, takes an age to hit the shot and Pope saves with his foot. Corner
37'
Aubemayang card after he is not stood ten yards back from the Burnley Free kick
36'
Foul on Pieter's by Willock. Free kick
34'
Pope saves Nelson shot after they counter, before Mee completes the clearance
31'
Corner goes right to the Goalkeeper who punches the ball away!
30'
Foul - Cork fouled by Maitland-Niles
28'
Burnley playing well to say they are behind. Had a lot of opportunities in the final third!
26'
Gudmondsson ball in to McNeil is saved, corner!
23'
Corner came to nothing. David Luiz and Ceballos having a great start to their debut game
22'
Maitland-Niles shot is blocked for a corner
19'
Burnley corner caused a scuffle in the box before Arsenal cleared
16'
Foul on Barnes from the centre circle, long ball in for Burnley
12'
1-0 to Arsenal as Tobias's assist means Lacazette slots it in the net!
9'
Arsenal corner after Pieters clears Aubameyang's shot
4'
It is only the second time in nearly half a century that Arsenal have two teenagers starting - the first, being in last weeks clash against Newcastle.
2'
Pieters shot is cleared by David Luiz!
Prev.
Gudmondsson makes his 100th appearance for Burnley today!
Prev.
For Arsenal, Ceballos comes into the side, Luiz makes his debut for the club and Lacazette returns from injury!
Prev.
Both teams will be going into this game confident for the win after they both won their games last week
Prev.
Burnley: Pope (GK), Mee, Tarowski, Pieters, Lowton; Westwood, Cork, McNeil, Gudmundsson, Barnes; Wood
Prev.
Arsenal: Leno (GK); Sokratis, Luiz, Monreal, Maitland-Niles; Guendouzi, Ceballos, Willock, Aubemayang, Nelson; Lacazette
Prev.
Here are the line-ups for today's game:
Prev.
Join us for the the game of Arsenal v Burnkey at the Emirates stadium. Who will take away the three points in this afternoon's clash?