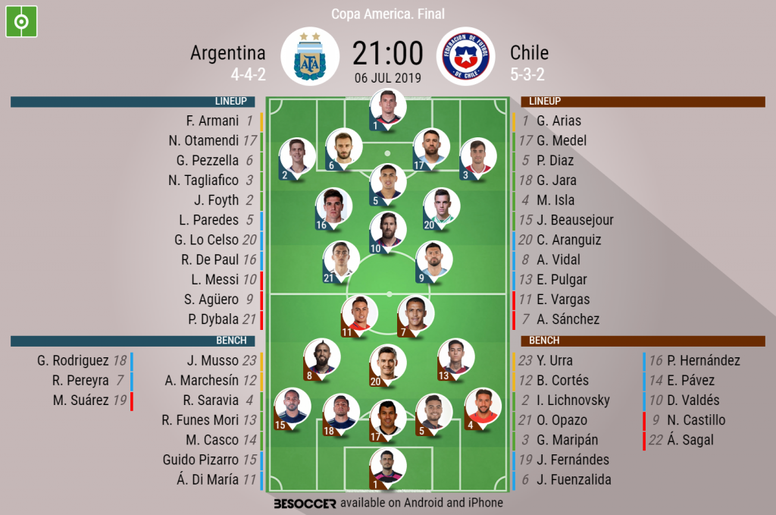 Argentina v Chile - as it happened
Post.
That's all from us here tonight! Thank you for joining, and be sure to keep an eye out for the match report coming soon. Goodnight!!
Post.
So, Agüero's and Dybala's first-half goals were enough for Argentina to take home the bronze medal, despite Vidal's second-half penalty. The second-half didn't quite live up to the first, but what an interesting contest we've had here in Sao Paulo!
90'
Chile take a more direct approach here, but it looks as if though Argentina have done enough.
90'
Vidal tries his luck on the volley as the ball falls to him to the left of the area, but he skies it high and wide.
90'
Tagliafico finds his way into the book for a late tackle on Isla.
90'
More Chile appeals for a penalty for handball, but the ref waves play on.
90'
SIX minutes of added time here...maybe they've added a couple on that should've been played at the end of the first half (?).
88'
Ramiro Funes Mori is on for Giovani Lo Celso as Argentina make their last change. Vidal and Fernandes limping about for Chile now.
86'
Vargas is taken down by a rather painful looking Paredes and Lo Celso sandwich. Paredes seemed to stand on his foot there, although it didn't look intentional.
84'
De Paul hits the floor and rolls around following a slide tackle from Vidal, but he seemed to get the ball and the referee only signals a throw-in.
82'
Chile make their final change as Nicolás Castillo comes on for Aránguiz.
80'
And that will prove to be Agüero's last contribution as he is replaced by Matías Suárez.
79'
Another chance for Agüero! Di Maria again finds him with an excellent pass, but the City forward drags his left-footed effort wide.
78'
Foyth gets a yellow for a foul down the left on Fernandes.
76'
Big chance for Argentina! Di Maria gets on his bike and beats two to get in down the left. He squares to Agüero, who doesn't attack the ball and tries to tentatively chip Dias in goal, but the Chile keeper saves with relative ease.
72'
Di Maria breaks down the right, but Pulgar slides in and concedes a corner.
71'
Vargas is slid in at an angle on the right, but he fires straight at Armani under pressure from Pezzella.
69'
One of Argentina's coaches is shown a yellow card now - the Argentinians are not best pleased with this referee.
67'
Argentina make their first change as a frustrated Dybala makes way for Ángel Di María.
66'
Ouch - a poor challenge from Isla sees him slide in and put his studs into Lo Celso's ankle. He's somehow escaped a card here...this referee may just be the very definition of inconsistency.
64'
Paredes does better from his next set-piece as he whips in a dangerous cross from a free-kick on the right that Tagliafico heads over.
63'
Paredes hits it straight into the wall, before firing the rebound miles over the bar. He also receives a yellow for something he said to the referee - not his finest minute here.
62'
Fernandes trips Paredes and gives a free-kick away in a dangerous position. Step forward, Lionel Messi - oh wait...
60'
Pulgar takes down Paredes, and may be fortunate (once again) to not receive a second yellow.
59'
Chile are feeling it now...Fernandes turns and shoots from inside the D, but it's straight at Armani. Their fans have found their voices now, too.
58'
GOALLLLLLL! Vidal rifles his penalty straight down the middle, and Chile have one back. Game on!
57'
Pezzella sees yellow for protesting the decision. Vidal steps up to take the penalty...
56'
Penalty to Chile!! The referee decides that Lo Celso brought down Aranguiz with his challenge and that the foul took place inside the area.
55'
VAR check ongoing for a challenge from Lo Celso on Aranguiz on the edge of the Argentina box a good two minutes ago...
54'
Big tackle from Pulgar to stop it being three! Dybala was free waiting in the middle as Agüero charged down the right, but Pulgar gets across quickly and slides in to intercept the City man's cutback.
49'
Guillermo Maripán comes on to replace the injured Jara.
48'
Argentina nearly get a third as Arias saves from Lo Celso with his face, before Agüero goes down in the area claiming a penalty. Nothing doing for the referee.
47'
Gonzalo Jara goes down in midfield with no one around him. He's hobbling to the sideline now, and it looks as though Chile will have to make another side.
45'
Chile get us underway in the second half...let's hope this half is just as entertaining as the first!
45'
HT: ARGENTINA 2-0 CHILE! A hugely controversial first half comes to an end then, with Argentina ahead through Sergio Agüero and Paulo Dybala. These goals will be overshadowed by the red cards awarded to Lionel Messi and Gary Medel towards the end of the half, however. See you in 15 minutes for more of the same.
45'
Tagliafico tangles with Aranguiz and concedes a free-kick to the right of the box. Aranguiz himself takes the free-kick, but Armani punches clear.
45'
Pulgar takes out Paredes with a poor, late challenge and sees yellow. Chile seem to be losing their heads here.
45'
Amazingly, only three minutes have been added on despite a very long delay with the red cards.
43'
Lots of space on this pitch now for the 10 men of each side to work with...
40'
After a long VAR check, both reds stand - Medel and Messi are off! Messi seemed to give Medel a little shove after he shielded out a ball for a goal-kick, before the two squared up chest to chest. It didn't look like a proper headbutt from Medel, but he certainly made an aggressive movement towards Messi. Two harsh reds, these.
36'
Woah!! Big drama! Medel and Messi square up as the ball goes out for a goal kick, and the referee seems to show both of them a red card! This will surely be checked on VAR...
36'
Watching this Chile side, it's hard to imagine that they could beat a Uruguay team with Suárez and Cavani.
33'
Another longer spell of possession from Chile, although they don't really seem to be making any inroads into Argentina's half.
30'
Big chance for Dybala! What a goal this would've been...Messi chips a delightful ball over the Chile defence to an onrushing Dybala, who connects with an acrobatic first time volley that flies narrowly wide of the left post.
28'
Fernandes gets away down the right after an Aranguiz pass. He gets past Tagliafico before Otamendi snuffles the danger out and concedes a corner. Fernandes is insistent that it was handball, but the referee waves play on.
25'
Argentina clear easily and Medel chops down Messi on the break with a rash tackle. Vidal protests the decision and receives a yellow, provoking a mass brawl in which he seemed to put his hands to the face of Dybala. Feisty.
24'
Aranguiz goes down in Argentina's half and wins a free-kick. Chile will look to load the box here.
21'
What a goal that was from Dybala. Maybe he should have started earlier in this tournament, then...
21'
GOAAAAAALLLLLLL! Argentina double their lead! Paulo Dybala slides away down the left, taking an excellent first touch from Lo Celso's pass that seems him blow past Medel and chip over Arias from a tight angle.
19'
Messi has his first shot of the day as he lines up an effort from outside the area, but it gets a knick on it off Jara that makes it more comfortable for Arias to hold on to.
17'
Sánchez now has a replacement as Junior Fernandes enters the fray.
16'
Beausejour gets a yellow for a slight tug on Agüero as he raced through midfield. The Chile players then crowded the referee to protest for a good 30 seconds, delaying the showing of the card.
15'
Alexis Sánchez is injured here. He hobbles off holding his left hamstring, and throws the captain's armband to the floor in disgust on his way off. Chile could be in trouble.
14'
Argentina have their tails up now, and are keeping the ball with some nice passing in midfield. The ball eventually falls to Lo Celso around 30 yards out, who fires an effort high into the crowd with his left foot.
12'
GOAAAALLLLLLL! ARGENTINA TAKE THE LEAD! Quick-thinking from Messi in midfield as he takes a free-kick before the defence is set and slides a perfect through ball to Agüero. The City striker rounds Arias and keeps his balance well to finish from a tight angle.
10'
More possession from Chile without really going anywhere, before Foyth gives the ball away trying to play out the back. Neither team has really got going yet.
7'
First shot is an Argentina one! Agüero receives the ball on the left and shoots on the turn from outside the area, but his effort whistles wide of the left post.
6'
Chile pressing Argentina high, but the Albiceleste do well to keep it as they look to play out from the back.
4'
Chile enjoy some early possession, which ends with Alexis Sánchez, who has peeled out onto the left at the start here, curling a ball towards Vargas that goes behind for a goal kick.
2'
De Paul stays down after the slightest touch from Pulgar. Scrappy opening exchanges in Sao Paulo.
1'
A couple of early fouls setting the tone here...both sides want to win this game and won't be holding back.
1'
Argentina, kicking from left to right, get us underway!
Prev.
Both sides passionately belt out their anthems, all ready to go here in Sao Paulo...
Prev.
Less than ten minutes until kick-off here, and the teams are making their way out onto the pitch....
Prev.
Chile, on the other hand, are here courtesy of a shock 3-0 loss against Peru, who will face Brazil in tomorrow's final. They will no doubt be looking to put out an improved performance tonight and end the Copa on a high.
Prev.
Argentina will play in this game after suffering a controversial 2-0 semi-final defeat against Brazil last week - a game in which VAR, or its lack of use, stole the headlines.
Prev.
This game is actually a repeat of the 2016 final, when Chile triumphed on penalties to win their second straight Copa America title. However, if they can avoid the game going to penalties tonight, history could be on Argentina's side: excluding penalty shootouts, they have never lost against Chile at the Copa America.
Prev.
Chile make two changes from their last outing, as Guillermo Maripán and José Pedro Fuenzalida make way for for Gonzalo Jara and Paulo Díaz. Their star attacking duo of Alexis Sánchez and Eduardo Vargas start up front, with influential midfielder Arturo Vidal also in the lineup.
Prev.
So, the big news for Argentina is that Lionel Scaloni is finally starting the attacking trio that so many have been calling for, as Paulo Dybala joins Lionel Messi and Sergio Agüero up front. Lautaro Martínez is the man who makes way for Dybala, whilst the only other change from the semi-final sees Giovani Lo Celso, who is reportedly a transfer target for Spurs, replacing Marcos Acuña.
Prev.
Chile: Arias; Isla, Díaz, Medel, Jara, Beausejour; Pulgar, Aránguiz, Vidal; Alexis Sánchez, Vargas.
Prev.
Argentina: Armani; Foyth, Pezzella, Otamendi, Tagliafico; Lo Celso, Paredes, De Paul, Messi; Dybala, Agüero.
Prev.
With not long over half an hour until kick-off, let's check out how both sides line up...
Prev.
Good evening and a very warm welcome to a match that nobody wanted to ideally play in but would nonetheless hate to lose: it's Argentina v Chile in the third-placed playoff at the 2019 Copa America.