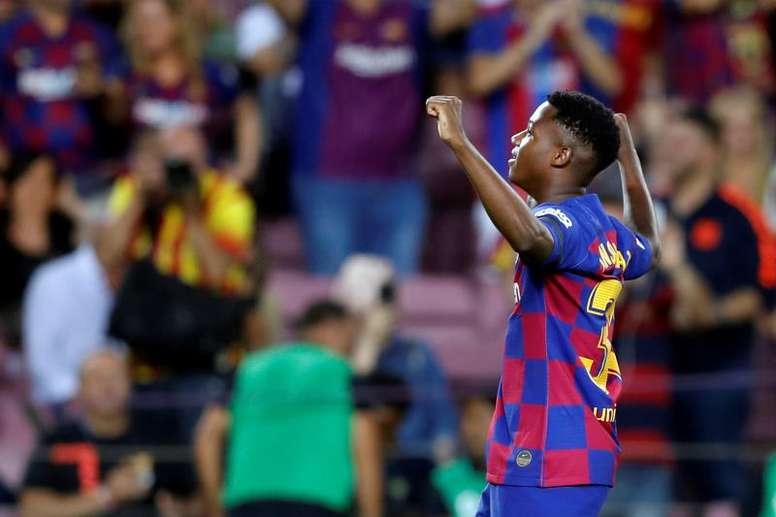 Ansu Fati wants to make history in the Champions League
His eruption into Barcelona's first team has been an absolute success. Ansu Fati is making his way through the record books at the Catalan club.
The really young talent, who is still not even 17-years-old, he wants to continue with his enormous progression, but now at a continental level.
And after becoming the youngest goalscorer in Barcelona's history in La Liga (both home and away), Ansu now has a new aim: doing this in the Champions League.
The Barcelona footballer is now going to have a shot at all of a sudden becoming the youngest goalscorer in the history of the entire competition.
As of the 16th September 2019, Ansu Fati, is 16-years and 323-days-old, giving him a great margin over the current record holder.
As mentioned by UEFA on their official site, Peter Ofori-Quaye, who starred in the 1997-98 tournament with Olympiacos, was only 17-years and 195-days-old.
This means that Ansu Fati could break the record if he manages to score a single goal before the end of the semi-finals.
On Tuesday, at Dortmund and against Borussia, Barca appear in their first Champions League game of this year and their coach, Ernesto Valverde, could give him a new opportunity.
So far, the youngest scorer in Champions League for Barcelona is Bojan Krkic, who scored his first goal in the competition in the 2007-08 campaign in the quarterfinals against Schalke 04 at 17-years and 218-days-old.