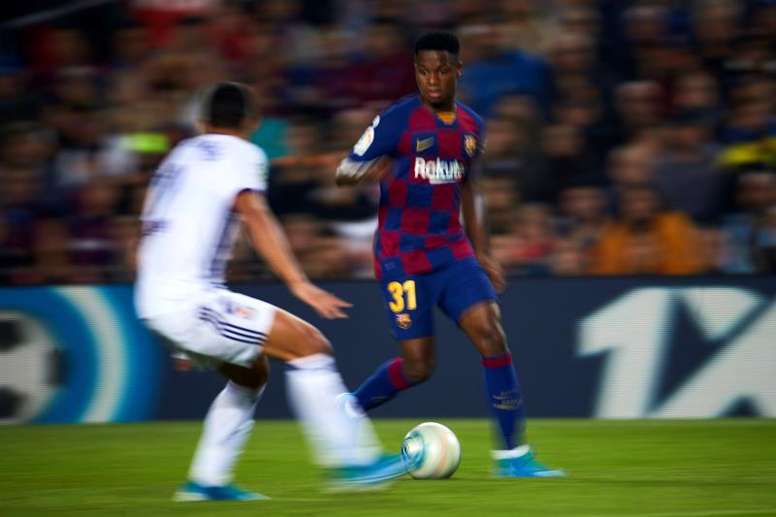 Ansu Fati could become the Champions' League youngest goalscorer
Although Ernesto Valverde mentioned that he has been suffering some discomfort in the press conference ahead of the game, everything seems to point to the fact that Ansu Fati will be making an appearance at the Giuseppe Meazza stadium, whether it is from the bench or as a starter.
The opportunity of playing in the Champions League is not an everyday occurrence, but Ansu Fati, despite his young age, could be about to achieve it. What can't wait so long is the precocity record for a goal, because there is an active countdown, and May 13 is the limit.
Although he has half a year to beat Peter Ofori-Quaye, the current record holder who scored at 17 years and 195 days in a 97 Rosenborg-Olympiacos, he is getting his chance to do so tonight in the group stage match, where Barça have a guaranteed spot in the playoffs thanks to their status as top of their group. However, if he does not manage to score, he could lose his chance, as getting a spot in the line-up will become increasingly difficult once the season heats up.
With less than 17 years still, a goal in Osasuna's field allowed him to become the youngest scorer in Barça's history and the third of in LaLiga.
These are the five youngest scorers in the Champions League:
17 years 195 days: Peter Ofori-Quaye (Rosenborg - Olympiacos 5-1, 01/10/97)
17 years 216 days: Matthew Kovačić (Dynamo Zagreb - Lyon 1-7, 07/12/11)
17 years 218 days: Cesc Fàbregas (Arsenal - Rosenborg 5-1, 07/12/04)
17 years 218 days: Bojan Krkić (Schalke - Barcelona 0-1, 01/04/08)
17 years 241 days: Martin Klein (Panathinaikos - Sparta Prague 2-1, 27/02/02)